Rail industry spent $654 million on federal lobbying over past 20 years: analysis
Eastern Ohio after a February 3, 2023 trail derailment (Creative Commons)
March 03, 2023
Environment
A new analysis by the campaign finance watchdog OpenSecrets found that the rail industry has spent $653.5 million on federal lobbying over the past two decades as it has worked—often successfully—to fight off stricter safety regulations and antitrust enforcement.
While Norfolk Southern's history of lobbying against safety rules has faced greater scrutiny and backlash in the wake of the toxic derailment in East Palestine, Ohio, the company is hardly an industry outlier.
In its analysis of federal lobbying disclosures, OpenSecrets found that the rail industry's top federal lobbying spenders between 2002 and 2022 were the Association of American Railroads, of which Norfolk Southern is a member; BNSF Railway's parent company Berkshire Hathaway; CSX Corporation; Union Pacific; and Norfolk Southern.
"The industry's hold of the Congress goes beyond Norfolk Southern and its efforts to water down legislation addressing systemic safety issues," the watchdog emphasized, noting that the industry's biggest lobbying "splurges" took place between 2008 and 2012, when "the industry lobbied an act aiming to enforce antitrust laws on the freight railroad industry."
The bill, titled the Railroad Antitrust Enforcement Act of 2009, never received a vote in the House or the Senate.
Rail giants spent $24.6 million lobbying Congress on legislative matters in 2022 alone, according to OpenSecrets. Additionally, the hugely profitable industry has spent heavily on elections in recent years, funneling millions to federal candidates, parties, and political action committees.
"The BNSF Railway PAC gave $1.5 million, the Union Pacific Corp. PAC $1.8 million, and CSX Corp. PAC $913,000 [during the 2022 election]," the watchdog observed. "These federal contributions have historically gone mostly to Republican candidates and groups, though the Norfolk Southern PAC contributed slightly more to Democrats in the last election cycle."
The two top federal recipients of BNSF Railway PAC cash during the 2022 campaign were Rep. Kelly Armstrong (R-N.D.) and House Minority Leader Hakeem Jeffries (D-N.Y.).

OpenSecrets also highlights the rail industry's $60.3 million in lobbying spending in 20 states—including California, Texas, and New York—over the past 20 years, which has had a clear impact on policymaking.
The Leverreported earlier this week that in December 2022, Democratic New York Gov. Kathy Hochul vetoed a "proposed two-person crew bill [that] would have required most freight trains to be operated by at least a conductor and an engineer, a safety measure that both rail unions and bipartisan lawmakers supported."
"Hochul had said in her veto memo that federal laws and pending rulemaking preempt state two-person crew legislation—an argument the railroads and their lobbying groups have used to oppose state staffing bills," the outlet noted. "But two-person crew laws have been enacted in other states without legal challenges, and legal experts disagree with Hochul's assessment of the preemption."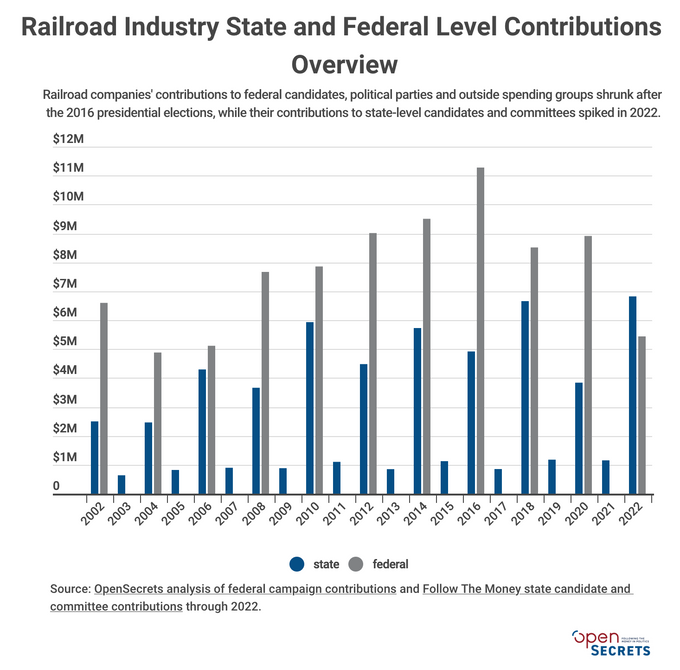 Advocates and reporters have also spotlighted Norfolk Southern's donations to Ohio's Republican Gov. Mike DeWine, who has been accused of mishandling the East Palestine disaster.

"The reasoning behind the inadequate response could be DeWine's close ties to Norfolk Southern's Ohio lobbying firm that led him to reelection, but also paid favor to the rail company through legislative blocks and railroad sales," the Sierra Club argued in a statement last week.
OpenSecrets found that the rail industry's state-level campaign contributions soared to an all-time high of $6.8 million in 2022, with BNSF Railway leading the spending spree.
"The rail industry has given at least $60.8 million in direct contributions to state candidates and committees since 2002, and the biggest contributors echoed those on the federal level," the research group noted.
OpenSecrets' findings came as congressional lawmakers are pushing fresh legislation to strengthen rail safety rules in the wake of the East Palestine derailment, which has called attention to industry-wide safety hazards that workers have been warning about for years.

Rep. Chris Deluzio (D-Pa.), a lead sponsor of a new Housebill aimed at imposing more strict regulations on trains carrying dangerous chemicals, toldThe Lever in an interview earlier this week that "the money that flows through the political system is obscene" and has a "corrupting influence."
"There are real, concrete costs to these anti-safety lobbying efforts that this industry and so many others have undertaken," Deluzio said.