Gov. Ron DeSantis' press secretary's sickening tweet denies Nazi protest
Governor Ron DeSantis Screengrab
January 31, 2022
Commentary
Ever since a racist, washed-up reality tv show host was able to exploit racial and cultural tensions by hoodwinking millions of uninformed working-class whites into thinking he gave a damn about them, our country has descended into a cauldron of hate and antisemitism. Case in point, a neo-Nazi rally took place in the open in Orlando, Florida, on Saturday in which radical white nationalists waved Nazi flags and shouted anti-Semitic and anti-Black slogans, including the"Jew is the devil" and "Jews rape children and drink their blood."
This type of radical anti-Semitism has been on the rise ever since Trump usurped the oval office in 2016 and, worse yet, only seems to be metastasizing now that he's gone. And while any sane and decent human in the public sector would vociferously condemn this disgusting and naked anti-Semitism, white nationalists are pretty much Republicans voting base these days. Case in point, Florida Republican Governor Ron DeSantis' Press Secretary Christina Pushaw appeared to question whether the obvious nazi rally was actually being put on by Nazis. Allow me to repeat that for those of you who may be bleeding from the eyes, a public official doubted photos and videos of white nationalists in nazi uniforms were actual nazis.
In a since-deleted tweet, Press Secretary Christina Pushaw responded to Twitter outrage over an Orlando Nazi demonstration by asking, "Do we even know they're Nazis?"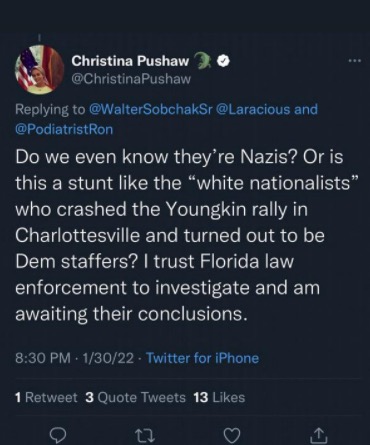 As opposed to nipping this type of disgusting and totally unwarranted hate in the bud like any sane and decent person would do, Pushaw offered doubts about the event. Worse yet, she floated a totally unsupported prospect that the nazis in attendance might have been Democratic staffers in disguise, clearly playing into similar right-wing propaganda and bizarre conspiracies about Antifa being behind the Capitol attack.

Pushaw's original tweet Sunday drew a justifiable ire of anger on social media, creating yet another controversy for the Governor's Press Secretary.
Parkland gun law reform activist Fred Guttenberg tweeted, "Holy shit!!! @GovRonDeSantis, two weeks ago your press secretary @christinapushawmade a Hitler joke. This is now her response to the disgusting antisemitic Nazi behavior taking place in Florida this weekend, targeted at people like me. Is this your public position?"
Luckily, there appear to exist some sane Republicans left in Florida as Florida's Republican House Speaker strongly spoke out against the nazi rally.
"Yesterday's disgusting display of anti-Semitism in Orlando does not reflect the values of Floridians," tweeted Florida Speaker of the House Chris Sprowls, a Palm Harbor Republican. "These thugs and their hateful messaging are not welcome in this state."
But leave it to Deathsantis' A-team to not even be able to call out brazen nazi hate in broad daylight.