Sick Money: How Mitt Romney's Bain Investments Are Exploding the Deficit and Harming Our Health
September 11, 2012
Few individuals or organizations have been as influential as Mitt Romney and Bain Capital in worsening our runaway healthcare costs, causing unnecessary suffering, or accelerating our government's long-term deficit problem. Their highly leveraged investment strategy puts healthcare companies under enormous pressure to increase revenue. They often respond by overbilling -- or worse, by encouraging unnecessary medical treatments that can include anything from non-invasive tests to heart surgery.
---
I spent many years working in healthcare economics: running health service companies, projecting health plan costs for governments and employers, and analyzing healthcare investments. I've reviewed hospital bills in detail and seen shocking things: Thousands of dollars for bandages and gauze during a surgery; a 12,000-percent markup on ointments; a $250 charge for the lightbulb in a projector the hospital claimed was used during surgery.
I've seen hucksters put red filters over an ordinary flashlight, call it an "infrared" healing device, and charge insurance companies or hapless patients for their use. And I've seen hundreds of cases of human tragedy brought on by unnecessary surgeries performed solely for money. I can't say I was always on the side of the angels, but I can say this: Before Bain, I had never seen behavior that was as consistently bad as we're seeing today.
Mitt Romney and Bain Capital paved the way for other investors in healthcare. Their greed has caused explosive growth in a cost and overtreatment spiral that's threatening Medicare, our healthcare system, and arguably -- us.
The Important Part
Consider the story of Bain Capital and Duane Reade. Bain purchased the drugstore chain and hired a CEO who was later convicted of investor fraud, while the chain itself was selling out-of-date drugs and baby formula to its customers.
Duane Reade's story is not unlike that of Damon International, whose Bain-anointed CEO was convicted for tricking doctors into ordering unnecessary procedures and billing them (ironically enough) to Medicare. Apparently Romney and Bain had an eye for healthcare talent: an evil eye.
But even that isn't the biggest part of the story. This is: Mitt Romney and Bain Capital were among the first to to engage in the kinds of highly leveraged buyouts of private healthcare companies that pressures them to overtreat patients and overbill payers just to satisfy their investors.
Leverage
Let's add another name to the list of predatory Romney companies: Dade International. No laws were broken in the management of this medical equipment company, although Bain and Romney certainly milked bankruptcy laws for all they were worth.
Most of the publicity around the Dade acquisition centers around Romney and Bain's management: the loss of 1,700 jobs, the cuts to 401(k) and other benefit plans, the ruthless bilking of the company for massive fees to Bain -- which was essentially Romney & Co. --overpaying for work they assigned to themselves, and using investors' money to do it.
Here's the other side of the Dade International deal: Romney and Bain borrowed massively to acquire Dade with other people's money. In order to show returns for their investors, Dade had to grow quickly and aggressively. So Romney & Co. directed Dade to borrow even more so it could acquire some of its competitors.
Eventually Romney and Bain pressured Dade to borrow even more so that it could buy them out. It eventually did, a few months after the February 1999 date that Romney told ABC News marked his retirement as Bain CEO. But papers filed with the SEC continued to list him as both CEO and sole shareholder for nearly three years. If those statements are false it could be grounds for fraud charges, since it is illegal to knowingly file false information with the SEC. If they're true, Romney remained closely involved with the Dade deal.
Whatever the truth, by Romney's own admission he was still Bain's owner. That means he profited from Dade either way.
Deeply in debt, the company wound up in bankruptcy before being sold at fire sale prices to the German company Siemens. Maybe bankruptcy could have been avoided if Dade's management had been willing to act as the CEOs of Duane Reade and Damon International did. The Dade International story certainly shows what kind of pressure they were under.
Romney & Co. got millions, while Dade International's creditors got pennies on the dollar. Some of them supplied other medical equipment companies, and they undoubtedly raised their prices to make up for the loss.
Who eventually paid for that? Private insurers, Medicare -- everyone but Romney & Co.
True Blood
Ya gotta make your numbers.
Bain Capital also purchased CRC Health Group, a chain of drug treatment facilities that has been implicated in a series of wrongful deaths. Journalist Art Levine learned that CRC, under financial pressure from yet another leveraged Bain buyout, has been implicated in a number of cases of abuse and neglect. CRC puts underpaid and undertrained staffers in charge of clients in crisis -- sometimes with fatal results.
Levine writes: "Bain had already extracted nearly $20 million in management-related fees from the chain, although Bain investors haven't cashed in yet through dividends or an IPO. Bain's purchase, a leveraged buyout, also saddled CRC with massive debt of well over $600 million."
Senior executives at companies owned by people like Romney and Bain learn that quickly. They're tasked with growing their companies quickly and aggressively so they can pay back enormous loans (which include those large and undeserved fees to Romney & Co.) and show a profit for Bain's investors.
That's why CRC cut corners. That's why executives at Duane Reade cooked the books while selling expired drugs and baby formula. That's why executives at Damon International tricked doctors into performing unnecessary blood tests in order to scam Medicare.
If some people get hurt, or suffer through unnecessary surgeries, that's regrettable -- but on the other hand, it's good for the bottom line. If a few laws get broken in the process, that's not to be condoned but hey, that's human nature. The truth is that Bain-style capitalism encourages all the worst excesses of our healthcare system.
Heart Attackers
That's why Hospital Corporation of America, which Bain Capital purchased in 2006, ignored reports that cardiac surgeons were performing unnecessary surgeries in its hospitals, grilled staff about how much these surgeries were adding to the bottom line -- and then suspended medical privileges for the physician who reported the problem. As the New York Times notes, "Many doctors interviewed at various HCA facilities said they had felt increased pressure to focus on profits under the private equity ownership."
That's how the game is played. Depending on the number and type of hospitals available, the impact of suspending a doctor's privileges can range from inconvenient to devastating. And it certainly sends a message: It lets other doctors know there's a price to be paid for disclosing problems. And it tells employees, and the world, how degraded the corporate culture has become.
Those who rage about mythical government "death panels" fall silent when it's reported that hospital executives tell doctors how to practice medicine: "One emergency room doctor who worked at an HCA Florida hospital said doctors had been told they had targets to hit," for example, in deciding which patients' conditions were true emergencies and which were not.
As the Times notes, "The financial performance has been so impressive that HCA has become a model for the industry."
And people wonder why we have a medical cost problem in this country.
Deficit Drivers, Medicare Killers
How bad is that cost problem? See for yourself: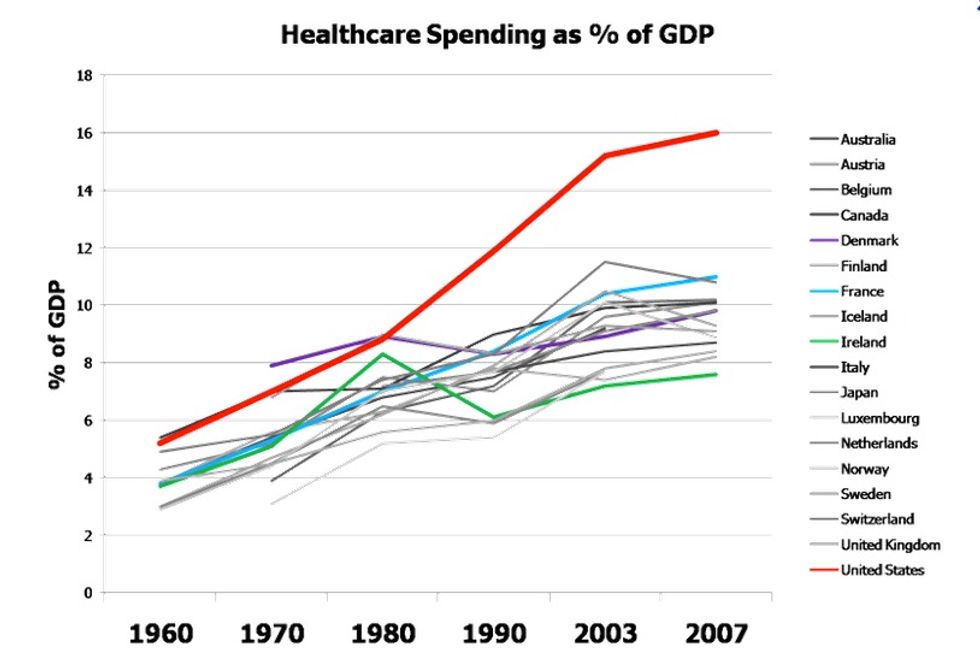 Source: OECD
We pay much more than any other developed nation for healthcare, even though they cover all their citizens and we don't. Our rate of inflation is much higher, too. Why? Because from hospitals to drugstores, and from diagnostic companies to physician practices, we have far more for-profit healthcare providers than they do. And when people like Mitt Romney and Bain Capital get involved, they're almost forced to overbill and overtreat.
By contrast, government-run health insurance systems won't tolerate predatory providers. Our health insurers just mark up the cost and keep getting richer. The better ones may push back a little, just for a competitive edge, but they have no initiative to fight the entire system. That's how they make their money.
What's more, for all the talk about deficit reduction, nobody's talking about this: Our long-term deficit problem is Medicare. Period.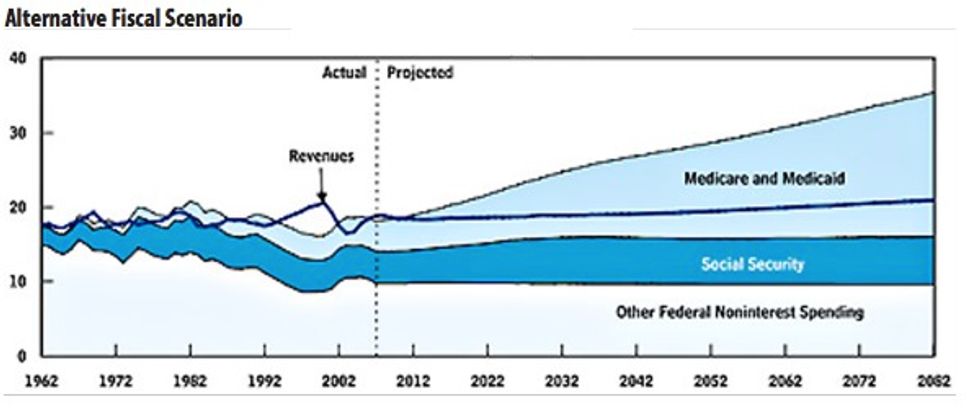 Source: Center for Budget and Policy Priorities
How do we fix it? Like this: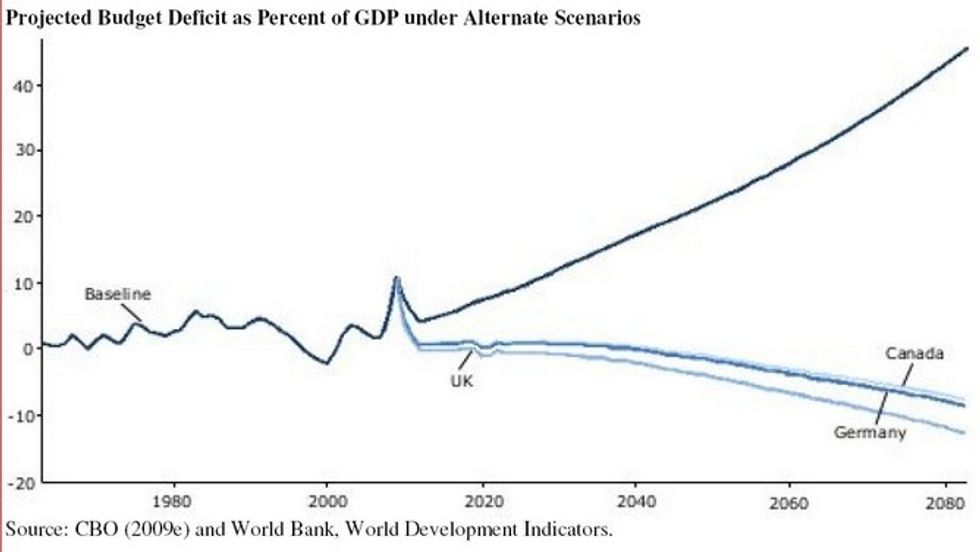 By having the same kind of system that other countries have: one that puts limits on runaway Bain-style greed.
Culture of Greed
HCA had already paid $1.7 billion in fines for Medicare fraud before these latest charges surfaced, starting with $600 million in fines paid for multiple counts of fraud while founding CEO Rick Scott was at the helm.
New and deliberate violations at HCA would prove that, as a former assistant US Attorney told the Times "a defendant, already caught once defrauding the government, has apparently not changed its corporate culture."
Rick Scott is now the Republican governor of Florida.
Cost-cutting at CRC? Unnecessary surgeries at HCA? Fraudulent billing of Medicare? Expired baby formula at Duane Reade? That's the real Romneycare.
As for the Democrats, President Obama has staked his healthcare policy on the efficient management of cost and utilization. This makes his presidency financially less advantageous to predator providers than the likes of Romney and Scott. Instead his policies are poised to greatly increase membership in private health insurance plans, which may explain why an executive like the CEO of Aetna is banking on his re-election by doubling down on acquisitions.
No wonder Mitt Romney's Republicans want to turn Medicare into a voucher system. That would end a government-run program whose oversight has been one of our few protections against the predations of their for-profit companies. Letting the Republicans shut down Medicare would be like letting Al Capone shut down the police department.
We're told to expect an "adult conversation" about Medicare and our runaway healthcare costs. Don't bet your life on it.