Comments
American Airlines Rejects Female Passenger Because Political Pro-Choice T-Shirt is "Inappropriate"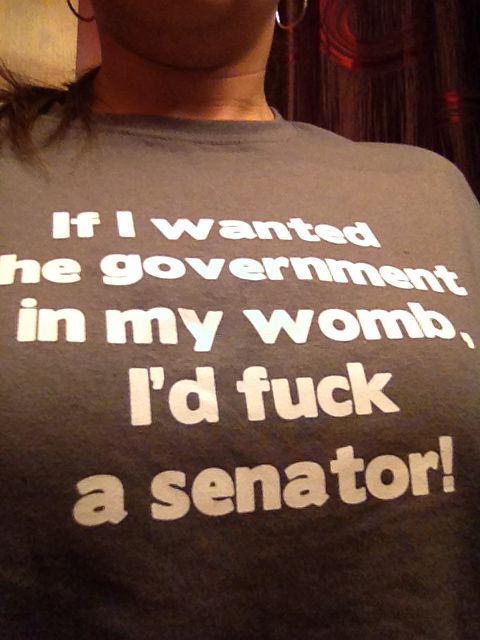 Written by Editor-in-Chief Jodi Jacobson for
RH Reality Check
. This diary is cross-posted; commenters wishing to engage directly with the author should do so at the original post.
This article was updated at 12:41 pm, Wednesday, May 23rd, 2012.
Yesterday I attended a meeting of pro-choice colleagues working to ensure women throughout this country get safe, compassionate abortion care. Today, I received an email from one of those colleagues, detailing the ordeal through which she was put by American Airlines on her flights home. They actually forced her to miss her connecting flight and demanded she change her top. The reason? Her politically salient pro-choice t-shirt was offensive to the flight crew. That sign said: "If I wanted the government in my womb, I'd fuck a senator."The t-shirt is the now-popularized version of 
a sign
held by Oklahoma state senator Judy McIntyre (D) at a pro-choice rally in early March to protest Oklahoma's so-called personhood law, which in conferring the rights of a living, breathing person on a fertilized egg denies all rights of personhood of women, full stop. At the time of the rally, and
asked about the sign
, State Senator McIntyre "acknowledged that some in Oklahoma, which is overwhelmingly Christian, may find her sign's language offensive, but she wasn't much concerned about them."
"I would hope they would have that same passion about how offensive it is for the Republican Party of Oklahoma to ramrod, because they have the votes to do so, bills that are offensive to women and take away the rights of women," she reportedly said.
My colleague, O., of the same mind of many of us in believing that sign says it all, wore a t-shirt with the same message under her shawl and boarded an American Airlines flight home from our meeting. So what happened? O. writes:
[O]n the plane of the first leg of my flight home, I spent the majority of [time] sleeping, using my shawl as a blanket. Right before we were set to land the flight attendant from first class approaches me and asks if I had a connecting flight? We were running a bit behind schedule, so I figured I was being asked this to be sure I would make my connecting flight.  She then proceeded to tell me that I needed to speak with the captain before disembarking the plane and that the shirt I was wearing was offensive. The shirt was gray with the wording, "If I wanted the government in my womb, I'd fuck a senator." I must also mention that when I boarded the plane, I was one of the first groups to board (did not pass by many folks).  I was wearing my shawl just loosely around my neck and upon sitting down in my seat the lady next to me, who was already seated, praised me for wearing the shirt. When I was leaving the plane the captain stepped off with me and told me I should not have been allowed to board the plane in DC and needed to change before boarding my next flight. This conversation led to me missing my connecting flight.  I assumed that because I was held up by the captain, they would have called ahead to let the connecting flight know I was in route.  Well, upon my hastened arrival at the gate of the connecting flight, it was discovered that they did indeed call ahead but not to hold the flight, only to tell them I needed to change my shirt. I was given a seat on the next flight and told to change shirts. Due to the fact that my luggage was checked, changing shirts without spending money wasn't an option. I consulted a friend with a law background who told me covering with my shawl would suffice. Upon boarding the now rescheduled flight with shawl covering my shirt, my ticket dinged invalid. I was pulled to the side while the gentleman entered some codes into the computer and then told, "it was all good."  I did finally arrive home to pick up my daughter an hour and a half later than scheduled.
So let's review some facts. O. went through security and was stopped for additional screening, but not deemed a "security risk," and no one at TSA made the slightest mention of her t-shirt. She boarded her first flight, and none of the airline personnel at the gate mentioned her t-shirt. She quietly took her seat, wrapped her shawl around herself, and went to sleep. When her plane 
landed
the flight attendant confronted her and said she had to speak to the captain. At no point did anyone say quietly, hey... could you keep that covered with your shawl? Could you turn it inside out? We have a policy.... Instead, after the plane landed the flight attendant brought her up front where the captain
berated her publicly
and made her miss her connecting flight. It turns out when she asked if anyone had complained the answer was: NO, Only the flight attendant!
Continue reading....
Liked this article?

Join our email list
Stay up to date with the latest headlines via email