Comments
Where's Your Shame, Woman?! Fundamentalist Pastor Takes to YouTube to Fault Women for All Social Ills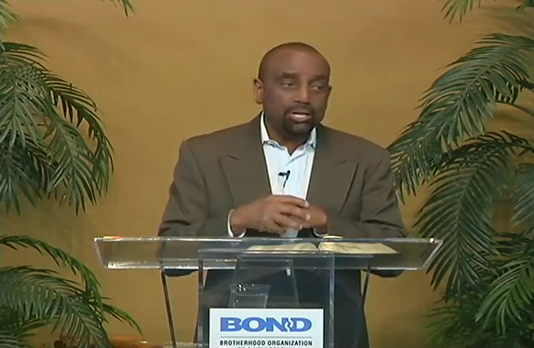 Written by Vyckie Garrison for
RH Reality Check
. This diary is cross-posted; commenters wishing to engage directly with the author should do so at the original post.
Ever wonder what goes on inside the small minds of fundamentalist Christian men? Want to know how they justify their blatant anti-woman policies and practices? Are they for real? Do they even know how hateful and intolerably ignorant they sound? Thanks to Rev. Jesse Lee Peterson, a fundamentalist black pastor and up-and-coming Republican leader, there's now a
YouTube video
which perfectly sums up the Religious Right's core beliefs about women.
"One thing I know for sure, without a doubt, women cannot handle power," says Peterson, in a 12-minute tirade posted to the "bondinfo" YouTube channel recently as a part of the Reverend's "Exploring Your Destiny" video series.
"It is not in them to handle power in the right way," he continues, "they don't know what to do with it." Really? That's some blatant misogyny right there, folks.  Ah - but Rev. Peterson is just getting started ...
"It's not real power anyway ... it's all ego-building. Real, true power come [sic] from God, and God is the one that gave man the power and authority over the wife, and to spiritually guide the world in the right way to go."
According to the
website
listed at the end of the video, "BOND, the Brotherhood Organization of A New Destiny, is a nationally-recognized nonprofit organization dedicated to 'Rebuilding the Family By Rebuilding the Man.' BOND was Founded by Rev. Jesse Lee Peterson who is also its President." Rev. Peterson has been busy lately making himself a reputation for strident religiously-motivated bigotry. In January, the Tea Party leader and author of "
Scam: How the Black Leadership Exploits Black America
," caused a stir by
suggesting
that unemployed African Americans need to be sent "back to the plantation so they would understand the ethic of working."
"I hope that once [black people] hear the truth, they will pull away from the Democratic Party and their godless leaders," Peterson told the Huffington Post. "When you tell them the truth first, they become upset ... They think if you're black and conservative, you're an Uncle Tom. Once you let them yell and scream and carry on -- because they will carry on -- and when they calm down, they understand."
"Women are now degraded. Women have no shame," Peterson laments in reference to Sandra Fluke's courageous congressional committee testimony. "This woman's sitting there testifying about ... all the sex they having [
sic
] ... and it's really all about maintaining the freedom to kill babies in the womb."
Continue reading....
Liked this article?

Join our email list
Stay up to date with the latest headlines via email