Comments
North Carolina: Marriage Rights (but Not Equal Rights) on the May 8th Ballot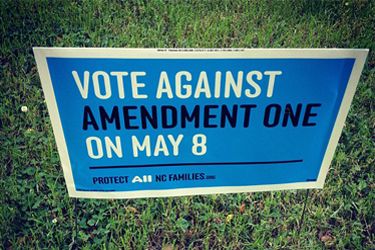 Written by Susanna J. Smith for
RH Reality Check
. This diary is cross-posted; commenters wishing to engage directly with the author should do so at the original post.
North Carolina polls are open for early voting in the primary election, and the rights of unmarried couples are being put to a public referendum. I voted against North Carolina's Amendment One, which seeks to amend the state constitution "to provide that marriage between one man and one woman is the only domestic legal union that shall be valid or recognized in th[e] state." A
recent Pew poll
shows that nationally support for gay marriage is higher than ever —47 percent of Americans in favor of it; 43 percent opposing — but North Carolinians have tended to be less progressive on the issue. When Amendment One was introduced last September, public opinion polls
reported
that only 31 percent of North Carolinians were in favor of legalizing gay marriage, and 61 percent favored keeping it illegal. The fate of the amendment to ban civil unions and gay marriage will be decided on May 8th, the official primary election day. Already at least one lawmaker, who played a critical role in getting the amendment on the ballot, has
changed his mind
about supporting it. State Representative James Crawford was one of ten Democrats who supported putting the measure on the ballot. He has since said publicly he will vote against the amendment, it goes too far, amid
impassioned outcries
from constituents in the gay community.
Continue reading....
Liked this article?

Join our email list
Stay up to date with the latest headlines via email