Comments
Empire State Stupidity: New York's Condom Policies Undermine Public Health and Human Rights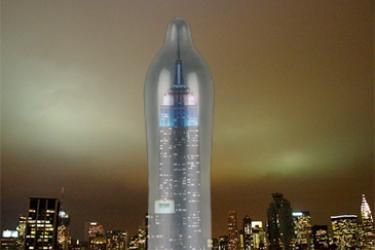 Written by Martha Kempner for
RH Reality Check
. This diary is cross-posted; commenters wishing to engage directly with the author should do so at the original post.
When Julia Roberts pulled a strip of colorful condoms out of her boot in her break-out roll as a prostitute in 1990's 
Pretty Woman
and declared "I'm a safety girl," I breathed a sigh of relief.  While I was waiting for her inevitable happy ending (and forgetting to be outraged by the offensive messages of this modern fairytale), I was glad to see that she was protecting herself and her future by avoiding STDs (and pimps and kissing on the mouth). Turns out that my reaction to her condoms is one of the many things about the lives of sex workers that wasn't exactly on-target in this star-making movie. Rather than being considered a sign of good protective behavior, in New York City carrying condoms can be used as evidence of prostitution, and therefore a crime.
Apparently, New York Police officers use possession of condoms (especially more than one condom) as one of the factors in determining whether there is probable cause to arrest someone for prostitution or loitering for the purposes of prostitution. One judge told the 
New York Times
that he would not be swayed by condoms as evidence:
I find no probative value at all in finding a condom. In the age of AIDS and HIV, if people are sexually active at a certain age, and they are not walking around with condoms, they are fools.
But most cases of prostitution are never brought in front of a judge because the individuals who are arrested quickly plead guilty. So the fact the police are considering the condoms as evidence is problem enough. Even more disturbing, officers have been known to confiscate condoms from individuals suspected of prostitution in an apparent attempt to discourage them from engaging in sex work. Finally, an idea more ridiculous than suggesting that making condoms available to teenagers will convince them to have sex — here we're saying that taking condoms away from sex workers is all they need to be convinced not to have sex. The Sex Workers Project of the Urban Justice Center began to work with city's Department of Health and Mental Hygiene (DHMH) a number of years ago to determine whether these practices did, as suspected, deter sex workers from carrying — and therefore using —condoms. DHMH prepared a report in 2010 but for unknown reasons then 
refused to make it public
. The Sex Workers Project used the Freedom of Information Law to obtain a copy (much of which was blacked out) and then worked with the PROS Network (Providers and Resources Offering Services to sex workers) to conduct additional research and create their own report. Both reports were released at a news conference last week.
Continue reading....
Liked this article?

Join our email list
Stay up to date with the latest headlines via email