Comments
At Wits' End: One Woman's Story Highlights Texas Women Left In Limbo As Legal Battle Over Planned Parenthood Begins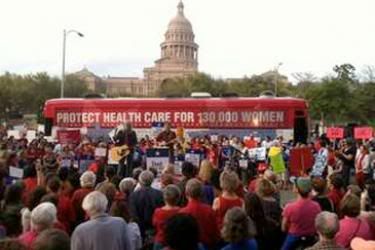 Written by Andrea Grimes for
RH Reality Check
. This diary is cross-posted; commenters wishing to engage directly with the author should do so at the original post.
The Medicaid Women's Health Program in Texas was working wonderfully for Christina LuQuis and her family until January of this year, when she found herself caught in the middle of Texas' political fight to oust Planned Parenthood from the state's federally-funded Medicaid program. In need of fast, affordable health care when complications surfaced with her IUD in January, LuQuis discovered that the system she'd relied on for years—the system that had served her and her family so well—might be taken away from her. Three months later, "might" has turned into a 
sure thing
. Now, LuQuis says she's "at wits' end." After LuQuis and her husband had a daughter three years ago, they decided to look into hormone-free, semi-permanent birth control. An IUD seemed like the best option—except for the cost, which LuQuis found out could be as much as $750, much more than they could afford. That's when she found out about the WHP. "The paperwork wasn't too much of a hassle and after a few weeks my Medicaid card came in the mail," LuQuis told 
RH Reality Check
via e-mail. "We took it down to Planned Parenthood and I got my IUD inserted." Problem solved—until January, when LuQuis' IUD suddenly expelled itself. That's when LuQuis realized, when re-applying for the WHP to get a new IUD, that Governor Rick Perry, Health and Human Services Commissioner Thomas Seuhs, Attorney General Greg Abbott and conservative lawmakers around the state had been making "efforts to defund Planned Parenthood at any cost." And as for LuQuis, she said, "At any cost happened to be my contraception coverage unfortunately." LuQuis, who is a stay-at-home-mom, and her husband are getting by on his unemployment benefits after he was recently laid off. They can't afford another child. But neither can they afford another IUD. Or, for that matter, a safe and legal abortion.
Continue reading....