Comments
From Hate to Love: Why "40 Days of Prayer" is Under Attack by the Christian Right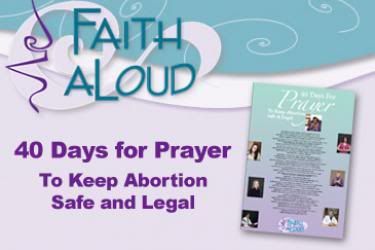 Written by Carole Joffe for
RH Reality Check
. This diary is cross-posted; commenters wishing to engage directly with the author should do so at the original post.
Below is a an interview with Reverend Rebecca Turner of Faith Aloud, conducted by Carole Joffe. Faith Aloud is a pro-choice religious organization which seeks to eliminate the stigma associated with abortion and sexuality, and to provide support to both women and providers.
"Today we pray for women for whom pregnancy is not good news, that they know they have choices."
"Today we pray for the men in our lives, that they may offer their loving kindness and support for women's difficult decisions."
"Today we pray for Christians everywhere to embrace the loving model of Jesus in the way he refused to shame women."
Above are some of the individual components of the
"40 Days of Prayer,"
a series composed by the Rev. Rebecca Turner, a United Church of Christ minister, and the head of
Faith Aloud
, a pro-choice religious organization based in St. Louis, Missouri. Turner originally wrote these prayers to counter religious-based protests against women's rights to choose abortion.  For some years, the "40 Days of Prayer" were used in various ways by clinics but ignored by the anti-choice movement. However, recently when a clinic in northern California reprinted the prayers in a brochure,  the movement took notice, and Turner's prayers—and by extension, the concept of a religiously-based prochoice group—drew much attention from the religious right, including interviews by
Fox News
and
Focus on the Family
, and
follow up stories
in various anti-choice publications. Below is an interview I conducted with Rev. Turner about her organization, the 40 Days of Prayer, and the reactions of opponents of abortion when news of her activities went viral.
Liked this article?

Join our email list
Stay up to date with the latest headlines via email