Comments
Uganda: Pregnancy and Childbirth Mean Playing Russian Roulette With Women's Lives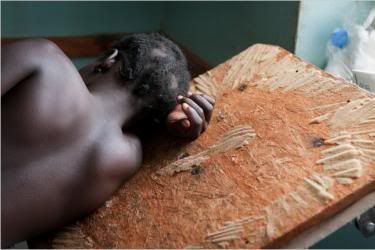 Written by Jessica Mack for
RH Reality Check
. This diary is cross-posted; commenters wishing to engage directly with the author should do so at the original post.
Sylvia Nalubowa's surviving twin is two-and-a-half; Jennifer Anguko's baby turned one this past winter. Both of their mothers died giving birth to them – they are orphans of maternal mortality, an epidemic that
continues to plague
Uganda as it does the rest of the developing world. But these babies are also children of history. Their mothers have become the face of a
landmark case
in Uganda that seeks, for the first time, to assign blame to the government for the deaths of women in childbirth.
Last March
, Ugandan human rights groups joined families of the deceased to file Constitutional Petition 16, alleging that the Ugandan Government failed to protect the women's constitutional rights to life and health by allowing them to die in ill-equipped and poorly managed public hospitals, or failing to provide them with basic maternal care.
"We are seeking a declaration that maternal deaths happening due to avoidable causes is a violation of the right to health," said Primah Kwagala, a lawyer for the Centre for Health, Human Rights and Development (CEHURD), a lead petitioner of the case. "The government should own up and increase funding towards maternal Health, and fulfill the Abuja Declaration to give at least 15% of the annual budget to the Health Sector."
One of the key complaints in the petition is the Government spends just one-quarter on maternal health of what it
pledged to spend
, per capita. Each woman died of negligence, essentially, as do 
1 in 35 Ugandan women
during pregnancy or childbirth. From ill-equipped health workers untrained for obstetric emergencies to inaccessible clinics, birth control stock-outs, and unsafe abortions gone very wrong, women in Uganda are forced to play Russian Roulette with a failing health system.
Continue reading....