Comments
Bob Casey Versus the Rights of Women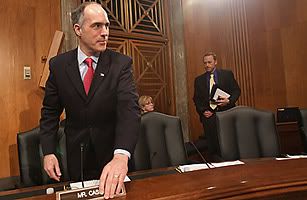 Written by Kate Michelman for
RH Reality Check
. This diary is cross-posted; commenters wishing to engage directly with the author should do so at the original post.
It seems a lifetime ago that the U.S. Supreme Court ruled in Griswold v Connecticut that a Connecticut law prohibiting the use of contraceptives violated the right to marital privacy. Eight years later the Constitutional principles underlying that decision were pivotal to the court's ruling in
Roe v Wade
which recognized that a woman's right to have an abortion was a protected private decision with some exceptions.
Roe v Wade
and access to safe contraception has helped make possible the hard-won gains that women have achieved during the past 40 years in education, employment and participation in public life. But the status of American women as full and equal citizens is being challenged just about every day by outspoken priests, pundits and politicians who are questioning long-established rights to family planning and other women's health programs. This assault has accelerated in the wake of the Republican tsunami that was the 2010 election. Rights first established in 1965 and strengthened in intervening years that empowered women by ensuring their right to abortion, healthcare, dignity, and privacy are today on the endangered list.
Continue reading....
Liked this article?

Join our email list
Stay up to date with the latest headlines via email