Comments
Goodbye, Texas Women's Health Program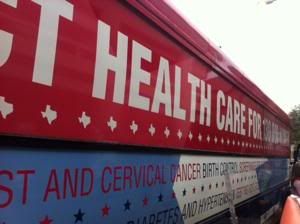 Written by Andrea Grimes for
RH Reality Check
. This diary is cross-posted; commenters wishing to engage directly with the author should do so at the original post.
For all our coverage of the cuts to the Texas Women's Health Program, click here.
On March 14th, 2012, at least 300,000 low-income and uninsured Texas women will have no or greatly-reduced access to basic preventive and reproductive health care due to the loss of federal funding for the Medicaid Women's Health Program in the state. The program has been under threat for months as lawmakers fight over whether it's legal to exclude Planned Parenthood from the program. On Friday, U.S. Health and Human Services Secretary Kathleen Sebelius
told reporters in Houston
that the federal government would not extend its waiver, which provided about 90 percent of the cost of the program. It is against federal law to exclude "qualified providers" from providing Medicaid care, and while the federal government considers Planned Parenthood "qualified," the state of Texas does not. Since 2005, legislators in Texas have sought specifically to block Planned Parenthood from participating in the Women's Health Program in Texas, when they voted into place a state law, only just now enforced, that bars "affiliates" of abortion providers from receiving funds. Planned Parenthood uses no taxpayer dollars to provide abortions and keeps its abortion services wholly financially separate from its non-abortion services. In a statement released Friday, Governor Rick Perry's office
stuck the Obama administration with the blame for not renewing the Women's Health Program
, neglecting to mention that there would be no reason to defund the program had Perry and his conservative allies in Texas not sought to defy federal law in the first place. Perry has said that Texas will continue to fund what would very likely amount to a significantly stripped-down version of the program with state funds--despite the fact that state legislators already
devastated the state family planning budget last year
. "We're questioning the governor saying he's going to continue the funding with state money," Planned Parenthood of North Texas representative Kelly Hart told
RH Reality Check
, "and why the state would want to go forward to spend more money to provide care to fewer women." Hart says Planned Parenthood expects to be able to provide WHP care until they're phased out in late April so that "more women can have that last chance to get their annual exam." The Center for Public Policy Priorities, based in Austin,
has issued a report
urging the State of Texas not to make this unnecessary and less effective state-funded move in lieu of continuing to let the program work as it always has. Quite simply, family planning programs don't need to be fixed because they were not broken.
Continue reading....
Liked this article?

Join our email list
Stay up to date with the latest headlines via email