Comments
Forced Ultrasound, "Informed Consent," and Women's Health in Texas: The Sad State of the State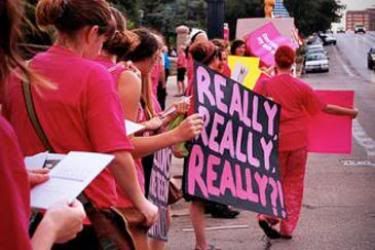 Written by Andrea Grimes for
RH Reality Check
. This diary is cross-posted; commenters wishing to engage directly with the author should do so at the original post.
Last month
, when news spread that Virginia legislators were considering a forced trans-vaginal ultrasound bill, the uproar was loud, clear and immediate: women would never stand for this invasive and unnecessary law. Politicos and pop-culture icons alike
spoke out against
the Republican-lead legislation. What kind of world are we living in, reasonable people wondered, when "informed consent" is
tantamount to state-sanctioned rape
? Here's what kind of world: the kind wherein a mandatory ultrasound law scads worse than the proposed Virginia bill has already been in place for five months. In Texas. "Texas has the most extreme law that's being enforced right now," says the Center For Reproductive Rights' Julie Rikelman, the lead attorney on the CRR's
lawsuit filed against
the Texas legislation. Despite the
sympathetic leanings of a federal district judge
who initially ruled on the case, the suit has more or less been stalled by a
vehemently anti-choice
Fifth Circuit Court of Appeals, which
denied the CRR's requested injunction against enforcement
last month. Now, that means that all aspects of the law--mandated ultrasounds, 24-hour waiting periods, and forced speech--are now in full force in Texas. Intially the CRR was able to gain an injunction against enforcing the parts of the law they argued in court violated doctors' First Amendment rights. But twenty-five days ago, they lost that injunction and doctors began being legally required to verbally describe the sonogram image, make heartbeat audio available if possible, and offer women the opportunity to view the image. And while the mandatory trans-vaginal ultrasound requirement has garnered a great deal of interest and outrage, Texas providers tell RHRealityCheck that the "most onerous" part of the law, for both providers and abortion-seeking women, has been the mandatory 24-hour wait period between the required ultrasound and the abortion itself. "The 24-hour waiting period with two face-to-face visits required, that was just incredible," says Amy Hagstrom Miller, the founder of Whole Women's Health, a Texas-based health care center with five locations providing abortion care, STI treatment and basic women's health exams. Now, women must take two days off of work and invest three to four hours each day to get the safe, legal procedure they're entitled to by law. "Women have just been absolutely furious about having to come twice," says Hagstrom Miller, who adds that 65 percent of abortion-seeking clients at Whole Women's Health are already mothers. It's not just two days off work that creates an unnecessary hassle for most of these women--it's also finding two days of child care. "Because they're already moms, there's nothing in the ultrasound that is surprising to them," says Hagstrom Miller. "It's not like they say, 'Oh, I didn't know i was pregnant.'" Despite
passionate claims otherwise
from anti-choice individuals, transvaginal ultrasounds and 24-hour wait periods do not, in fact, appear to induce women to opt out of abortion.
Continue reading....
Liked this article?

Join our email list
Stay up to date with the latest headlines via email