Comments
Is the Blunt Amendment Constitutional?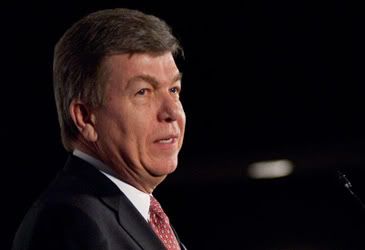 Written by Annamarya Scaccia for
RH Reality Check
. This diary is cross-posted; commenters wishing to engage directly with the author should do so at the original post.
The Obama Administration's recently-announced
accommodation
to the
Affordable Care Act
's contraceptive mandate should have put any controversy to rest. After all, the mandate's modified religious exemption rule now covers
those religious organizations that initially decried it
. Like houses of worship, religiously-affiliated employers, such as Catholic hospitals or Jesuit universities, are no longer required to offer contraceptive care with their health plans. Instead, under the new adjustment, employees can get coverage of contraception without a co-pay directly from their insurance company, without cost to their employer. These organizations have a one-year transition period to find a complying provider. It's a modification applauded by religious groupsand reproductive health advocates. Sister Carol Keehan, DC,  president and CEO of the
Catholic Health Association of the United States
(CHA) and Rev. Larry Snyder, Catholic Charities USA's (CCUSA) president and CEO
both
believe
the compromise is "a step in the right direction," while the
Center for Reproductive Rights
' (CRR)
released a statement saying
it "preserves the no-copay birth control benefit for all women." It would seem that, after much debate, both sides have found themselves on the same page. "It's kind of hard to imagine what kind of objections could remain to that since, as previously described, the objection voiced was paying for the coverage," says Sarah Lipton-Lubet, policy counsel at the
American Civil Liberties Union
(ACLU) Washington Legislative Office. "Now religiously-affiliated employers are just gonna be able to wash their hands of the whole business." Enter the
United States Conference of Catholic Bishops
(USCCB). The USSCB, which represents church hierarchy and effectively acts as the Vatican's U.S. lobbying arm,
originally claimed
the religious exemption rule was "too narrow" and should also exempt religiously-affiliated employers. It has since changed its tune. According to
a February 10 press release
, the USCCB is now concerned for the financial culpability and Constitutionally-protected religious liberty of "self-insured religious employers; religious and secular for-profit employers; secular non-profit employers; religious insurers; and individuals" (while objecting employers will not have any monetary responsibility, and contraceptives are, in fact,
cost-effective and cost-neutral
, there is concern that
insurance companies will need to find a way
to "pass on the immediate costs to their other customers"). The lack of clear religious liberty protection for these "key stakeholders…is unacceptable and must be corrected," proclaims the USCCB. In fact, the organization writes, it wants the entire contraceptive mandate repealed. It has been their goal all along, says Lipton-Lubet, "regardless of a woman's health care needs and regardless of a woman's own belief."
"What this fight has really been about are efforts to roll back access to birth control, despite the fact that almost all women use it and despite the fact that institutes like the Center for Disease Control have acknowledged that family planning is one of the greatest public health achievements in the last century," she says.
The USCCB has double-downed on their efforts to make this happen. And it seems Senator Roy Blunt (R-Mo.) may be their ticket—
again
.
Continue reading....