Comments
In Latin America and the Caribbean, Unmet Need for Contraception and Unsafe Abortion Are Widespread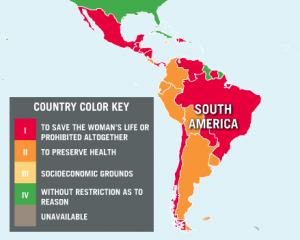 Written by theIPPFWHRfor
RH Reality Check
. This diary is cross-posted; commenters wishing to engage directly with the author should do so at the original post.
January 22nd marked the 39th anniversary of one of the most significant legal decisions of the 20th century,
Roe v. Wade
.
This landmark ruling from the United States Supreme Court legalized abortion and changed the course of history for women in this country. Yet women in Latin America and the Caribbean continue to struggle for this basic reproductive right. According to a report released by the Guttmacher Institute this week,
95 percent of abortions in Latin America are unsafe.
In places where abortion is illegal, women often turn to inadequately trained practitioners who employ unsafe techniques or attempt to self-induce abortion using dangerous methods. In Latin America and the Caribbean, nearly
one million women are hospitalized each year because of complications from unsafe abortion,
and the World Health Organization estimates that
one in eight maternal deaths in the region result from unsafe abortion.
Poor and rural women are disproportionately affected. Fear of legal consequences, social stigma, high cost, and lack of access to trained health professionals are major barriers to obtaining safe abortions.
Continue reading....