Comments
The Barbie Syndrome: Interchangeable Fundamentalist Wives Easily Replaced by the New Model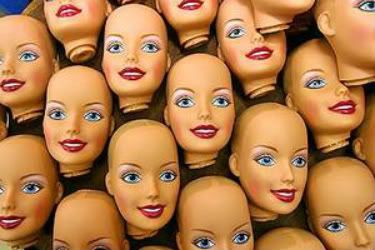 Written by Vyckie Garrison forRH Reality Check. This diary is cross-posted; commenters wishing to engage directly with the author should do so at the original post.
by No Longer Quivering guest writer, "Calulu"
A few weeks ago I was witnessing internet wide that one thing is certain. Just about everyone has a strong reaction to the news that Michelle Duggar is enceinte again. Of course I snicked like the sarcastic wise-cracking gal I am and some of us tossed around those hoary old chestnuts we always say when discussing Duggar child bearing. "It's a vagina not a clown car" and "Looks like Jim Bob tossed the hotdog down the well again" In most of the online discussion of how dangerous her playing maternal Russian roulette actually is no one seemed to hit upon my first thought, how quickly would Jim Bob replace her with a newer, younger, prettier model. I mean, really, it's like shooting dice, eventually snake eyes is going to come up. Bad things happen if you keep repeating the same risky behavior. Look at the last of her pregnancies. Something did go wrong. It's just simple statistics that sometimes things go haywire and we can't do much about them. But why put yourself in those types of risky situations in the first place? Back when I was with my old church I got to see this numerous times.
Continue reading....
Liked this article?

Join our email list
Stay up to date with the latest headlines via email