Comments
STOKING FIRE: Ultra-Conservative Doctrine May Be the Reason for Unreported Sexual Crimes in the Military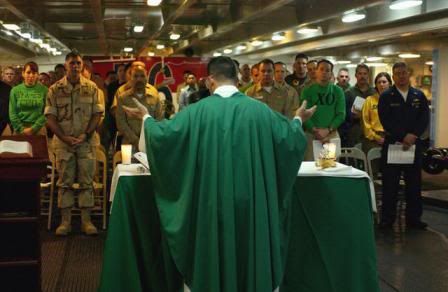 Written by Eleanor J. Bader forRH Reality Check. This diary is cross-posted; commenters wishing to engage directly with the author should do so at the original post.
The cliché tells us that war is hell, but for female enlistees, the war on the domestic front—within their units--trumps that of the battlefield. In fact, a recent
Veteran's Administration survey
revealed statistics that should have turned the military on its warmongering head: 30 percent of female vets told the interviewers that they had been assaulted by a male colleague and/or supervisor. Worse, 14 percent reported having been gang raped and 20 percent reported having been raped more than once. Shockingly, these figures may be low since under-reporting of sexual crimes is known to be endemic. Part of the blame for the reluctance to report rests with an unsympathetic military chaplaincy, one of the few places soldiers, sailors, reservists, national guardians, and marines can turn for counseling.
According to the St. Louis Post-Dispatch
, 20 percent of today's 3000 military chaplains were trained at the ultraconservative Liberty Baptist Theological Seminary in Lynchburg, Virginia. Founded by Rev. Jerry Falwell and Elmer Towns in 1971, the school bills itself as the world's largest seminary, something it attributes to its "conservative doctrinal position, its sound grounding in Bible teachings, and its reflection of core Christian essentials." The school's website clears up any definitional murkiness: "Liberty is committed to changing the entire world for Jesus Christ, first changing the world with its students, then equipping them to change the world around them." While most of its students are undoubtedly attracted to this mission, others attend Liberty because tuition is low: $1900 a term for residential students and $2200 for distance learners. During the 2011-2012 year, nearly 9000 students from 46 countries registered for online classes; of them, more than 1000 hope to complete the 72-credit program and become military chaplains. A severe shortage of armed forces clerics—
an article
posted on
Times Union.com
in February 2011 blames the deficiency on the military's rigid age and physical requirements and on the reluctance of pastors/rabbis/imams to exchange the comforts of home for combat—will likely make this dream come true for many of them. That this bodes badly for women and the LGBTQ community is a given.
Continue reading....
Liked this article?

Join our email list
Stay up to date with the latest headlines via email