Comments
Collision of Reality and Ideology: Karen Santorum's Past and Rick Santorum's Vision of Your Future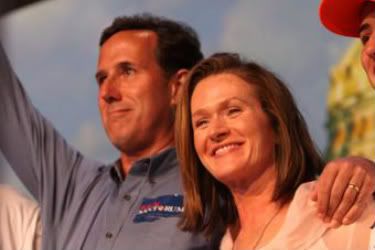 Written by Carole Joffe forRH Reality Check. This diary is cross-posted; commenters wishing to engage directly with the author should do so at the original post.
"When she met Rick, Karen was living with Tom Allen, an OBGYN who in the early 1970s cofounded Pittsburgh's first abortion clinic. It was a somewhat unusual pairing. Allen was the doctor who delivered Karen. She began living with him while an undergraduate nursing student at Pittsburgh's Duquesne University.  She was in her early 20s, he was in his 60s…..'When she moved out to go be with Rick, she told me I'd like him, that he was pro-choice' said Allen.'"
The above quote is from an article on Senator Rick Santorum
first published in a Philadelphia weekly
in 2005, with similar material later
repeated in U.S.News and World Report
.
Normally, I feel that the past sexual history of a candidate's spouse should be off limits to journalists and bloggers. But given Santorum's rising fortunes as a serious candidate for the presidency, and in particular, his astonishing views on sexuality and contraception, I believe that attention to Karen Santorum's past is warranted in this instance. Here,
as reported by the journalist Michelle Goldberg
, is a summary of the Senator's position on these topics: "It's [contraception] not OK. It's a license to do things in the sexual realm that is counter to how things are supposed to be." Included in this is birth control used by married couples. Sex, he said, is 'supposed to be for purposes that are yes, conjugal and unitive, but also procreative. Most presidents don't talk about such things', he said, but 'these are important public policy issues. They have profound impact on the health of our society.'"
Continue reading....
Liked this article?

Join our email list
Stay up to date with the latest headlines via email