Comments
Prayer Cures AIDS, Says Uganda Health Minister Tied To Rick Perry's New Apostolic Reformation Allies
"If a man sleeps with a man, if a woman sleeps with a woman, the Bible, this Bible, says such people should be killed." -- Apostle Julius Oyet, head pastor over Ugandan Health Minister Christine Ondoa, 2010 Kampala rally
Amid belated media recognition that the apostles of church-growth guru C. Peter Wagner's
New Apostolic Reformation
dominated presidential hopeful Rick Perry's August 6th The Response prayer event, some pundits are
rushing
to dismiss the political influence of
dominionist
factions within evangelical Christianity. But Wagner's movement now exerts influence over the health policy of an entire African nation, with a population bigger than Texas: Uganda. As
reported
in Ugandan media, in May 2011 Dr. Christine Ondoa was chosen as the new head of Uganda's Ministry of Health.
The position will give Ondoa authority over a significant portion of Uganda's foreign HIV/AIDS mitigation funding, which in the year 2010 included over $270 million dollars from the United States. Along with her role as a medical professional, Christine Ondoa also
serves
as pastor in the
Life Line Ministries
of apostle Julius Peter Oyet, one of the most powerful clerics leading Uganda's ongoing crusade against gay rights. Julius Oyet's Life Line Ministries
runs
a
Uganda branch
of an international faith healing ministry under Wagner apostle Cal Pierce,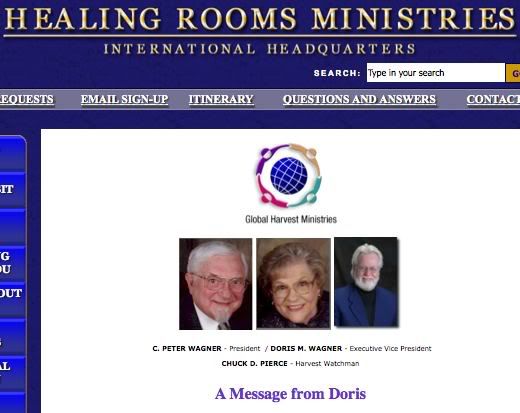 head of the
International Association of Healing Rooms
. Cal Pierce's Healing Room Ministries
lists
almost 400 healing room branches in cities and towns across the United States, and well over 1,000 internationally. Since her appointment as Health Ministry head, Ondoa has
promoted the claim
, an established
tenet
of Peter Wagner's apostolic movement, also
advanced
by Oyet's Life Line Ministries, that HIV/AIDS can be cured through prayer. According to a
story
published September 2008 in the Uganda Daily Monitor, "Unverified faith healing is posing a threat to adherence to antiretroviral therapy (ART) by persons living with HIV/Aids." Apostle Julius Oyet has stated that "even animals are wiser than homosexuals", forthrightly
declared
that homosexuality should be a capital crime, and
claimed
to have co-authored the internationally condemned, so-called "kill the gays" bill--submitted in 2009 by a member of Oyet's elite "College of Prayer" group in Parliament. As
reported
by evangelical psychologist Warren Throckmorton, who has closely tracked Uganda's anti-homosexuality campaign, Julius Oyet was one of two religious leaders who in April 2011 presented to Uganda's parliament a petition, reportedly signed by 2 million citizens, calling for passage of the Anti Homosexuality Bill. Oyet has an official commission from the Ugandan government, through parliament, to rally public support for the bill. According a 2008-2009 annual report from the Alberta, Canada Spruce Grove Alliance Church (
PDF file
of report), both Christine Ondoa and Julius Oyet have visited the church under the auspices of the Atlanta-area based
College of Prayer International
, which is currently
soliciting funds
for Julius Oyet's branch of the ministry,
College of Prayer Uganda
.  The College of Prayer International's 2007 990 tax form shows payments of over $11,000 to Oyet, for travel expenses.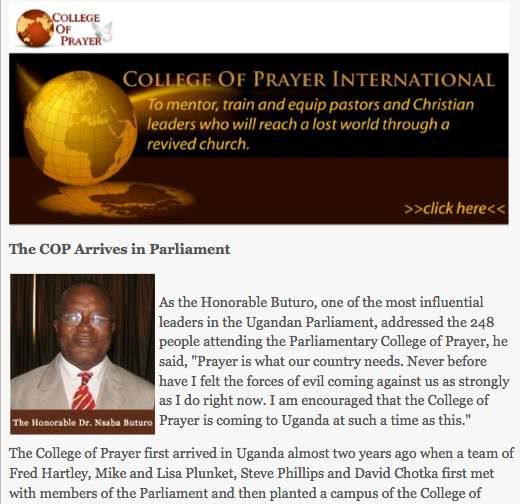 A team from the Spruce Grove Church helped to launch The College of Prayer Uganda, which officially began with
an April 18th, 2009 inaugural "Parliamentary Prayer Breakfast"
reportedly broadcast on Ugandan national television and attended by over 50 members of parliament. The ceremony was officiated by MP Benson Obua Ogwal, who along with MP David Bahati is a member of Julius Oyet's elite COP "servant leadership team" in parliament. According to the official web site of Uganda's parliament, the Anti Homosexuality Bill was
originally introduced
on April 29, 2009, by MP David Bahati, with supporting comments from MP Benson Obua Ogwal, described in Ugandan media as a longtime personal friend of Christine Ondoa.
Read the rest of this story, at Talk2action.org