'Craigslist Murder' Suspect to be Arraigned Today
BOSTON, Massachusetts (CNN) -- A 23-year-old medical student, indicted on a first-degree murder charge in a killing tied to Craigslist, is to appear at an arraignment hearing Monday morning.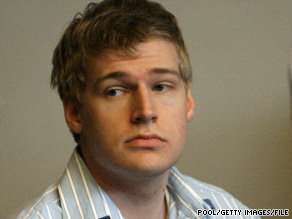 Philip Markoff is charged with killing a woman and robbing another in Boston hotels in April.
Philip Markoff is accused in the the fatal shooting of one woman and the robbery another in Boston hotels earlier this year.
A Massachusetts grand jury late last week indicted him on the seven counts.
Markoff is charged with the April 14 fatal shooting and attempted robbery of Julissa Brisman, 25, and the armed robbery of a 29-year-old Las Vegas woman on April 10. Investigators have linked both crimes to ads on the popular Web site Craigslist.
He is also charged with "the armed and forcible confinement" of the two women, as well as two counts of unlawful firearm possession, the Suffolk County District Attorney's Office said Sunday.
Read the entire article here.