Support for Amendment to Overrule Citizens United Decision Picks up Grassroots Support
Joining nearly three hundred other towns, cities, organizations and the state of Vermont, Flagstaff, Arizona residents will be celebrating their groundbreaking role in the Southwest, as part of the growing movement for a 28th amendment to overrule the Supreme Court's Citizens United decision.
Last month, Flagstaff became the first city in Arizona to pass a nonbindingresolution, "in an attempt to reclaim our democratic process and limit corporate contribution for the purpose of influencing elections," said Cheryl Bader, one of the community organizers behind Flagstaff for Democracy.
As part of the "Move to Amend" barnstorming tour led by nationally known activist David Cobb, the Progressive Democrats of Northern Arizona andFlagstaff for Democracy will host a community forum on "Creating Democracy and Challenging Corporate Rule" at the Murdoch Center, 203 E. Brannen Ave. in Flagstaff, on Saturday, June 16, 2012 from 2-4pm.
Speaking at a forum in Washington last week, retired Supreme Court Justice John Paul Stevens reiterated his opposition to the landmark court decision in 2010, and praised President Obama's comments in his State of the Union address: "In that succinct comment, the former professor of constitutional law at the University of Chicago made three important and accurate observations about the Supreme Court majority's opinion," Stevens said in a speech Wednesday evening. "First, it did reverse a century of law; second, it did authorize unlimited election-related expenditures by America's most powerful interests; and, third, the logic of the opinion extends to money spent by foreign entities."
In advance of Saturday's program, Flagstaff organizers Eva Putzova and Joe Bader offered their views on the citizens movement, the role of towns like Flagstaff, and next steps in their campaign.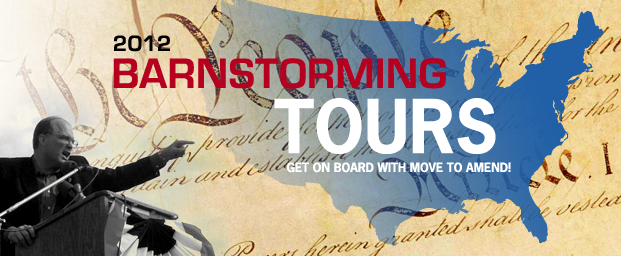 Jeff Biggers: We're entering the first presidential election since the U.S. Supreme Court's controversial Citizens United v. Federal Election Commission decision. According to one report last month, super PACS had already poured $100 million into the 2012 cycle. How do you see this subverting the democratic process locally and regionally?
Eva Putzova: The State of Arizona limitations on PACs' contributions to political campaigns and Super PACs' independent expenditures can be easily and successfully challenged, given the superiority of Supreme Court decisions in our legal system. So the matter of money in politics is not just an issue relevant to the national elections. Under this Supreme Court decision it is completely conceivable that an individual writes a check for $20,000 to support a specific City Council candidate. With just that relatively small amount one person can significantly change the City council race dynamics.

JB: Can you provide a little background on the 28th Amendment movement? Does it have support of mainstream groups like Move On.org? Are there certain towns, like Flagstaff, taking the lead?
Joe Bader: The notion that corporations are not natural persons entitled to constitutional rights intended solely for human beings and that money is not speech for the purpose of influencing elections is supported by several national organizations and campaigns, including Move to Amend, Free Speech for People, and Progressive Democrats of America. Not all movements agree on the specifics of how to restore the democratic process and limit the influence of money in politics, but most favor a path through the constitutional amendment. To date nearly 300 municipalities, organizations, states, and citizen initiatives addressed (to various degrees) corporate constitutional rights through resolutions and ordinances in an attempt to reclaim democracy. On May 1, 2012 Flagstaff was the first Arizona city to adopt a resolution calling on Congress to approve a 28th amendment to the United States Constitution that would overturn Citizens United by stating that corporations are not natural persons entitled to constitutional protections of free speech and that money is not speech for the purpose of influencing elections. Tucson followed with the City Council vote on June 12, 2012 and a grassroots effort is mobilizing Prescott to do the same.
JB: Can you describe the grassroots effort behind getting Flagstaff to become the first community in Arizona to pass a resolution calling upon the U.S Congress to approve a 28th amendment to the Constitution? Are Flagstaff advocates working with other communities, and do you see other Arizona towns and cities as future partners?
EP: The movement for the 28th Amendment in Flagstaff is championed by Flagstaff for Democracy, an alliance of local activists and organizations formed to bring critical issues impacting democracy in our society to the forefront of local discussion. As part of the process, the alliance circulated a petition, organized a rally, and successfully lobbied the Flagstaff City Council to pass a resolution. On June 16, 2012 the group is hosting formal presidential candidate David Cobb, now a spokesperson for Move to Amend, to celebrate the City resolution.
It was interesting that in January 2012, several City councilors were still not familiar with the 2010 Supreme Court's decision in Citizens United v. Federal Election Commission and its implications. We took it upon ourselves to educate both the elected officials and the general public about the Court's decision and how it relates to local politics.
JB: Would such an amendment require a Constitutional Convention, and if so, how would that happen?
JB: An amendment has to be proposed either by a 2/3 vote of both houses of Congress, or else by a constitutional convention convened when the legislatures of 2/3 of the states so request. The amendment has to be ratified either by the legislatures of 3/4 of the states, or by conventions in 3/4 of the states, depending on which means of ratification Congress proposes. All of the amendments to the Constitution, of which there are now 27, were proposed by Congress, and all but one were ratified by state legislatures. The convention route has never been used for proposing an amendment, and was used only once for ratifying an amendment (the 21st, which eliminated Prohibition). (Source: movetoamend.org)
To amend the Constitution is a long process. For example, it took the Congress 41 years to pass the 19th Amendment that extended the right to vote to women and effectively overturned the Supreme Court's decision in Minor vs. Happersett from 1875. Flagstaff for Democracy understands the political capital in mobilizing communities around the country and building pressure for the Congress to act.
JB: What's the next step for Flagstaff?
EP: Flagstaff for Democracy plans on building more support for the amendment by advocating for Coconino County to pass a resolution similar to that passed by the City of Flagstaff. While we became an affiliate of Move to Amend on this particular issue, overturning Citizens United decision is not our only focus. Good jobs, thriving communities and a healthy environment are the three intertwined issues, for which we intend to build community support and thus initiate change in public policies.
JB: Other comments?
EP: Cheryl Bader noted: "Local governments are sometimes hesitant to address national political issues. In most cases, however, the decisions made in Washington impact not only individuals in our communities directly, but also the ability of elected officials to use a full range of tools as they develop policies to benefit their constituents. Since money can influence the local political process, we are proud that the Flagstaff City Council understood the relevance and importance of the movement to overturn the Supreme Court's decision and adopted a resolution to reflect that sentiment."