Poll: Trust in Fox News in Sharp Decline; PBS is Most Trusted
Hardly surprising, but now there are numbers. From PPP's latest poll:
PBS the most trusted name in news

Raleigh, N.C.- As its affiliated Republican Party's fortunes rose in the last year, Fox News' have declined. In January 2010, PPP showed Fox as by far the news outlet most trusted by American voters. In this month's poll, Fox is still relied on by more than some other competitors but is far behind PBS, tested for the first time. PBS is the only group trusted by a majority and distrusted by fewer than 40%.

A year ago, Fox's 49-37 (+12) trust-mistrust margin significantly outpaced ABC's  -15, CBS'  -14, NBC's  -9, and CNN's  -2. In the meantime, all but CNN have boosted their images. Fox now stands at 42-46 (-4), better only than CBS'  -7 and ABC' s  -8, but worse than CNN's  -3, NBC's 0, and PBS' 50-30 (+20).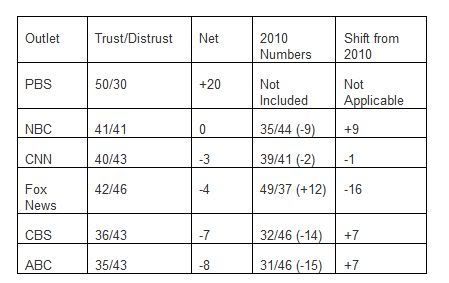 Both moderates (from  -15 to  -32) and liberals (from  -40 to  -76) have almost completely abandoned Fox. But it remains the most trusted by any one ideological group (conservatives, at 72-16) of any of the networks except PBS' 76-11 with liberals. Conservatives only mistrust PBS by a  -32 margin, way less than their  -49 of NBC,  -51 of ABC,  -53 of CBS, and  -54 of CNN. The narrow moderate plurality (41% to conservatives' 40%) give PBS a +49, roughly two to three times their +26 for CNN, +24 for NBC, +17 for ABC, and +16 for CBS.

While Republicans have only slightly declined in their esteem of Fox (from 74-15 to 67-22), independents have gone from about even (41-44) to  -16, and Democrats' mistrust has doubled from  -22 to  -43. PBS is the only channel at all trusted by independents, with a strong 44-32, but they do trust Fox more than ABC (-21) or CBS (-22) and only narrowly less than CNN (-15) or NBC (-14). A year ago, independents disliked most of the networks by around 30-point margins.
Particularly interesting in light of (1) past results from PIPA/WorldOpinion.org showing Fox most misinforms and PBS least misinforms their respective viewers and (2) conservatives' resurgence in desire to defund PBS/NPR for firing Juan Williams.
Cross-tabs for outlets by ideology on the flip, along with a reminder of the findings on misinformation.
Here are the cross-tabs by outlet & ideology:






 And the results from PIPA/WorldOpinion.org I reported on in December. First, Fox was far and away the misinformation leader:
In the great majority of cases, those with higher levels of exposure to news sources had lower levels of misinformation.

There were however a number of cases where greater exposure to a news source increased misinformation on a specific issue.

Those who watched Fox News almost daily were significantly more likely than those who never watched it to believe that:

most economists estimate the stimulus caused job losses (12 points more likely)

most economists have estimated the health care law will worsen the deficit (31 points)

the economy is getting worse (26 points)

most scientists do not agree that climate change is occurring (30 points)

the stimulus legislation did not include any tax cuts (14 points)

their own income taxes have gone up (14 points)

the auto bailout only occurred under Obama (13 points)

when TARP came up for a vote most Republicans opposed it (12 points)

and that it is not clear that Obama was born in the United States (31 points)

These effects increased incrementally with increasing levels of exposure and all were statistically significant. The effect was also not simply a function of partisan bias, as people who voted Democratic and watched Fox News were also more likely to have such misinformation than those who did not watch it--though by a lesser margin than those who voted Republican.
Second, other sources of misinformation were not comparable to Fox. There were only two items that were statistically significant:
There were cases with some other news sources as well.

Daily consumers of MSNBC and public broadcasting (NPR and PBS) were higher (34 points and 25 points respectively) in believing that it was proven that the US Chamber of Commerce was spending money raised from foreign sources to support Republican candidates.

Daily watchers of network TV news broadcasts were 12 points higher in believing that TARP was signed into law by President Obama, and 11 points higher in believing that most Republicans oppose TARP.