Thanks to GOP, Extended Unemployment Benefits Expire Today
Extended unemployment benefits are about to run out today.  If al Qaeda really wanted to hit America where it hurts, this is what they'd do.  But there's no need, since the GOP is poised to do it for them.
A letter from 29 senators to Harry Reid and Max Baucus, says, in part:
"We understand the fiscal concerns that arise when debating a continuation of unemployment insurance programs.  However, a broad spectrum of economists has stated that these benefits have a significant stimulative effect and a greater impact on gross domestic product than most other federal programs. In fact, the Economic Policy Institute has stated that an extension of federally funded extended benefits would increase gross domestic product by 0.7 percent and save or create the full-time equivalent of 723,000 jobs.  A U.S. Department of Labor report, commissioned during the Bush Administration, has found that unemployment  benefits during the most recent recession saved 1.6 million jobs per quarter, lowered the unemployment rate by 1.2 percentage points, and reduced the decline in gross domestic product by 18.3 percent.  Based on this information, now is not the time to end federally funded unemployment benefits.
Conservatives like to pretend that all this unemployment is due to a sudden wave of laziness among workers.  Or, alternatively, it's because marginal taxes on millionaires has created "uncertainty", though how that's supposed to affect job creation they never bother to spell out.  But the reality is quite simple: This is the worst recession since the Great Depression, and employment gains in recoveries after recessions have grown increasingly slow over time.
From the Real World Economics Review blog last week, "USA long-term unemployment: 5 graphs", here are two in particular.
First, just how bad this recession is in comparative terms, and how weak and delayed the recovery is: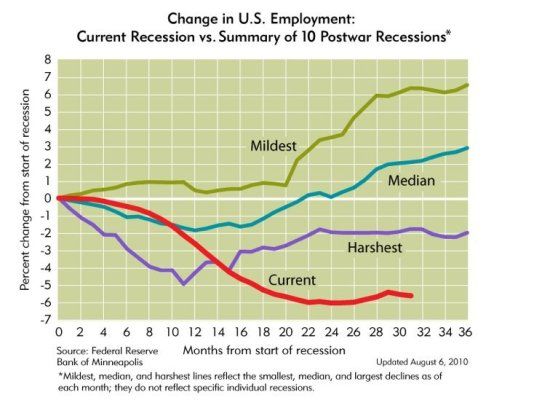 Second, just how sharply long-term unemployment has spiked: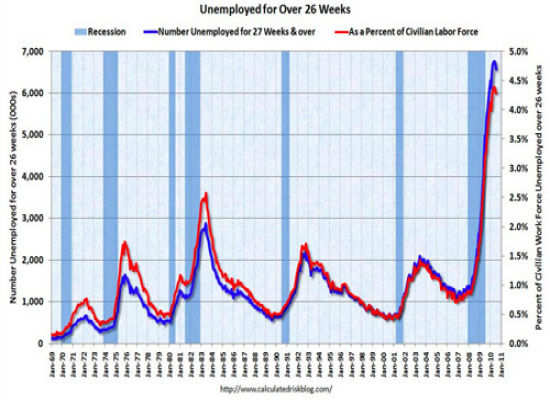 This is not a question of economic policy.  
This is a question of economic policy vs. pure sadism.