Occupy LA Stages Artful Protest during City's Art Walk and Draws Riot Police
Occupy LA caused a laugh riot when an absurd demonstration for free speech was met with an even more ridiculous police response. At 6pm on July 12, Occupy LA gathered at Pershing Square to debrief on the upcoming "Chalk Walk" action, where occupiers were set to write political messages on the sidewalks of downtown. Many discussed plans not to get arrested, but rather to raise awareness about on-going police oppression of activists.   Over the course of the last 6 weeks, twelve members of occupy LA, Occupy the Hood, and Occupy Skid Row were charged with felony vandalism for writing on the sidewalk in chalk. In order to fight these unreasonable charges, occupiers devised an action to give out "free chalk for free speech" along with fliers detailing the recent arrests during the city's monthly art walk event.
Chalking is not a crime according to McKinney v. Nielsen, an eighteen year old court decision, where writing on a public sidewalk was confirmed not to cause damage. However, other court cases since then have led to mixed results. Further adding to the confusion, one of the arresting officers last night did not even know if chalking is a crime.  LAPD Officer Karen Rayner commented to HuffPost on the legality of chalking and stated, "It's not vandalism because it's not permanent, but I don't really know."   Yet, a different police officer stated to me that "Writing in chalk is vandalism and that's why people are being arrested."
Within minutes of leaving Pershing Square and walking to 5th and Spring, a member of Occupy LA was arrested for chalking.  The shaken group of occupiers gathered on the side walk near the intersection and began handing out fliers and chalk with a warning to people that the cops would arrest if they wrote on the sidewalk. Some passers-by could not believe such a law was real and decided to boldly chalk in front of the police.  All parties were promptly arrested. Over the course of two hours, eight people were arrested for chalking, while police harassed, targeted, and followed occupy protesters around downtown. Meanwhile, hundreds of others gathered in disbelief that the LAPD were staging a skirmish line in full riot gear at 6th and Spring. People began flooding out of bars and art galleries to take photos and share them on social media.  As the saying goes, nothing attracts a crowd like a crowd.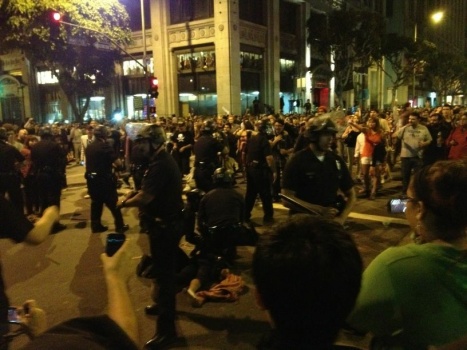 By 10pm, LAPD attempted to disperse the growing crowd pushing onlookers with batons and by using tear gas, "stinger balls," rubber bullets, and bean bags.  Occupy LA protesters took to the streets chanting, "Who do you serve? Who do you protect?"  Police then charged into the massive gathering, while shooting rubber bullets indiscriminately into the now retreating mass of people.  Two bystanders were hit with projectiles.  One young man was hit in the face by a rubber bullet after exiting the 7-11 and another was shot in the side while walking through the crowd with his girlfriend on his way to his car.  Three helicopters circled the area contributing to the chaotic atmosphere.  One reporter told a group of people that the police declared an unlawful assembly, but when asked how he heard that, he confessed that his station manager called to inform him to exit the area. Another reporter seemed to be inciting the crowd by asking, "Why don't you just go home?" Eventually protesters were split into smaller groups by cops moving forward block by block and shooting at the crowd.  Many left the area as the police violence against on-lookers escalated. 
All told, Occupy LA's action was designed to be a bit mischievous, but also fun. The on-going harassment of occupiers is not unique to Los Angeles either.   OWS was recently accused of murder in a NY Post headline. However, Occupy LA's situation seems to be aggravated by two intervening events.  On May 1st 2011, during the Occupy LA May Day march a police officer was hit by demonstrator.  Later that day in a rare and one of a kind tweet, LAPD Chief Charlie Beck wrote, "Help find this susp. Tweet me or send info on Suspect to//lapdonline.org:  Ofcr assaulted w/skateboard//latimesblogs.latimes.com." The LAPD's desire to protect and serve themselves is shown in the retaliation against the entire Occupy LA movement for this act. 
In addition, Occupy LA has been consistently demonstrating in front of the Central City Association (CCA) located at 626 Wilshire in Downtown Los Angeles to protest the uneven influence of big business on local laws and enforcement. The CCA works in a partnership with the city to provide a private security presence in the downtown area as well as drafts laws that benefit business interests. These laws get passed accompanied by generous donations to City council members.  The CCA security guards often harass people living on skid row and routinely throw away homeless person's belongings in raids disguised as city sanitation.  Occupiers are aware of the deep connections between the city's power elite and actions such as Chalk Walk shed light on how the CCA, City Hall, and the LAPD work together to suppress dissent while favoring profits over people. 
The Occupy Movement has been declared dead by many journalists and academics in recent weeks. However in Los Angeles, occupiers and allies are staging a three day encampment to free Bradley Manning this weekend.  Follow hashtags #FortManning and #occupyLA to see how this action unfolds.
Occupy The Social
/ By
Joan Donovan
| Sourced from
Posted at July 14, 2012, 7:22am