Like any other businessmen seeking to differentiate their product from similar competitors, heroin dealers come up with brand names, too. Among the latest is this entry from Massachusetts: "Obamacare"
This photo comes courtesy of the Massachusetts State Patrol, whose troopers seized 1,250 packets of heroin stamped "Obamacare" or "Kurt Cobain" during a Friday morning traffic stop.
Branding heroin is nothing new; legendary New York City heroin dealer Frank Lucas had his "Blue Magic" back in the 1970s. In recent years, the trend has continued, with names such as "Bugs Bunny," "Buddha," "Bin Laden," and "LeBron James" all making appearances, some for more obvious reasons than others.
"Kurt Cobain" I can understand, from a heroin marketer's viewpoint. This shit will blow your brains out.
But I'm not sure what message dealers are trying to convey with the "Obamacare" brand. Is this stuff gonna kill you as dead as socialized medicine? Or is it gonna bliss you out like knowing you have access to reasonably priced health insurance despite preexisting conditions?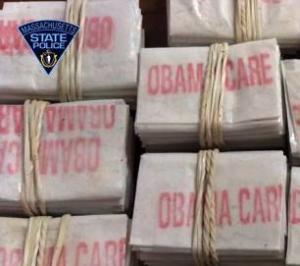 Enjoy this piece?
… then let us make a small request. AlterNet's journalists work tirelessly to counter the traditional corporate media narrative. We're here seven days a week, 365 days a year. And we're proud to say that we've been bringing you the real, unfiltered news for 20 years—longer than any other progressive news site on the Internet.
It's through the generosity of our supporters that we're able to share with you all the underreported news you need to know. Independent journalism is increasingly imperiled; ads alone can't pay our bills. AlterNet counts on readers like you to support our coverage. Did you enjoy content from David Cay Johnston, Common Dreams, Raw Story and Robert Reich? Opinion from Salon and Jim Hightower? Analysis by The Conversation? Then join the hundreds of readers who have supported AlterNet this year.
Every reader contribution, whatever the amount, makes a tremendous difference. Help ensure AlterNet remains independent long into the future. Support progressive journalism with a one-time contribution to AlterNet, or click here to become a subscriber. Thank you. Click here to donate by check.