A Photographer's Mission to Show That Breast Cancer Is More Than Pink Ribbons
April 02, 2012
Adapted from InterviewNerd.com.
---
Fashion photographer David Jay first turned his lens to breast cancer almost six years ago, shooting photos of mostly young women who'd been through disfiguring surgeries. Now his exhibition, the much-lauded SCAR Project: Breast Cancer is Not a Pink Ribbon, is traveling around the country. His photos are part of a recent book on the SCAR Project, which is also the subject of a new documentary called "Baring it All."
Jay photographs young women who are grappling with a life-threatening illness, revealing the scars from mastectomies and in some cases reconstructive surgeries that attempt, with varying levels of success, to replace what was lost. Jay says he hopes that his photos raise awareness of the realities of breast cancer, which are too often "hidden away behind a little pink ribbon." At the same time, he believes that showing a less idealized version of female beauty can itself forge a deep admiration for another kind of beauty.
"There is something so painfully beautiful in humanity," Jay says. "A beauty that transcends the glossy, mass-produced images force-fed by popular media. We recognize it instantly. The human condition: hope, despair, love, loss, courage, fear. Such fragile beauty."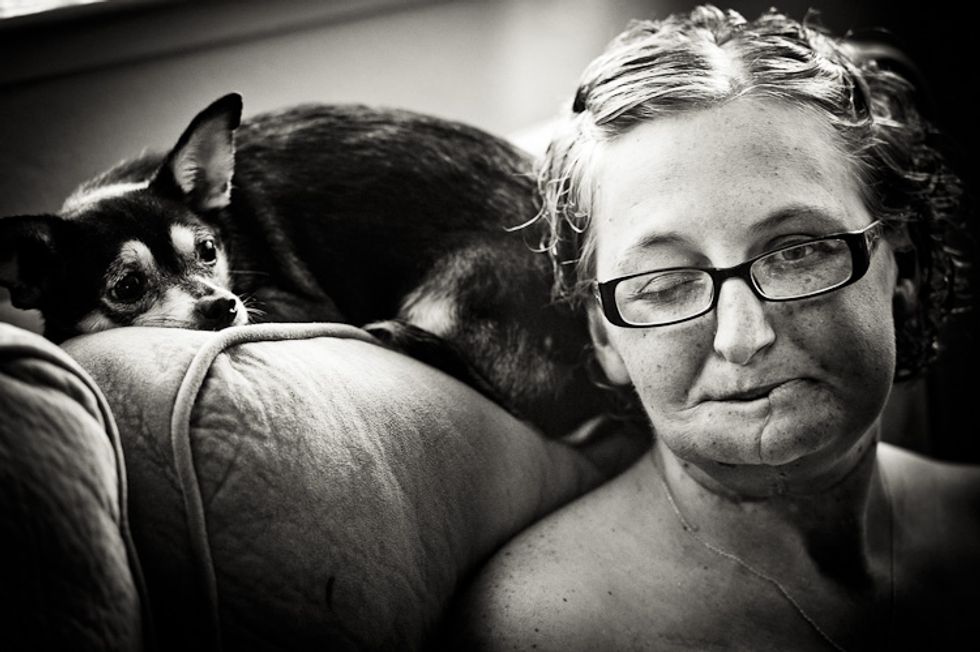 Photo Credit: David Jay
Jay's interview follows:
Q: How do you manage to shoot beautiful photos that challenge conventional notions of beauty?
A: I really struggled shooting the SCAR Project. As you know I'm a professional fashion photographer. I wanted the photos to be really, really raw and to be honest. But what I'm shooting isn't really a beautiful thing to look at. I wanted to reveal this honestly. Unfortunately or fortunately, when the women I was shooting would come to my door, I couldn't bear to take that very raw, not classically pretty picture. I knew why they had come on a certain level. They wanted something beautiful. They knew that I could do it, except that's not what I wanted to do. It's not about taking pretty pictures, it's about taking honest pictures.
I would spend a couple hours with each of the subjects, turn the lights this way and that way. Meanwhile, some of the women had put on weight from their hormonal treatments. Their skin looks like sandpaper from radiation, and they have a brutal scar. They're not looking their best. Once they were standing in front of me, I wanted to take a picture that was beautiful, at least for them. But I didn't think the pictures were honest.
It took me a couple of years to say, "No more shooting in the studio." I thought I was doing a disservice to the integrity of the SCAR Project by taking pretty pictures. Since then, the images have slowly evolved to a more and more documentary style, what you see with Jolene and other girls. You have a mix: some beautiful studio photos and more raw, documentary-style images. That being said, the raw ones are just as beautiful as the studio ones. Ultimately the beauty of the woman is going to come through, the soul of a woman.
Q: What else has changed in close to six years of doing SCAR Project?
A: When I first started, I didn't know if anyone would want to have their pictures taken or look at them after they were taken. I was really surprised when there was this huge response. The SCAR Project started out primarily as a young woman's awareness campaign, ages 40 and under. Then it moved down to 35 and under, then 30 and then 25 and under. The criteria have gotten narrower and narrower to represent a more and more accurate and full-ranging view of the disease.
Q: Any retouching?
A: There is no retouching.
Q: So your exhibit contains both stylized and raw shots?
A: Yes, and it contains the first picture I shot and the last one so far.
Q: Where is the exhibit?
A: It's traveling all around the U.S. and Europe. The next stop is in Washington, D.C., then Toronto and L.A. The exhibit changes in each city, with a few pictures removed and some added.
Q: So you're still taking photos?
A: I try to follow the women as the disease progresses. Until the very end if that is what's to be.
The last one in New York at the end of October was a very upsetting exhibition. One girl I'd been shooting four years passed away on opening day. I had just shot her at her home in California a couple weeks prior to her death. One of her last wishes was to come to New York and see the exhibition. We arranged to bring her and her mother to New York and unfortunately she was so sick at end, she couldn't get on the plane and passed away two days later.
[Pause for interviewer to keep composure]
Q: On another topic, what kind of feedback have you gotten?
A: It's been amazing. It seems to have touched a nerve that hadn't been shown the light of day. Like I said, I didn't know if anyone would look at these pictures. I never expected that the pictures would be life changing for so many people. I get so many beautiful emails and messages on Facebook. So many say the same thing: "I'm a 40- or 50-year-old woman with breast cancer, and since I've had my mastectomy: a) I've never been able to look at myself in the mirror, and b) I don't get dressed in front of my husband post-mastectomy." The messages follow similar lines. Then they write, "I got a link to the SCAR Project," and then they say, "It changed my life. It changed my perspective of myself as a woman and a human being." That feedback is the greatest gift I've ever been given.
Q: So breast cancer patients and survivors are getting validation from this?
A: Absolutely. Ultimately the SCAR Project isn't even about breast cancer. I've come to see more and more that it's more about humanity in general and having a greater compassion and understanding, being more present in our lives, being more gracious with our love. I think a lot of people get that. It's because everyone suffers. Some with cancer and some with a million other things, but when we stand in the room at the exhibition, you can't leave unchanged. And you don't leave changed about breast cancer, you leave changed as a human being.
Q: How did the documentary happen?
A: A filmmaker had approached me a few years ago and thought SCAR Project was very interesting. She inquired about doing a documentary. I said, "Sure, if it's going to be honest, do it." We spent two years filming it. The result is "Baring it All." It aired on The Style Network last year. Since then it's been shown around the world
The story revolves around the SCAR Project. It's at the hub, but the documentary focuses more on the women that I shot for the SCAR Project and has some very intimate and raw and revealing interviews with these girls, and their partners. It's the story behind the photos.
Q: Do you still do fashion photography?
A: I jump back and forth from a fashion shot to a SCAR Project shot. I'm starting my next project now. It's kind of SCAR Project 2.0, the Unknown Soldier. It's a series of large portraits of very young men and women returning from Afghanistan and Iraq, with arms, legs blown off.
I know these kinds of things have been shot before, exhibitions of wounded soldiers, but they are often clothed. I don't think they show the stumps, the disfigurement. The uniform is on, rolled up to wherever they've lost their leg. I'm trying to show the real deal. That's what they see when they get up the morning. They see the real deal.