Photo Tour: What Will It Take To Make Our Cities 100% Green?
March 20, 2012
The last fifty years have witnessed a steep worldwide increase in the percentage of population living within cities. Home to over half of the world's population on only two percent of the earth's land cover, cities consume over two-thirds of the world's energy and account for more than 70 percent of global CO2 emissions.
---
A recent UN report warns that urban areas are set to become the battleground in the global effort to curb climate change. In other words, cities and human settlements, if done right, are the places that offer the greatest opportunities not only in reducing greenhouse gases but in creating the kind of infrastructures that enable large numbers of people to live in balance with the earth's ecosystem.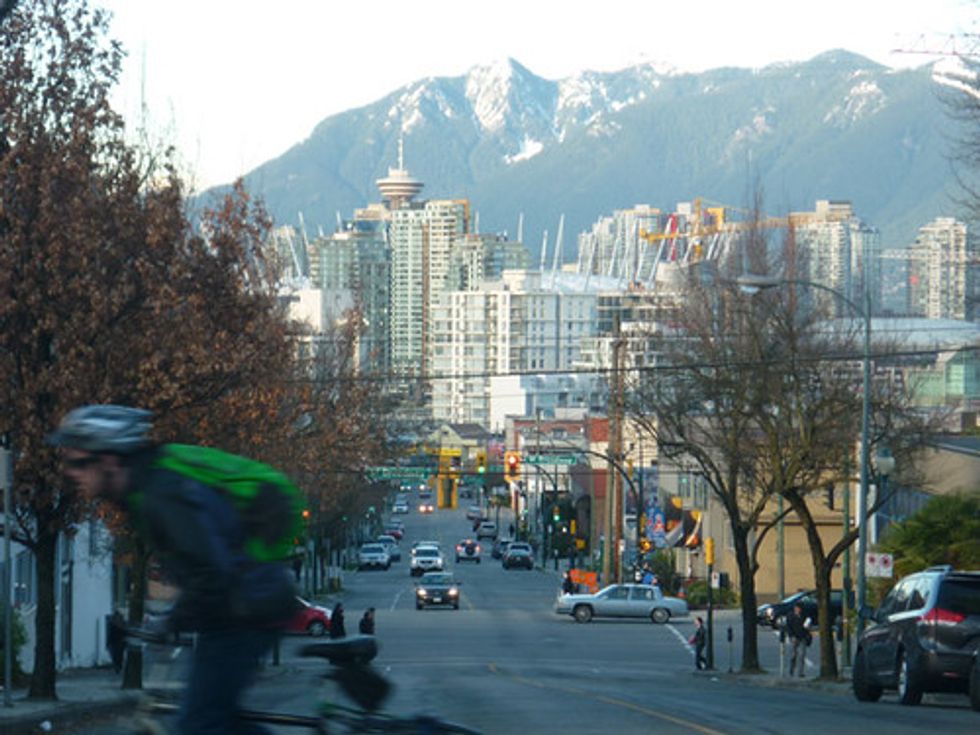 While rapid population growth continues to be one of the biggest challenges for cities in the world's poorest countries, the issue for most cities in wealthier countries with slowly growing or even declining populations is a disproportionately large per capita environmental footprint.
For example, the City of Vancouver, B.C., often touted as one of the greenest cities in the world, has an environmental footprint that's almost four times the sustainable level. That means that if everyone on earth lived as Vancouverites do today, we would need three to four planets to support that level of consumption. Still: the City of Vancouver, with its rich history of far-sighted urban planning, serves both as a model for other North American cities of how to incorporate sustainability into all city operations as well as a reminder of how steep a climb it is for a city to become truly sustainable.
On a recent trip there to discuss the International Ecocity Framework and Standards Initiative (IEFS), an innovative vision for an ecologically-restorative human civilization as well as a practical methodology for assessing and guiding progress towards the goal, my daily commute from the Mount Pleasant neighborhood where I was staying to various engagements all across Vancouver highlighted the ongoing struggle between sustainable ideals and the realities on the ground.
Eco-Density and Neighborhood Energy Utility
My destination on the first day is a talk at the downtown convention center by one of the world's great theorists and authors in ecological city design and planning, Richard Register. A walk across Cambie Street Bridge from the South False Creek neighborhood (more on that later) to the downtown peninsula affords a first impression of Eco-Density, an initiative adopted by the City of Vancouver to use density, design, and land use to help reduce their carbon footprint and expand housing choices while keeping it one of the most livable cities in the world.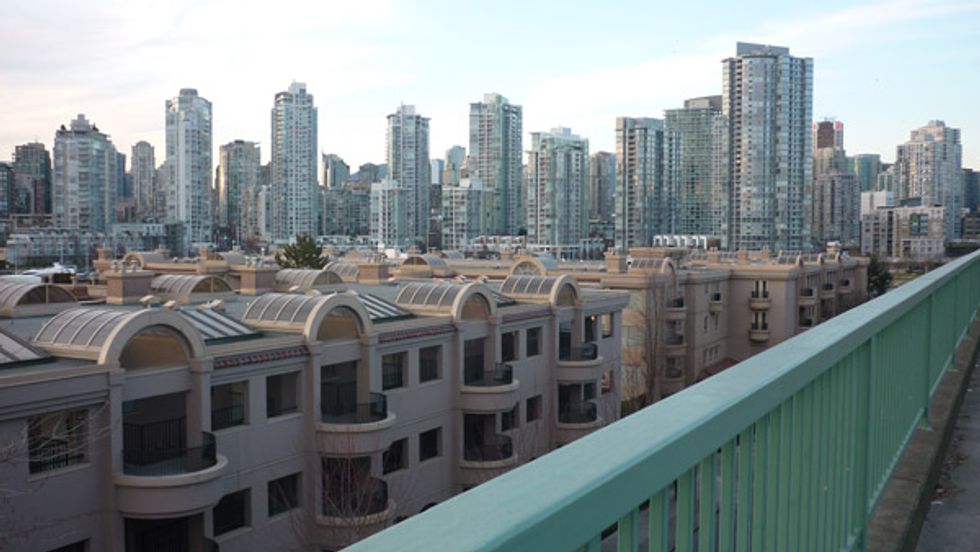 The idea of living in highrises may not be everyone's dream, especially for Americans who are used to expansive spaces and long distances, but aside from the fact that these long distances between basic services and the massive amounts of energy it takes to sustain such a set-up are slowly dismantling the American dream, density, if done well, can actually be quite enriching. Brent Toderian, Vancouver's former Director of Planning, aptly coins it The Power of Nearness, and a look across the bridge gives voice to the idea that living close together can be quite appealing if the setting is right.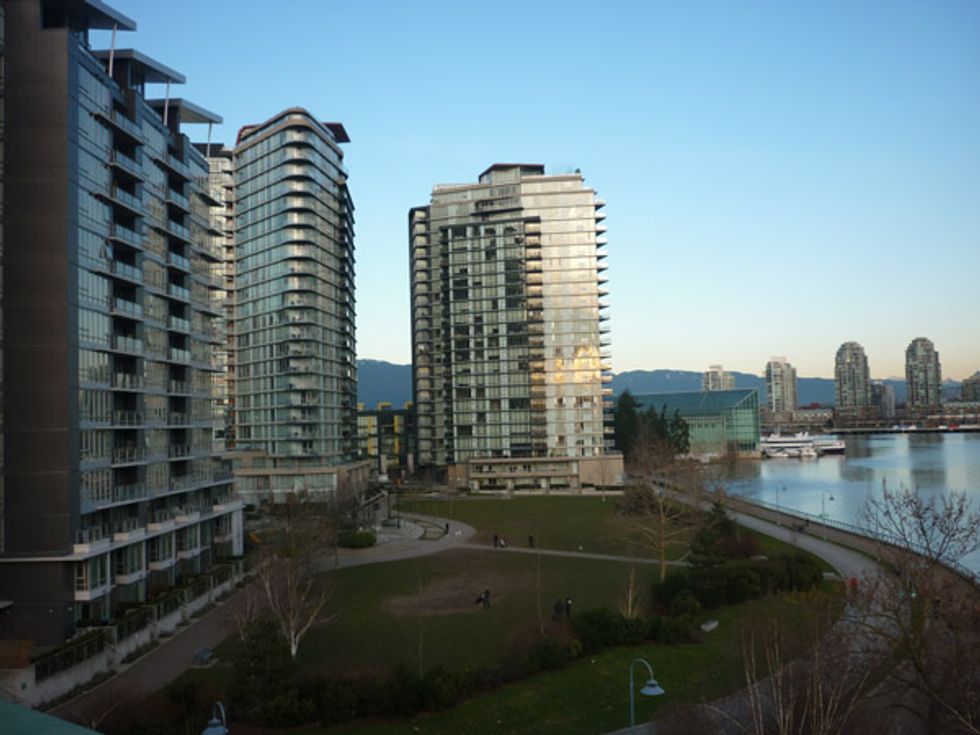 Next stop is the much heralded Neighborhood Energy Utility (NEU) underneath the southern end of Cambie Street Bridge. The first utility of its kind in North America, NEU is an environmentally-friendly community energy system that recovers raw sewage from the urban wastewater system underneath city streets, and through a heat exchange process captures thermal energy that is then delivered in the form of hot water via a pipe system to approximately 6,600 units (over 10,000 people) in the Southeast False Creek neighborhood, including the Olympic Village.
By providing about 70% of the neighborhood's annual energy demand (solar thermal modules and efficient natural gas boilers make up the balance), the NEU eliminates over 60% of the carbon emissions associated with the heating of buildings. The center itself as well as all the energy-transfer stations are LEED™ certified, their high quality design and hot water radiant heating systems further reducing energy use and greenhouse gas emissions normally associated with power plants.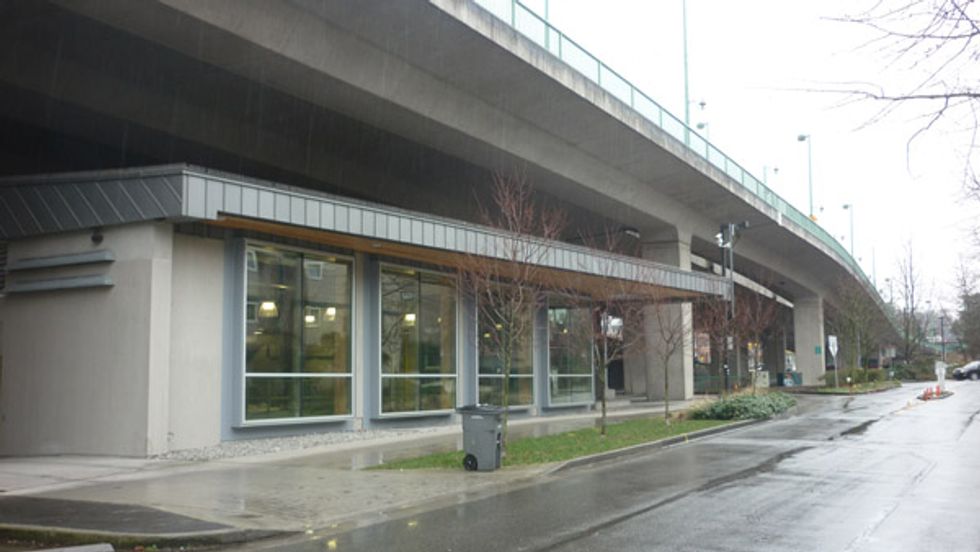 Ecologically Healthy Cities
I hop on the Canada metro line and in less than 10 minutes arrive at the convention center for Richard Register's presentation, entitled "Urban Sustainability: The Coming Transformation." Richard insists that if we want to get serious about fighting climate change, we need to build ecologically healthy cities; and that cities, if designed right, could run on 1/10th of their current energy. One of the problems, however, is that people would rather tinker around the edges, get a few solar panels, drive a hybrid car and build an "eco-friendly" home than tackle the root of the problem which is that the planet can't sustain the number of people on it with the current land use patterns of sprawl and disconnectedness.
Yet the change we need is not as hard and unattainable as we think it is. Richard points out how quickly and easily American car manufacturers shifted towards building things other than cars with the threat of Nazi Germany looming over the world. It's hard to believe these companies wouldn't be able to shift toward building much-needed infrastructure for a post-carbon economy if they had the incentive. You thought Nazis were bad? Try rising sea levels and permanent drought.
The good news is that this is not just lofty theory or distant science fiction, but in fact much of it is combining ancient wisdom with modern, progressive advances. The City of Freiburg, Germany decided against all conventional wisdom to keep its medieval walkable core intact after WWII and is now reshaping its suburbs into ecovillages. The City of Vancouver decided to adopt ecocity principles into its planning, and while far from an actual ecopolis, you can see the access by proximity principle reflected in its design.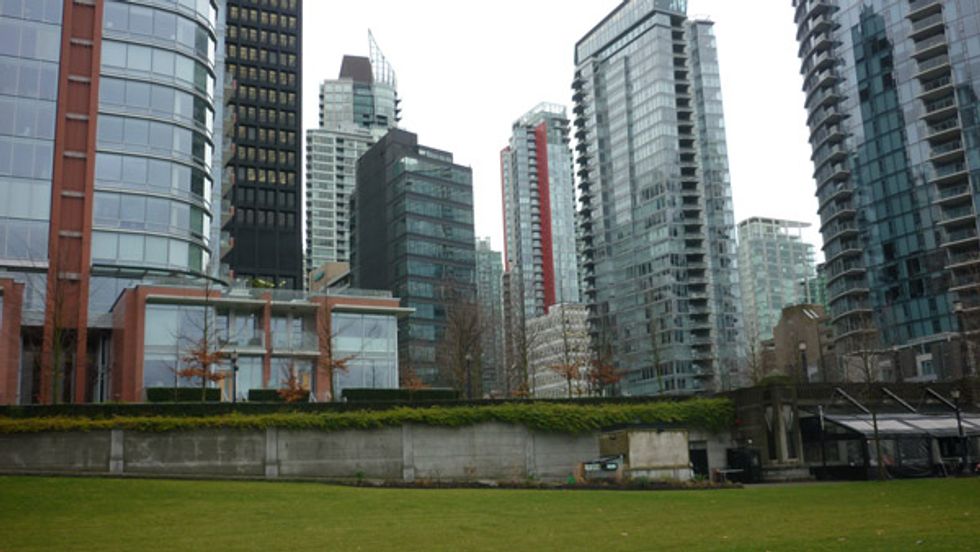 Even in the U.S., where people like it big and distant and will defend their constitutional (god-given?) right to sprawl, waste, and consume, it has been shown that it can be done. In the second presentation of the day entitled "Urban Sustainability: The Future Is Local," American developer John Knott explains how he and his team were able to turn the blighted 3,000 acre Noisette community in Charleston, South Carolina into a healthy, sustainable, human-scale community — a city within a city — within a few years.
The End(lessness) of Suburbia
The next day I head to a workshop on the BCIT's School of Construction and the Environment's Burnaby Campus in the eastern suburbs of Vancouver. The theme of the session is to make BCIT into an Ecocity campus, with a report on the progress made so far.
I make my way downtown and hop on the Expo Line. There's no direct connection to the Burnaby campus, but from the map it looks like it would be a fairly doable walk. After a 25 minute ride I get off at Patterson and start walking north. That is, I try to walk north, but I am staring at a massive 8-lane road with blocks so long that the nearest crosswalk is several hundred yards in each direction. No way to jaywalk here, either, with layer upon layer of cars forming an impermeable moat.
I decide to go right and finally get to an intersection as big as several football fields. I push the crosswalk button and wait for what seems to be several minutes. The green light turns flashing red the minute I step into the street. By the time I get back to the other side of the Metro Station to cut through a residential neighborhood I've probably already spent 15 minutes. I better pick up the pace now, our session starts in 20 minutes. There's not a soul to be seen anywhere, so it must mean I've arrived in the suburbs. I walk down big empty streets with big single family homes, without encountering a single person.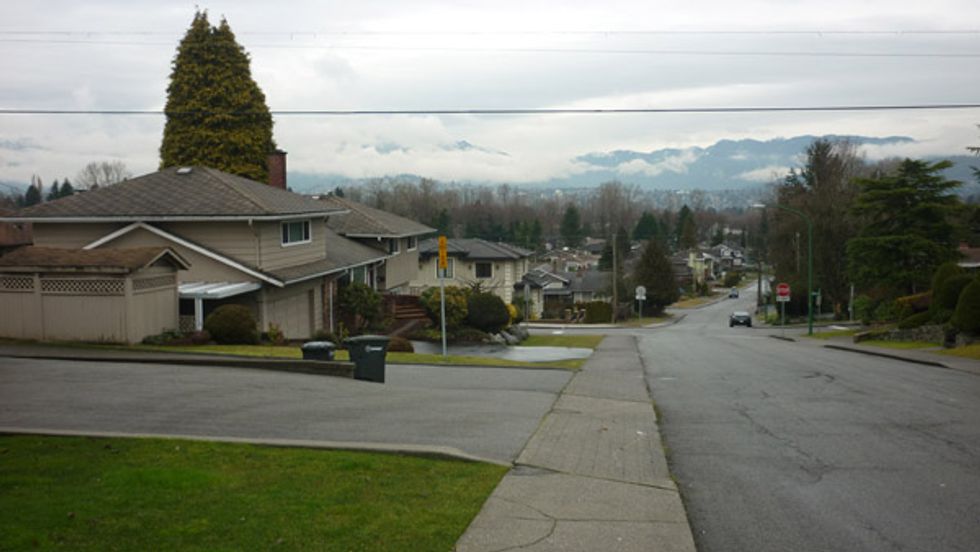 After what seems like eternity, I finally get to the south end of campus. But that doesn't mean I've arrived. I'm walking another mile to get to the main entrance, while everyone else is driving.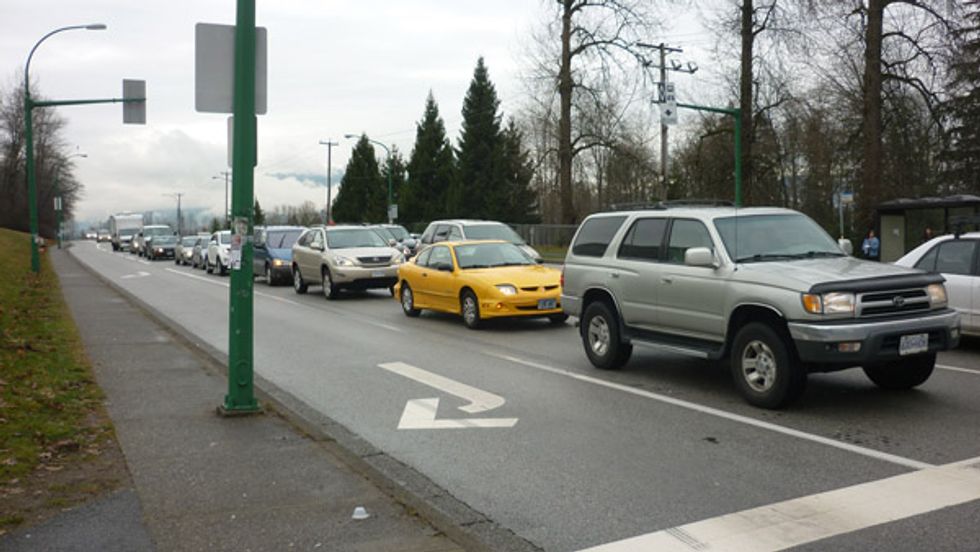 The First Ecocity Campus
I make it just in time for Jennie Moore, Director of Sustainable Development and Environmental Stewardship at BCIT, to report on the progress made since a campus ecocity design charrette a couple of years ago. She describes how the institute adopted a series of sustainability goals and went to work on the recommendations. Alexandre Hebert, one of the two (!) energy managers they hired, then gives a rundown of energy-saving projects like installing auto-timers, high efficiency boilers, compressed air systems, efficient lights, and adopting "lights out" procedures that have already saved more than 9.5% of all electricity used annually. Their goal is to reduce energy demand in the 7 main buildings by 75%.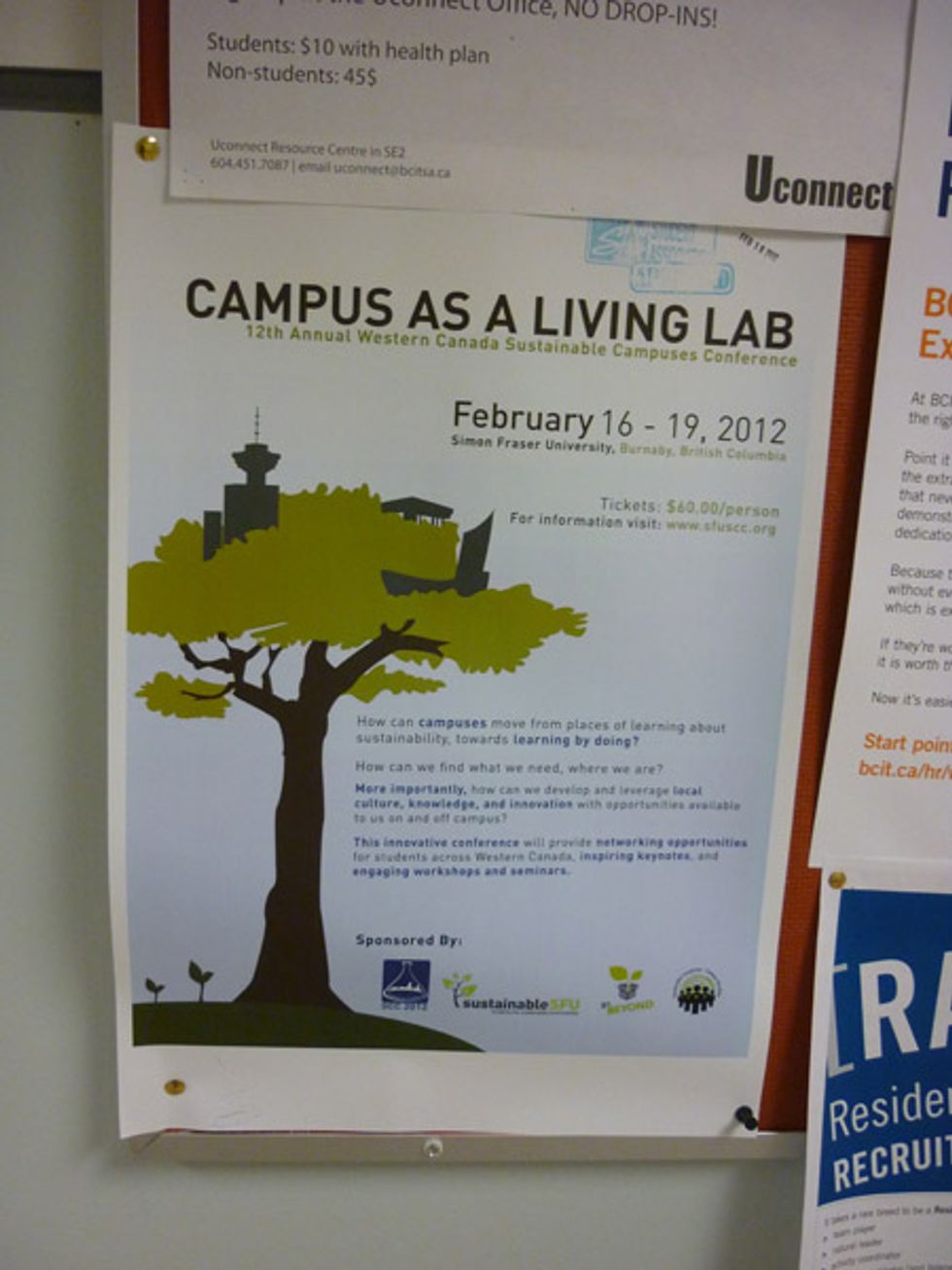 But this is just the beginning. Their commitment to sustainability encompasses not only green building design on campus, but employee stewardship programs, a greening curriculum & instructional practice, and community building programs in alignment with the goals of reducing their overall ecological footprint. Much of what they have been doing is very much in line with the IEFS, and so the next part of the session is a deliberation by the various department heads on whether to become an official Ecocity School, spanning all branches of the Institute, from the School of Engineering to Health Sciences to Media and Creative Communications. BCIT's ultimate goal is to completely transform five campuses with a population of over 15,000 full time staff and students, plus an additional 32,000 part-time students, into a zero waste, ecologically restored, greenhouse gas-neutral net energy producer.
After sneaking out of the "town hall" I decide to make my way back via the Brentwood skytrain station, which is closer to campus but also means crossing both Canada Way and the Trans Canada Highway. This is where current reality kicks in again.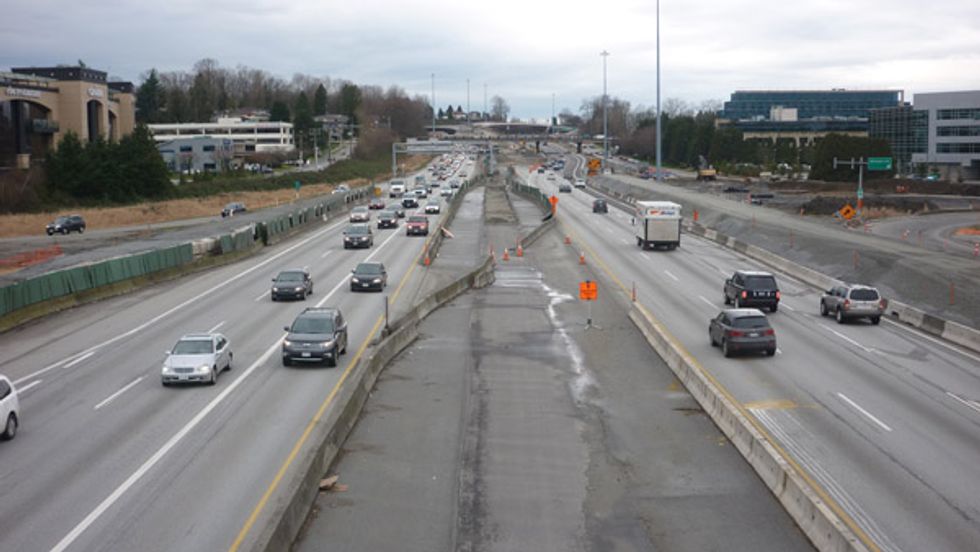 I wouldn't call it beautiful, but there's something majestically artful about these kinds of massive human constructs in their unbending will to subdue nature. And the difference in the perception of it depending on your perspective is so stark. If you're sitting in a car — itself several thousand pounds of steel — you may pay attention to it or get a little annoyed by it whenever you have to slow down, but for the most part you don't think much about it, because you're just in it, a part of the painting, if you will.
However, when you're walking, it's like you've been beamed to another planet. It's like an assault on the senses, the noise, the pollution, the sea of concrete and masses of cars. The dimension, really, is not on a human scale.
In Search of a Model Sustainable Community
The following day, Jennie Moore offers to take us IEFS advisers on a tour of the neighborhoods at the southern end of False Creek. The False Creek villages are living breathing laboratories of some of the most progressive and visionary urban planning ideas put to the test in the last 40 or so years, and we were going to learn quite a bit about the history of this long and illustrious process to transform the former industrial heartland of Vancouver into the kind of walkable, resilient, human-scale communities that could thrive for generations.
How different a car-free urban environment feels from the congested streets of most North American cities becomes apparent as soon as we enter South False Creek Village. Pedestrian and bicycle paths weaving along the waterfront and all through the neighborhood create an instant intimacy appreciated by locals and visitors alike.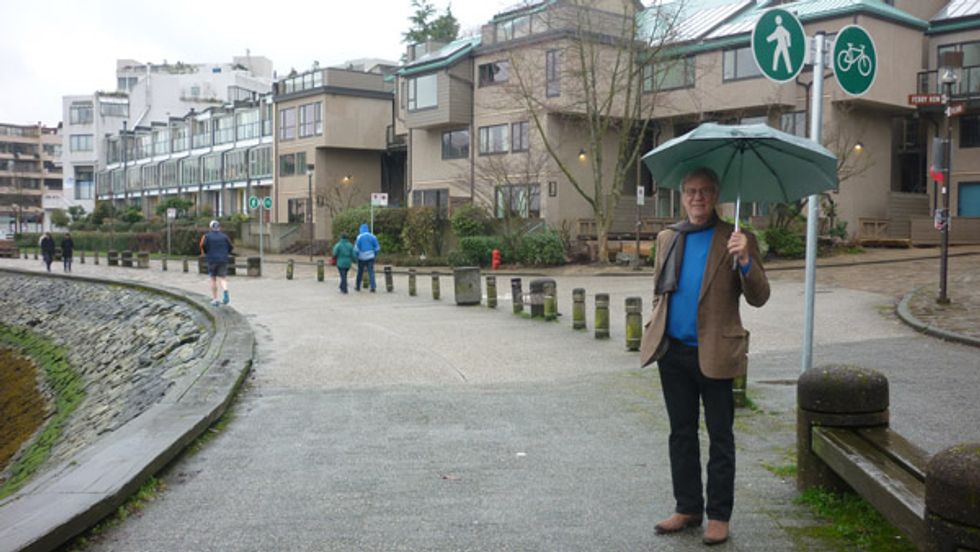 The other thing that immediately jumps out here is the architecture of the buildings.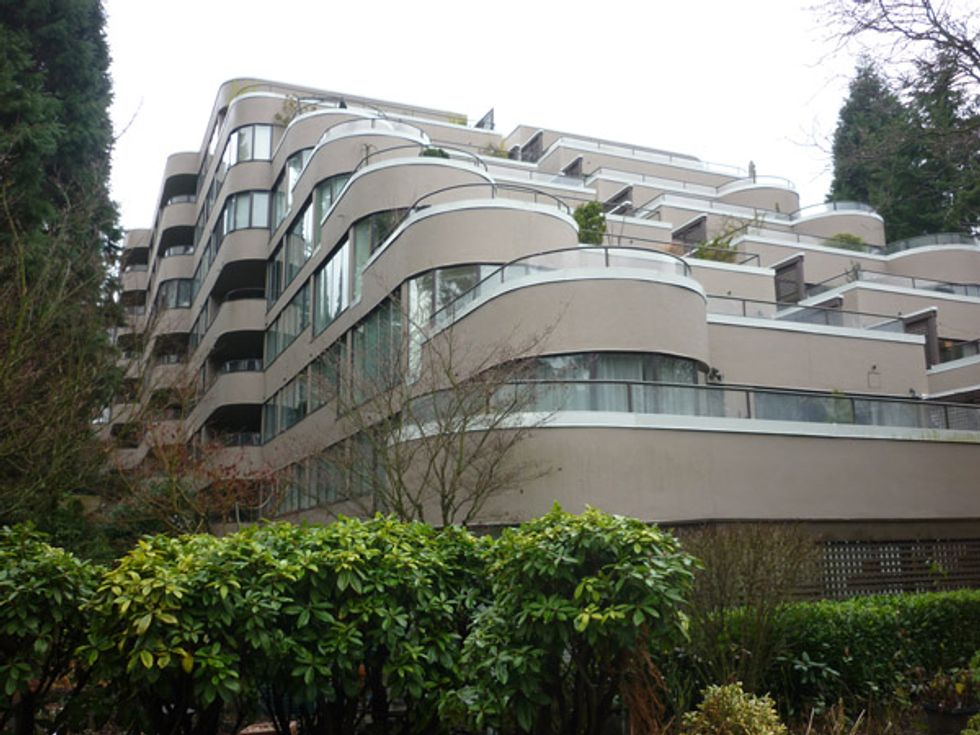 Adding interesting twists on multiple-unit buildings: Each unit, regardless of its value, has windows on either side of the east-west or north-south axes to ensure adequate access to light. Winding paths and roads to create breathing space in between. Even for today this kind of layout that mimics the type of historical spider web growth of European cities is still pretty unusual; but imagine these ideas not only being espoused but implemented in the 70s.
The planners, architects and engineers behind South False Creek Village not only had the know-how to draw up such an ambitious blueprint; they also provided the strategic connection between the two worlds of government and citizens. Too often, these kinds of ideas either never make it past the drafting stage, or if they do, they turn into developments that look good on paper but ultimately nobody wants to live in. In the case of South False Creek Village, it's still popular 40 years later.
The goal of the South False Creek Village was to reach residents from across the social spectrum with its design, making it affordable, inclusive, and beautiful, something that would be attractive to old and young, low and middle income folks, and all ethnic backgrounds. The challenge of keeping sustainable urban living available to all segments of society and not just as a feelgood status symbol of the well-off is an ongoing one, and especially some of the new expensive new "extreme green" downtown Vancouver eco-density developments seem to be straying far from the original South False Creek vision.
The Olympic Village
As we walk underneath Cambie Street Bridge into Southeast False Creek and the Olympic Village, Jennie tells us about the struggles between the idea people and the forces of the status quo. Celebrated around the world for its cutting edge sustainable design, the Olympic Village would never have happened in its current form without the dedicated efforts of a handful of citizen activists. In wise anticipation they helped draft the first municipal blueprint for responding to global warming with everything from bicycle infrastructure to energy-efficient land use back in 1990, The Clouds of Change report. Conceived and put together by a whole team of visionaries that included University of British Columbia Professor William Rees and former City Council member Gordon Price, this was a body of work that gave rise to the City of Vancouver's mandate to incorporate sustainability into all City operations as a "way of doing business."
By the time the Winter Games were being awarded, the foundation had long been laid for the most energy-efficient Olympic Village in history that is now one of the greenest communities in the world. The jury on whether Southeast False Creek will be a success is still out. Strolling through the village center one definitely feels a pulse, but it is also clear that this is a work in progress.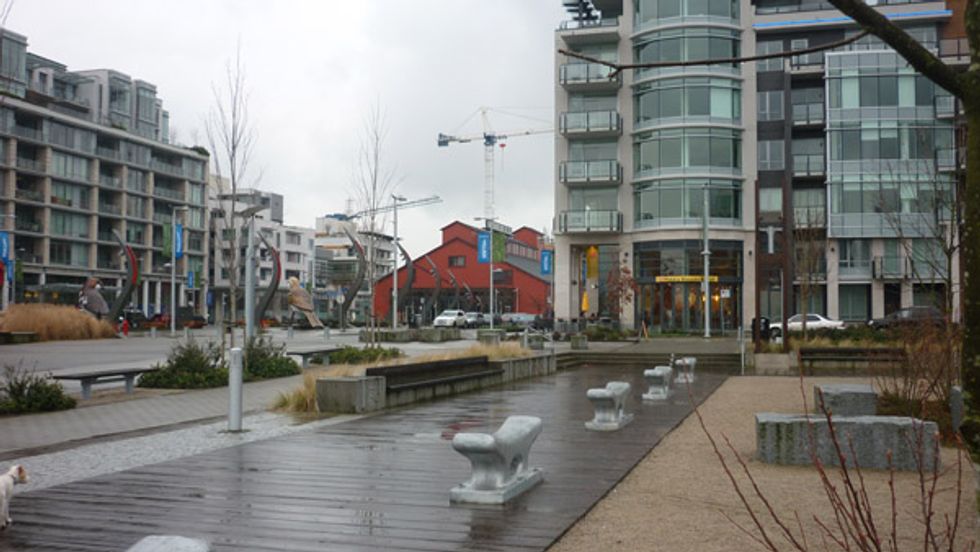 The 2010 Olympic Games seem but one stage in a long and sometimes arduous process of creating the kind of urban living that is easy on the earth, economically viable, and fun, attractive and attainable for a wide range of people. The South False Creek area, and to some extent the whole City of Vancouver, is ultimately an experiment in the age-old challenge to find the right balance between our human needs and the laws of nature that do not allow us to extract more from this planet in a sustained way than we replenish. To borrow from Winston Churchill: the way we shape our environment will determine how our environment shapes us.
------
This story was originally a longer three-part photo essay at DailyKos. For the full series:
Carless in Vancouver, Part 1: Boots on the Ground
Carless in Vancouver, Part 2: Going for the high-hanging fruit