I Said No to My Student Loan: One Borrower's Decision to Stop Paying
December 04, 2011
 I've been in a panic these last few months. Making minimum payments on my student loans serviced by Sallie Mae Inc. was no longer merely a challenge – it was getting impossible. After making some awful sacrifices to refrain from defaulting (see more on that below), I'm in a corner.
---
I am aware of the total lack of consumer protection associated with student debt. I knew that if I was unable to make my minimum payments, they would hit me with late fees, penalties, etc. They would harass me. In ruining my credit history, they would make it impossible for me to get access to basic services. Forget about taking out another loan – I'm talking about not being able to rent an apartment. And defaulting would not only mean a ruined credit history, it would mean that my debt would double, triple, quadruple, etc…I would be a slave forever.
But I took a long, hard look at the numbers, and I realized that I am already a slave.
Here is a screenshot of the current status of my Sallie Mae loans as of November 27, 2011 (click to enlarge):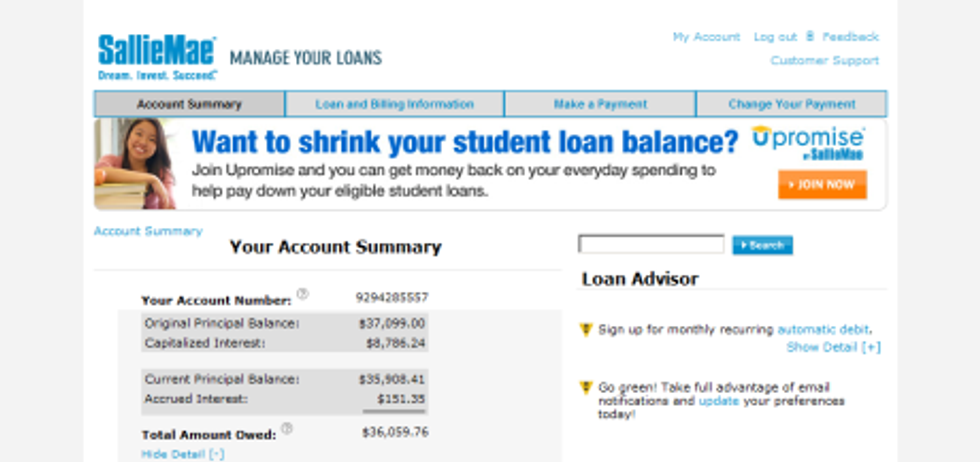 Notice anything?
Original balance: $37,099.00
Current balance: $35, 908. 41
I've been in repayment since 2006. I had to do one deferral – as to not default. I signed up for a program to minimize my payments that, I was told, was beneficial to someone who is going through financial difficulties – yet I regularly made payments over the minimum payment.
Because Sallie Mae helpfully provides a payment history, I was able to whip out a calculator and count up the exact amount I have paid over these last few years.
That amount is $23, 449.65
I was done before I even knew it. And applying for more deferrals will send me deeper and deeper into debt. Decades and decades of payments – as I grow old. There's no end in sight. The system counts on this. The people setting it up knew that most of us would not be able to sustain payments over time.
Of course, the lending industry has its own arguments. 
But you knew you'd have to pay out more under your current payment plan!

Like many recent graduates, I had the following two options: default or allow myself to get even more screwed over wrt interest rates. I thought that I was picking the lesser of the two evils. I regularly paid more than I owed in a current month. You can see how well that has worked out.
The whole point of the student loan industry has to do with applying interest rates to loans! Otherwise, it just wouldn't be profitable! Nobody would lend students the money to go to college!

These interest rates are not just predatory – in this economy, they are unsustainable. This system is broken. I was helping sustain it with my payments – now even that option is gone.
You really should have thought about that before going to Duke!

Seems to me that circa junior year or so, I had to have a Duke dean call Sallie Mae on my behalf – because they were refusing me a loan at the time with no justification (actually, their actions were directly tied to my parents' financial troubles at the time – that much was obvious). It was only because I was at Duke that I had that kind of assistance, based on the stories other people across the U.S. have told me.
Like most U.S. institutions of higher learning, Duke costs too much. The astronomical cost of tuition is an exact reflection of our values – not just as members of the Duke community, but as Americans. We Americans pride ourselves on the lack of a safety for people like me. We're rugged individualists, dammit! But entrapment of students does not help our society in the long run – it defies financial logic.
Oh, so first you were begging us for loans – now you won't pay them back! Hypocrite!

I was desperate to stay in school. That was the "responsible" thing to do – look at how much scorn is heaped on "the drop-outs." And I was already in debt from previous years – so I correctly reasoned that dropping out, and ending up with debt + no degree would screw me in the long run. Whups – I'm still screwed!
There are major profits to be made from peasants who decided that they too are entitled to receive degrees – most often because that is the only way to get a good job in the U.S. (something that people are eager to forget when they get on their soapboxes about "the irresponsible poor") And people in default are, in fact, even bigger cash cows, and not just for the feds. People are not just punished for falling behind on student loans – they are trapped for life. Professional licenses are revoked, wages garnished, friends, family and employers harassed. People are made examples of, so that others fall in line. And when they do fall in line – here is where they end up. Why is it that forbearance fees are legal again? Because, the system is stacked against borrowers? Gotcha.
Aren't you ashamed of yourself? You're a professional journalist, a wife, a mother!

Shame is one of the great tools of what is an all-out class war. The funny thing is, by all appearances, I'm an American success story: immigrant family, great education, international career, husband I adore, fantastic baby who wears little hats with ears. But, like many people, I am being suffocated by a screwed-up system.
You know what I am actually ashamed of? Gambling with my life and the life of my kid because of student debt. Check out this article I wrote for Foreign Policy about giving birth on the state's dime in Russia. One detail I "forgot" to mention is that my husband and I had the money to pay for a private contract at a Moscow hospital – thing is, it was a lean summer, and I was terrified of defaulting. I was so brainwashed by the system that owned me that I wouldn't touch the money meant for Sallie Mae. My father, who's been struggling financially as well, wired me some cash – that was set aside for loans as well. I actually went against my husband's wishes and put myself and my child at risk, because I was trying to be "financially responsible."
My son's face greets me every morning. It says, "I trust you, mother." When he grows up, I'm going to have to explain the risks I took with him while he was at his most vulnerable, because I wanted to be a good little cash cow.
This wouldn't have been the first time I skimmed on health care. Because I could not invest in decent preventative care while having dental problems, I lost two teeth at the ripe old age of 26, to give one example. I have literally been falling apart, all of the sake of letting people make a buck off of me. Except I can't afford to do that anymore – I have to be able to take care of my child.
But you're not even poor!

We have a myth of the "deserving poor" in our culture – it's similar to the myth of the "good rape victim." But like most people living real lives, I have my financial ups and downs. I've all sorts of things these last few years: walking people's dogs for grocery money, sitting in a cafe in Chelsea, drinking a glass of moderately priced champagne and asking the readers of this blog for Paypal donations.
As a writer and journalist, I supplement my income with freelance writing gigs, much like my director husband supplements his with acting gigs. All of that together makes up our family budget. When the gigs dry up, so does the money going towards my loans. We've been chasing more work, but as the economy continues to suffer, and the cost of living goes up while jobs evaporate, people like us end up competing for jobs that barely exist. And I would rather have what little money I have left right now into paying down my government loans (at least the interest rates there are not ridiculous) and the modest amount I had to spend on credit cards while being between jobs.
Consequences will never be the same!*

Some people kill themselves after defaulting on student loans. Driving these folks to suicide is an essential component of the system, because, once again, it keeps the rest of us in line. I know the consequences are going to be devastating – it's part of the reason why I'm so pissed off.
What are you even trying to accomplish here?

Besides making my situation clear for the loan sharks who will come a-callin'? I want to make a public promise that I am not going to put student debt ahead of my needs and the needs of my family anymore. I also want to once again point out the obvious – something is seriously wrong here.
Fox News can spin stories such as mine however it wants to, but at the end of the day, we've got people saying that student debt is hurting the economy as well as individuals. Maybe they're right. I don't know if there is a clear explanation for why we have ended up with this system in the first place. All I can tell you is that it is crushing people beneath its weight. I live abroad now – so people can say that I am one of the lucky ones, for now. I don't know, maybe society will continue to deteriorate and eventually we'll have debtors' prisons – though then again, with the way the system is rigged, we don't need debtors' prisons. Awesome, ain't it?