Big Primary Night for Tea Party -- And a Big Win For Progressives
September 15, 2010
The Tea Party movement is having another great night in its primary challenges to establishment Republican candidates -- racking up wins for U.S. Senate nominations in Delaware and Wisconsin, and perhaps New Hampshire, where, at this late hour, the race remains a dead heat. In New York, the Tea Party crowd claimed victory in the gubernatorial face-off, while progressives scored a major coup in the New Hampshire Democratic primary for U.S. Senate.
---
Delaware
Christine O'Donnell was considered a long shot for the G.O.P. nomination for the Senate seat vacated by Joe Biden when he assumed the Vice Presidency. A social conservative with a checkered financial history, O'Donnell looked like a lightweight next to Rep. Mike Castle, who had the backing of the Republican establishment. As Slate's David Weigel, a son of Delaware, wrote on his blog, Mike Castle has held some elected office pretty much all of Weigel's life.
But with an endorsement from Sarah Palin, backing from the Tea Party Express and a dash of innuendo about her opponent dished out by former staffers who "defected" to Liberty.com, an organization that supported O'Donnell's bid, the sexual-abstinence advocate prevailed, 53-46 percent, over the moderate Castle. In her victory speech, O'Donnell thanked not only Tea Party Express, but Delaware's 912 Patriots, who seem to have been born of Glenn Beck's 912 Project. (At least they share the exact same "nine principles and 12 values" that appear on the Beck project site.)
The leaders of the Republican National Senatorial Committee are not amused. They don't think O'Donnell can beat her Democratic opponent, Chris Coons, and so they're declining to support her candidacy, TPM reports, quoting an unnamed RNSC official:
NRSC officials say that if O'Donnell proves she is viable as a candidate in what is considered to be a blue state, "we would hope Sen. Jim DeMint and the Tea Party Express would invest in her race." If that happens, the NRSC would consider spending for O'Donnell.
But O'Donnell will likely have the support of Ralph Reed's get-out-the-vote operation, about which I wrote yesterday, so I'll reserve judgment until we see what happens on the ground.
New Hampshire
The Granite State offered a cliff-hanger for Republicans and a major victory for progressives. Let's start with the progressive news, which is in a primary race for a seat in the House of Representatives. Thanks in part to the efforts of the Progressive Change Campaign Committee and the Daily Kos, Ann McLane Kuster defeated Katrina Swett, whose Democratic establishment pedigree includes being the daughter of the late Rep. Tom Lantos of California, and wife of former New Hampshire Congressman Dick Swett. Swett also co-chaired Sen. Joe Lieberman's presidential campaign. Kuster will face long-time Congressman Charlie Bass in the general election.
Kuster's race was the first House endorsement for the Progressive Change Campaign Committee, which is seeking to build a more progressive Democratic Party by launching primary challenges to candidates made in the conservaDem mold.  PCCC endorsed Kuster on March 21, the night of the health-care vote and, according to a statement issued by the group, its members "chipped in $100,000" for her campaign.
The other big news in New Hamphire is the G.O.P. race for U.S. Senate, which at 3:02 a.m. (EDT) the day after primary day is still undecided. Former Attorney General Kelly Ayotte faced off against former gubernatorial candidate and social conservative Ovide Lamontagne, who won the sympathies of Tea Party supporters, despite Ayotte's endorsement by Sarah Palin.
I remember Lamontagne as chairman of New Hampshire's State Board of Education in the 1990s, when a controversy over attempts to introduce the teaching of creationism in the public schools of Merrimack erupted just in time for the 1996 Republican primary. He was in deep with the Christian Coalition, and sanctioned the teaching of the biblical account of human origins in the public schools.
With a maddeningly slow vote-count, Lamontagne is currently trailing Ayotte by 1 percent, 37-38, with 70 percent of the precincts reporting. Either Ayotte, the establishment candidate, or Lamontagne, the Tea Party fave, will compete against Democrat Paul Hodes for the U.S. Senate seat being vacated by Republican Judd Gregg.
If Lamontagne manages to eek it out, he will likely have Ralph Reed's Faith and Freedom Coalition GOTV-ing for him. But the creationism flap left a sour taste in the mouths of many New Hampshirites, who tend to take their conservatism on the libertarian side.
Wisconsin
With the help of FreedomWorks, the astroturf group chaired by former House Majority Leader Dick Armey, R-Texas, and an endorsement by the Senate Conservatives Fund of Sen. Jim DeMint, R-S.C., businessman Rob Johnson trounced his competitors, Dave Westlake and Stephen Finn, taking 86 percent of the vote for himself. Johnson, a millionaire, has never held public office, and self-financed much of his campaign.
He'll face Democratic incumbent Russell Feingold in the general election. Recent polls show a dead heat between Feingold and Johnson.
New York State
The G.O.P. gubernatorial nomination should have belonged to Rep. Rick Lazio. But that was before the Tea Party Express rolled into Paladino's native Buffalo and had him speak at a local event in April, despite reports that he was know to send racist and smutty e-mails, including one using the N-word.
Here's how the New York Times describes his victory last night:
The result was a potentially destabilizing blow for New York Republicans. It put at the top of the party's ticket a volatile newcomer who has forwarded e-mails to friends containing racist jokes and pornographic images, espoused turning prisons into dormitories where welfare recipients could be given classes on hygiene, and defended an ally's comparison of the Assembly speaker, Sheldon Silver, who is Jewish, to "an Antichrist or a Hitler."
Here, via The Huffington Post, is an image contained in one of those e-mails, which was unearthed by WNYmedia.net: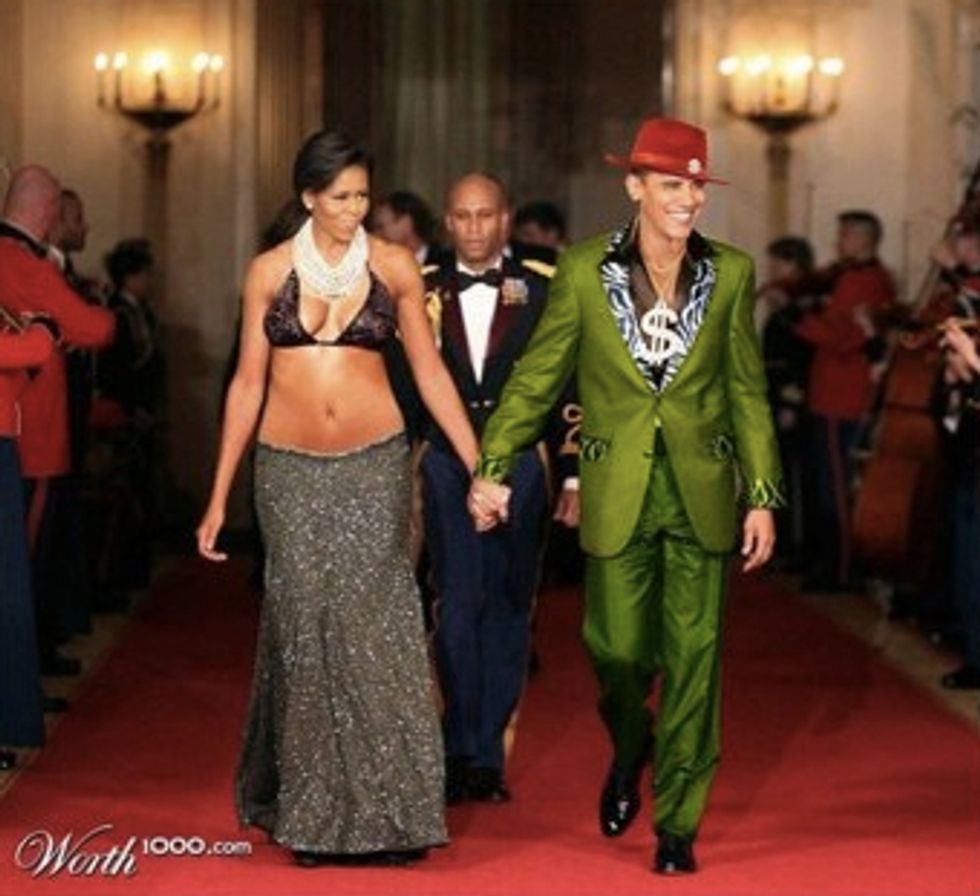 Nonetheless, Paladino maintained the support of local Tea Party groups, although he's not given much of a chance of winning against Democrat Andrew Cuomo.