In NYT, 400 Former Obama Staffers Say: Don't Demobilize the Troops Before the Battle With the Insurance Industry
September 09, 2009
EDITOR'S NOTE: This week,
The New York Times
will feature this full-page ad with the petition that Mike Elk explains here. The Progressive Change Committee
raised over $100,000
to fund the ad.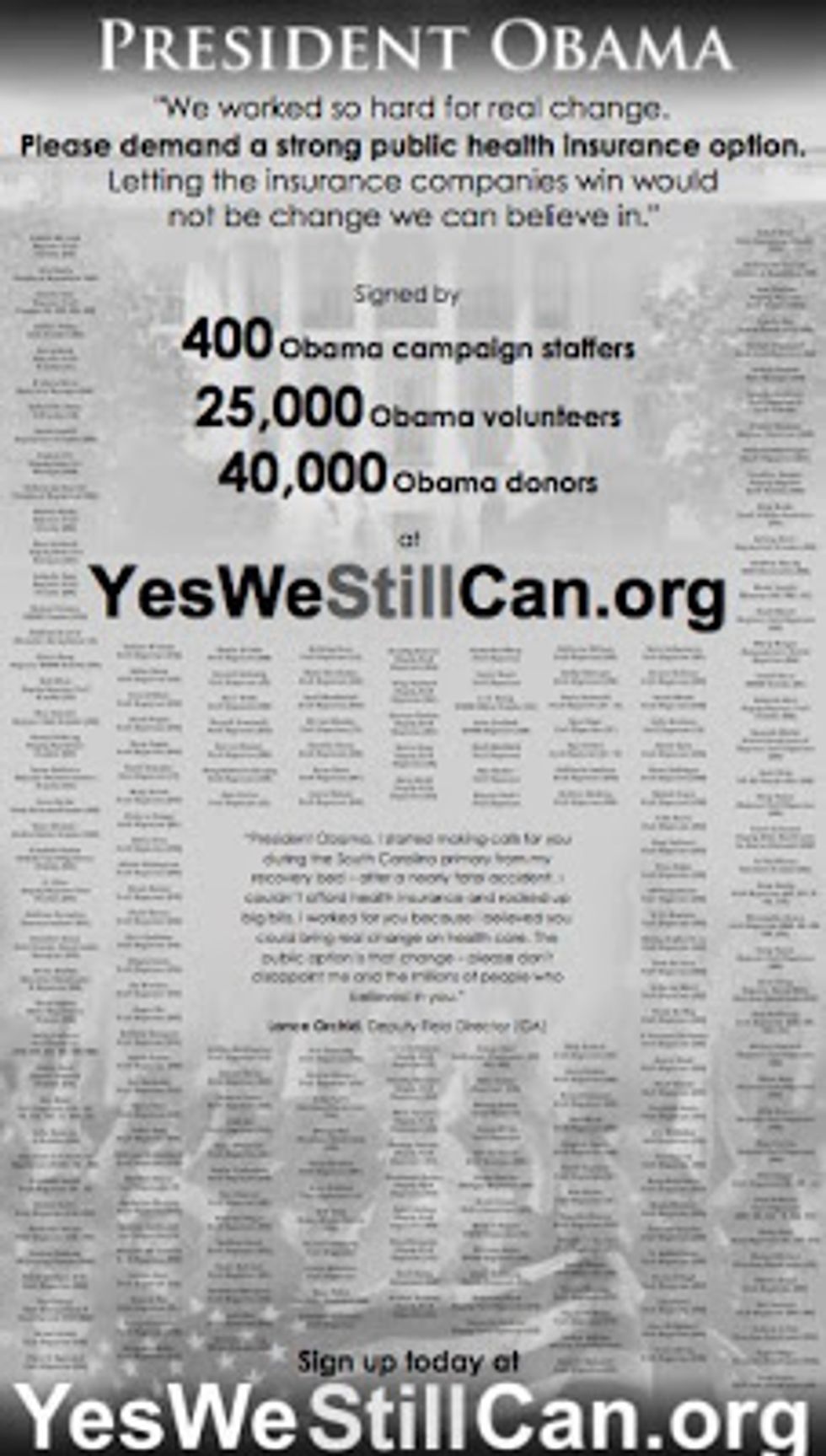 The first day of President Obama's Administration, he made a promise to his former campaign staff at a party honoring their work:
"I promise you if everybody in this hall is willing to keep doing what you guys did over the last two years, then I am optimistic about America. I may make some mistakes, but you'll set me right," he said.
Over 400 former staffers have
answered the call
of the President to "set him right"
demanding
a strong public option.
In the past few days, these staffers, along with 24,000 volunteers and 39,000 donors from across the country, have added their names to the
petition at YesWeStillCan.org.
I've even talked with several current White House staffers disappointed in the President who said they would love to sign but feared losing their jobs. It has become clear in my dozens of conversations with former Obama staffers and volunteers that the President's supporters have lost the desire to fight for the President if he drops the public option. They are beginning to lose hope.
Our message to the President is clear : Don't demobilize the your troops before the big battle with the insurance industry. You need us in order to beat their army of lobbyists.
I recently spoke with a former Obama staffer, currently working for Organizing for America, who said she is likely to quit, followed by her volunteers, should the President drop the public option.
Another former Obama staffer, Allison Hirsch, emailed me to say: "I'm volunteering now with Organizing for America, in Philadelphia, knocking myself out yet again, but I don't think I'll be able to do it again if the President doesn't fight for a strong public option."