"Sen. Kyl Just Said 'Wise Latina.' Everyone Drink!": Liveblogging the Sotomayor Hearing
July 13, 2009
This contains commentary during the Senators' opening statements. For the fully updated liveblog, go here.
---
Updated 10:27: Judge Sotomayor has virtually no record on reproductive choice, and in her one case involving abortion, she upheld a Bush-Era antibortion rule ( the so-called "Mexico City policy"). This is why we're hearing so much about Judge Sotomayor's long ago affiliation with the Puerto Rican Legal Defense Fund, and a brief that they filed during her tenure regarding abortion. It's a pretty thin reed.
Updated 11:24: Chuck Schummer just ended by saying if you're looking for a modest or conservative judge, you should vote for Sotomayor. Lindsay Graham picked up by thanking the Senator for the "new conservative standard."
Update 11:20: View from the Skybox, inside the Sotomayor confirmation hearing. (This was taken earlier when Sens. Leahy and Sessions walked Judge Sotomayor to her seat.)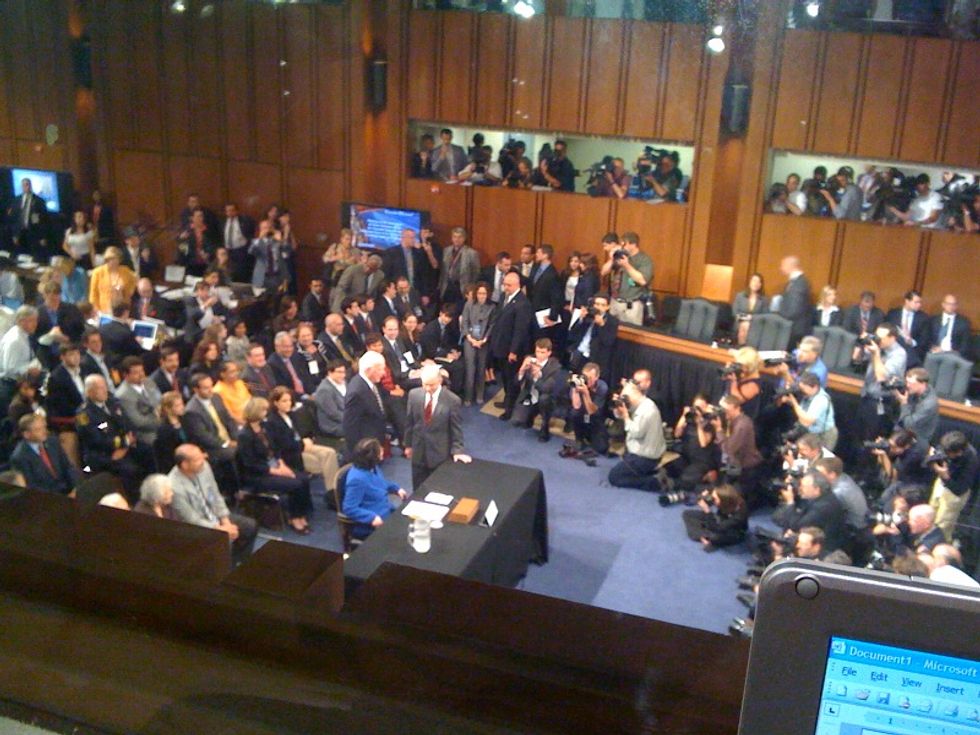 Update 11:13: And again, from Sen. Kyl. Drink!
Updated 11:12: All the Republicans so far have focused as much on President Obama, and his remarks on the Constitution and the law, as on Judge Sotomayor. They seem committed to making this confirmation as much about Obama as it is about Sotomayor, recognizing her overwhelming qualifications for the slot. It remains to be seen whether Sotomayor can respond in a way that makes clear she is her own judge with her own approach to the Supreme Court.
Updated 11:09: Sen. Kyl just said "wise Latina." Everyone, drink!
Updated 11:08 Sen. Feingold just did a nice job of responding to Sotmayor's critics for picking a few quotes out of context in her speeches, and a handful of rulings that are fairly described as simply following the law. Feingold is the first of many Democrats, I'm sure, to argue that the best evidence of what kind of a justice she'll be is the totality of her record involving 4,000 cases. Everyone who has looked carefully at that record has come to the same conclusion: that she is a fair and careful judge who applies the law to the facts of the case and renders her decisions in a neutral manner.
Updated 11:06: Sen. Feingold is now attacking the activism of the Roberts Court, while noting that there appears to be no fixed definition of the term "judicial activism" other than "having opinions one does not like."
Updated 11:02 : As expected, Sen. Feingold is spending a good portion of his introductory remarks praising the divided Supreme Court for checking executive power under the Bush Administration, using this as an explanation for why every new appointment to the Court matters so much.
Updated 10:58: Sen. Grassley said "wise Latina." Drink!
Updated 10:53: Chuck Grassley (R-Iowa) just gave a extended recitation of Judge Sotomayor's qualifications, showing just how impressive those qualifications are -- and making Sotomayor supporters smile.