Help Wanted: Robber barons and paupers
August 01, 2006
In honor of the arrival of Gilded Age 2.0, I'd like to congratulate the minimum wage workers on their $4,368 raise, and the heirs and heiresses of $10 million estates on their $2.76 million raises, which works out to about 183 years of income for a full-time minimum wage earner.

New American Gothic, bitchez. That's what I'm talking about. Go USA!


---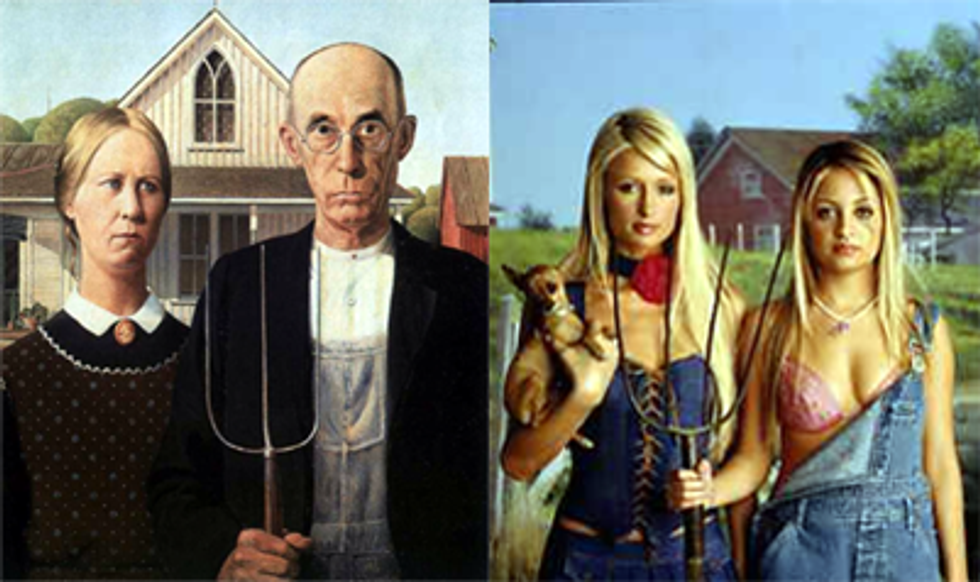 Amanda, addressing the imminent housing bust
adds
:
What's even scarier to me is that the insane Republican run government has been deregulating like crazy and so this bust is coming right when a lot of people are ensnared in some ugly debt from predatory lending practices -- for instance, I never even heard of anyone advertising interest-only mortgages to everyday home buyers until recently, and I know for a fact that Texas has loosened up their laws on what kind of loans you can take against your house. This could get really ugly.
In case this country wasn't looking Grapes of Wrath-esque enough for you, read this alarming blog post by Sheezlebub about some exhortionists who are taking advantage of the way that credit agencies have an ingrained culture of refusing to show that your debts are free and clear just because of silly reasons like you actually paid them off. Debt collectors have resorted to doing things like filing claims against people's property, and using the Paperwork Shuffle to dupe the people into not protecting themselves.
Something tells me we're about to see what the real legacy of BushCo will be for America.
(
Think Progress
;
Pandagon
;
Pinko Feminist Hellcat
)
--> Sign up for Peek in your inbox... every morning! (Go here and check Peek box).