The Grim Truth Behind the 'Scandinavian Miracle'
Continued from previous page
Like the dealer who never touches his own supply, those dirty frackers the Norwegians boast of using only renewable energy sources, all the while amassing  the world's largest sovereign wealth fund selling fossil fuels to the rest of us. As Norwegian anthropologist Thomas Hylland Eriksen put it to me when I visited his office in Oslo University: "We've always been used to thinking of ourselves as part of the solution, and with the oil we suddenly became part of the problem. Most people are really in denial."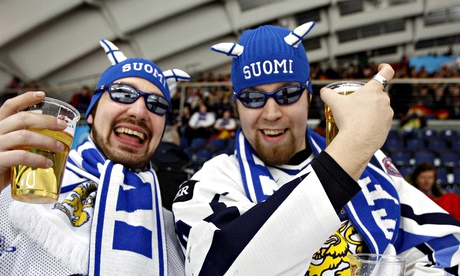 Finns … having a quiet drink. Photograph: Martti Kainulainen/REX
ICELAND
We need not detain ourselves here too long. Only 320,000 – it would appear rather greedy and irresponsible – people cling to this breathtaking, yet borderline uninhabitable rock in the North Atlantic. Further attention will only encourage them.
FINLAND
I am very fond of the Finns, a most pragmatic, redoubtable people with a Sahara-dry sense of humour. But would I want to live in Finland? In summer, you'll be plagued by mosquitos, in winter, you'll freeze – that's assuming no one shoots you, or you don't shoot yourself. Finland  ranks third in global gun ownership behind only America and Yemen; has  the highest murder rate in western Europe, double that of the UK; and by far the highest suicide rate in the Nordic countries.
The Finns are epic Friday-night bingers and alcohol is now  the leading cause of death for Finnish men. "At some point in the evening around 11.30pm, people start behaving aggressively, throwing punches, wrestling," Heikki Aittokoski, foreign editor of Helsingin Sanomat, told me. "The next day, people laugh about it. In the US, they'd have an intervention."
With its tarnished crown jewel, Nokia, devoured by Microsoft, Finland's hitherto robust economy is more dependent than ever on selling paper – mostly I was told, to Russian porn barons. Luckily, judging by a recent journey I took with my eldest son the length of the country by train, the place appears to be 99% trees. The view was a bit samey.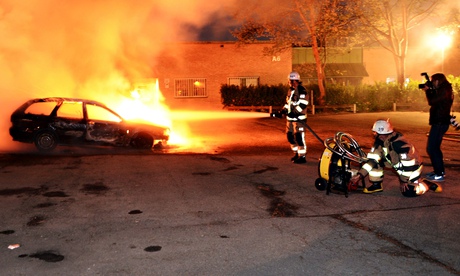 A car burning after riots in Stockholm in 2013. Photograph: EPA
The nation once dubbed "the west's reigning educational superpower" (the Atlantic) has slipped in the latest Pisa rankings. This follows some unfortunate incidents involving Finnish students – the burning of Porvoo cathedral by an 18-year-old in 2006; the Jokela shootings (another disgruntled 18-year-old) in 2007, and the shooting of 10 more students by a peer in 2008 – which led some to speculate whether Finnish schools were quite as wonderful as their reputation would have us believe.
If you do decide to move there, don't expect scintillating conversation. Finland's is a reactive, listening culture, burdened by taboos too many to mention (civil war, second world war and cold war-related, mostly). They're not big on chat. Look up the word "reticent" in the dictionary and you won't find a picture of an awkward Finn standing in a corner looking at his shoelaces, but you should.
"We would always prefer to be alone," a Finnish woman once admitted to me. She worked for the tourist board.
Sweden
Anything I say about the Swedes will pale in comparison to their own excoriating self-image. A few years ago, the Swedish Institute of Public Opinion Research asked young Swedes to describe their compatriots. The top eight adjectives they chose were: envious, stiff, industrious, nature loving, quiet, honest, dishonest, xenophobic.
I met with Åke Daun, Sweden's most venerable ethnologist. "Swedes seem not to 'feel as strongly' as certain other people", Daun writes in his excellent book, Swedish Mentality. "Swedish women try to moan as little as possible during childbirth and they often ask, when it is all over, whether they screamed very much. They are very pleased to be told they did not." Apparently, crying at funerals is frowned upon and "remembered long afterwards". The Swedes are, he says, "highly adept at insulating themselves from each other". They will do anything to avoid sharing a lift with a stranger, as I found out during a day-long experiment behaving as un-Swedishly as possible in Stockholm.
Liked this article?

Join our email list
Stay up to date with the latest headlines via email