The Grim Truth Behind the 'Scandinavian Miracle'
Oslo downtown.
Photo Credit: Shutterstock.com/ Morten Normann Almeland
For the past few years the world has been in thrall to all things Nordic (for which purpose we must of course add  Iceland and Finland to the Viking nations of  Denmark, Norway and Sweden). "The Sweet Danish Life: Copenhagen: Cool, Creative, Carefree," simpered National Geographic;  "The Nordic Countries: The Next Supermodel", boomed the Economist;  "Copenhagen really is wonderful for so many reasons,"gushed the Guardian.
Whether it is Denmark's happiness, its restaurants, or TV dramas; Sweden's gender equality, crime novels and retail giants; Finland's schools; Norway's oil wealth and weird songs about foxes; or Iceland's bounce-back from the financial abyss, we have an insatiable appetite for positive Nordic news stories. After decades dreaming of life among olive trees and vineyards, these days for some reason, we Brits are now projecting our need for the existence of an earthly paradise northwards.
I have contributed to the relentless Tetris shower of print columns on the wonders of Scandinavia myself over the years but now I say: enough!Nu er det nok! Enough with foraging for dinner. Enough with the impractical minimalist interiors. Enough with the envious reports on the abolition of gender-specific pronouns. Enough of the unblinking idolatry of all things knitted, bearded, rye bread-based and licorice-laced. It is time to redress the imbalance, shed a little light Beyond the Wall.
Take the Danes, for instance. True, they claim to be the happiest people in the world, but why no mention of the fact they are  second only to Iceland when it comes to consuming anti- depressants? And Sweden? If, as a headline in this paper once claimed, it is  "the most successful society the world has ever seen", why aren't more of you dreaming of "a little place" in Umeå?
Actually, I have lived in Denmark – on and off – for about a decade, because my wife's work is here (and she's Danish). Life here is pretty comfortable, more so for indigenous families than for immigrants or ambitious go-getters (Google  "Jantelov" for more on this), but as with all the Nordic nations, it remains largely free of armed conflict, extreme poverty, natural disasters and Jeremy Kyle.
So let's remove those rose-tinted ski goggles and take a closer look at the objects of our infatuation …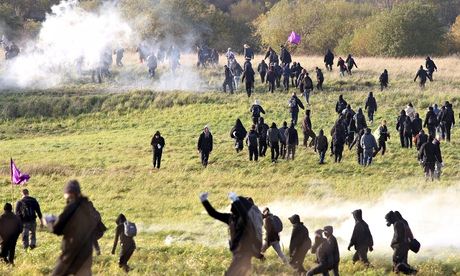 Protesters clash with police at an asylum centre near Copenhagen in 2008. Photograph: AFP/Getty Images
DENMARK 
Why do the Danes score so highly on international happiness surveys? Well, they do have high levels of trust and social cohesion, and do very nicely from industrial pork products, but according to the OECD they also work fewer hours per year than most of the rest of the world. As a result, productivity is worryingly sluggish. How can they afford all those expensively foraged meals and hand-knitted woollens? Simple, the Danes also have  the highest level of private debt in the world (four times as much as the Italians, to put it into context; enough to warrant a warning from the IMF), while more than half of them admit to using the black market to obtain goods and services.
Perhaps the Danes' dirtiest secret is that, according to a  2012 report from the Worldwide Fund for Nature, they have the fourth largest per capita ecological footprint in the world. Even ahead of the US. Those offshore windmills may look impressive as you land at Kastrup, but Denmark burns an awful lot of coal. Worth bearing that in mind the next time a Dane wags her finger at your patio heater.
I'm afraid I have to set you straight on Danish television too. Their big new drama series, Arvingerne ( The Legacy, when it comes to BBC4 later this year) is stunning, but the reality of prime-time Danish TV is day-to-day, wall-to-wall reruns of 15-year-old episodes of Midsomer Murders and documentaries on pig welfare. The Danes of course also have highest taxes in the world (though only the sixth-highest wages – hence the debt, I guess). As a spokesperson I interviewed at the Danish centre-right thinktank Cepos put it, they effectively work until Thursday lunchtime for the state's coffers, and the other day and half for themselves.
Liked this article?

Join our email list
Stay up to date with the latest headlines via email