The Top 3 Summer Weed Reads
Continued from previous page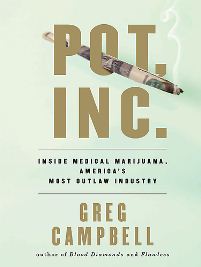 Pot, Inc.'s Greg Campbell was a stereotypical Deadhead college student, stoned out of his mind all the time. But that was 20 years ago. Now, he's a middle-aged family man living in Denver who hadn't smoked in years, but noticed a couple of years ago that the medical marijuana industry was taking off in Colorado and decided to see just what it was all about. As the Great Green Rush exploded there in 2009 and 2010, Campbell signed up as a patient, went to pot school to learn how to grow, produced his own basement crop (replete with the requisite paranoia), then tried to sell it.
Campbell tells the tale of his adventures in the medical marijuana business, interspersing it along the way with forays into the roots of marijuana prohibition and the politics of pot in Colorado and the nation. Originally a skeptic about the health claims for marijuana, along the way he finds an entire subculture of patients and providers for whom recreational use is irrelevant and for whom the medical benefits cannot, in his estimation, be denied.
It's a sign of how far the conversation about marijuana has advanced that none of the authors of the books reviewed here are wondering whether pot should be legalized, but are instead wondering why the hell it hasn't been already. To varying degrees, all three books delve into the Reefer Madness and fear-mongering at the root of pot prohibition, but those are more attempts to explain the unexplainable than legalization manifestos.
One thing that's worth noting is how the actuality of medical marijuana opened the door to the marijuana subculture for all three authors. Sure, Smith was covering the Cannabis Cup in Amsterdam, but when he got serious about writing his book, the first thing he did was go to a pot doc and get a medical marijuana card. Frank worked on an actual medical marijuana farm. And Campbell, too, got the doctor's note.
I don't think they're unrepresentative in that respect. Medical marijuana in relatively wide-open states like California and Colorado has provided countless people entrée into the dank world of weed. (If I recall correctly, both Smith and Campbell went, with some trepidation, with the old standby "chronic pain," but easily got their recommendations.) All three authors agree that marijuana has medicinal applications that have eased the lives of thousands of patients. Whether that was really the case for them personally, or is the case for all those bong-pulling 20-something hacky sack players, I don't know or care. medical marijuana deserves to be legal in its own right, but if it ends up exposing more people to cannabis culture and allows more people to buy weed without fear of legal problems, more power to it.
If you're looking for some not-too-heavy pot-related reading this summer, we have three winners. Check 'em out.
Liked this article?

Join our email list
Stay up to date with the latest headlines via email