Is Malcolm Gladwell America's Most Successful Propagandist and Corporate Shill?
Continued from previous page
Even as tobacco was preparing to settle with the Clinton Administration, Gladwell kept up the barrage of friendly propaganda. His first book,  The Tipping Point, published in 2000, has a section on tobacco that, again, reads like something from industry PR. In one passage, Gladwell analyzed various studies into teen smoking and came to the conclusion that kids start smoking at a young age not in any way because of the millions of advertising dollars big tobacco spends targeting kids—but rather because kids just want to be cool and so it was practically "inevitable that they would also be drawn to the ultimate expression of adolescent rebellion, risk-taking, impulsivity, indifference to others, and precocity: the cigarette."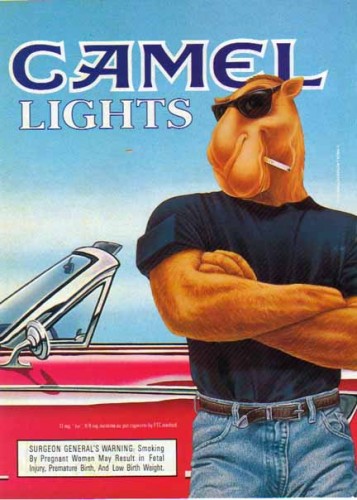 "Who me? I'm not cool. Smoking Camel Lights, now  that's cool!"
This was whitewashing of the rankest, most cynical sort: In the 1990s, the  average starting age of smokers was calculated to be 12. To the tobacco industry, getting kids hooked that young was a central business strategy. Gladwell could obfuscate all he wanted, but his old friends in the business bragged as far back as this  1975 internal document from Philip Morris, boasting, "Marlboro's phenomenal growth rate in the past has been attributable in large part to our high market penetration among young smokers . . .15 to 19 years old." Six years later it was the same old story. A Philip Morris study from 1981 called " Young Smokers -- Prevalence, Trends, Implications, and Related Demographic Trends" laid it out clearly: "Today's teenager is tomorrow's potential regular customer, and the overwhelming majority of smokers first begin to smoke while still in their teens . . . The smoking patterns of teenagers are particularly important to Philip Morris."

Guess Gladwell was never a big Flinstones fan...
By the time Gladwell's  The Tipping Point was published, this was the sort of message tobacco didn't want the public to know about, or believe. Not surprisingly, Gladwell writes in his book:
Over the past decade, the anti-smoking movement has railed against the tobacco companies for making smoking cool and has spent untold millions of dollars of public money trying to convince teenagers that smoking isn't cool. But that's not the point.  Smoking was never cool. Smokers are cool. [Notice the false antithesis to make Gladwell sound smart and outside-the-box, when he's actually not saying anything new at all—SHAME.] Smoking epidemics begin in precisely the same way that the suicide epidemic in Micronesia began or word-of- mouth epidemics begin or the AIDS epidemic began . . .  In this epidemic, as in all others, a very small group -- a select few -- are responsible for driving the epidemic forward.
In other words, it's all the fault of cool people, and of natural forces and human behavior. Gladwell ignored the reams of documented evidence on the manipulative power of advertising and marketing; instead, like a classic corporate shill, he blames smokers for smoking. Blame the victims for being victimized—it is as offensive and fallacious as if Gladwell were to argue that crack cocaine dealers and drug cartel kingpins were totally blameless in the drug epidemics, and that it's all the fault of the users, period.
Among The Tipping Point's biggest fans  were Big Tobacco's moguls. Gladwell's book became required reading for industry people. An email sent by Philip Morris exec Michael Fitzgibbon to the company's resident behavioral scientist, Carolyn J. Levy, said: "I recommend you read (or have one of your minions submit a book report on) The Tipping Point, by Malcolm Gladwell . . . Beyond the piece on teen smoking, there is some interesting, possibly useful, information."
Liked this article?

Join our email list
Stay up to date with the latest headlines via email