After DEA's Drug Raid Horrors Erupt in Honduras, Human Rights Groups Demand Answers for Dead Innocents
 In the Honduran village where four residents were killed last week by gunfire from a helicopter on a US-backed anti-drug operation complete with DEA agents on board the chopper, feelings continue to run high. On Monday, they told the  Associated Press that DEA agents also accompanied Honduran commandos who stormed into homes and mistreated residents after the raid, but the agency denies that.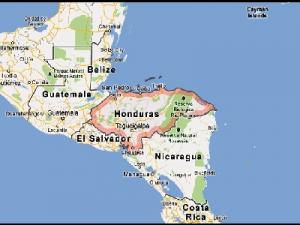 In the predawn hours of May 11, Honduran National Police and DEA agents were searching for a boat supposedly carrying a load of cocaine when they said they came under fire from the river. The Hondurans opened fire, but the boat they attacked was a small fishing vessel, not a smuggling craft, and the attack left two pregnant women and two others dead and four other people wounded.
The helicopter is owned by the US State Department and was one of four being used in the operation, which had already resulted in the seizure of cocaine from the banks of the river. While police were on the ground, they reported coming under fire from another boat on the river. At that point, police on the ground and the door-gunner for one helicopter opened up on the boat.
The DEA said its agents did not open fire and did not participate in heavy-handed raids in the immediate aftermath. But villagers in the town of Ahuas said masked agents then landed in their community and broke down doors, looking for a trafficker they called "El Renco." The witnesses referred to some of the agents as "gringos" and said they were speaking English.
After the commandos left, angry villagers formed a machete-wielding mob and burned government installations and four homes belonging to families associated with El Renco. Police Chief Filiberto Pravia Rodriguez said he tried to stop the mob, but had to run for his life.
The incident comes as the US is ramping up its support of Honduran anti-drug efforts. The US is increasing the amount of anti-drug assistance and is  working with the Honduran military to create forward operating bases to fight the cocaine traffic from Colombia en route to North America.
Human Rights watch has  called for an investigation into the killings.
"It is critical that both Honduran and US authorities ensure that the killings are thoroughly investigated to determine whether the use of lethal force was justified," said Jose Miguel Vivanco, Americas director for the group. "If evidence demonstrates that security forces violated international standards, they must be held accountable."
At least one congressman, Rep. Howard Berman (D-CA) is calling for a review of US military assistance to Honduras, where the Honduran military took part in a coup in 2009 and where continuing human rights violations are alleged to be taking place.
"I have consistently expressed deep concerns regarding the danger of pouring US security assistance into a situation where Honduran security forces are involved in serious human rights violations," he told  National Public Radio last week. "The problems are getting worse, not better, making such a review all the more urgent."
Local leaders aren't waiting for investigations or reviews. They want the DEA out now.
"For centuries we have been a peaceful people who live in harmony with nature, but today we declared these Americans to be persona non grata in our territory," the leaders of five indigenous groups said in a press statement last week.
Ahuas
Honduras
Liked this article?

Join our email list
Stay up to date with the latest headlines via email