The Making of a Rampage Murderer: What the Brutal Life of Oakland Shooter One L. Goh Says About America
Continued from previous page
The school's nursing program is accredited, which is important of course if you want your for-profit school program to make money. To comply with the accreditation, Oikos U. had provide a  "2010 Performance Sheet" summing up its students' performances both on the national nursing exam and, once licensed, in the job market.
The "performance" is abysmal, to the point where you almost wonder if it's even statistically possible to fail as spectacularly as Oikos University's nursing students. Of the programs 28 graduates from the Spring 2010 – 2011 term, only 11 of those 28 managed to pass the national nursing exam. That's a 29 percent pass rate, almost unheard of.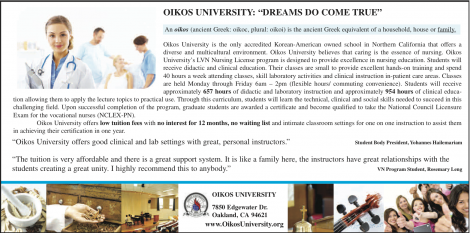 Oikos University ad promises: "Dreams Do Come True"
According to a spokesman for the California Department of Consumer Affairs, it makes Oikos among the state's very worst programs — the average success rate for graduates of other programs is 75 percent. (An  Oakland Tribune article puts Oikos U's exam pass rate at 41 percent of students who took the test, but the actual Performance Sheet gives a lower 29 percent pass figure — either way, both are awful).
Oikos University failed to prepare its students for the test, and it failed those who passed when they turned to the job market. According to the same Performance Sheet, of the school's 11 students who passed the exam, eight found paying jobs as nurses, with salaries ranging as low as $5,000 per year to the one lucky top salary earner who earned up to $35,000. That's in the Bay Area, the most expensive region in America.
In sum: One L. Goh could not have chosen a worse nursing program to pin his personal hopes on. This nursing program was all but guaranteed to fail him.
Fundamentalist Mission
One thing Oikos University does fairly convincingly is fundamentalist evangelical Christianity for Korean-Americans. Students at Oikos U. are required to attend regular church services; the pious language of evangelical Christianity frames everything.
The school's president, Rev. Jongkin Kim,  says his goal is "to foster spiritual Christian leaders who abide by God's intentions and to expand God's nation through them." Under the university's  "Our Vision" it reads:
"The vision of Oikos University is to educate emerging Christian leaders to transform and bless the world at every level – from the church and local community levels to the realm of world entire."
And then there's the reality, revealed in a  lawsuit filed last month by a former staffer of Oikos University named Jong Cha, who says the school cheated her out of  $75,000 in salary and expenses, and stiffed her on a $10,000 loan that she personally gave to the Christian college in 2008.
Viewed from this angle, One L. Goh might have come to the conclusion at some point that he'd taken scarce funds from his poor old widower father, and handed it over to religious hucksters running the Golden State's worst nursing program.
One thing to keep in mind here: It's easy to see why Oikos University introduced a nursing vocational program. If you get it accredited, these nursing programs are guaranteed cash-cows. Most of the big for-profit education  predators like Kaplan Inc. (which provides the majority of revenue to the  Washington Post Company) are in on the vocational nursing for-profit gig.
You can charge students insane tuitions, hire hacks as teachers, pocket the difference, and dump the unpaid loans on the government in exchange for 100 cents on the dollar.
The Reverend who founded Oikos University certainly understood this — his good friend  told the New York Times that Rev. Kim "had established the nursing school to support the school's department of religion." The cash must have rolled in quickly, because within a year after launching its nursing program, Oikos doubled its size — meaning doubling revenues.
Liked this article?

Join our email list
Stay up to date with the latest headlines via email