Why Europeans Think We're Insane
(Written by an American expat living in the European Union).
It wasn't until I left America that I started to realize how badly the American plutocrat owned media lies to the American people through its disinformation campaign.
Well today for a span of at least this one Daily Kos diary, you will get to see what the American plutocrat owned media never wants you to see, and that is how Europe in particular and the world in general has come to see America as a country in decline, whose people are so badly misinformed by the media, they actually don't realize that America is the only major industrialized nation in the world that by right of law does not offer universal medical access, paid sick leave, paid maternity leave and paid annual leave. It just seems almost impossible to get that word out to the American people. Even diaries on that subject at the Kos top out at just over 2,000 views. Let's please remember the purpose of the plutocrat owned commercial media isn't so much to inform us but rather to sell commercial advertising space.
Therefore this diary today will try to do something different. It will show you what the European media is saying about the American dream and you will be shocked!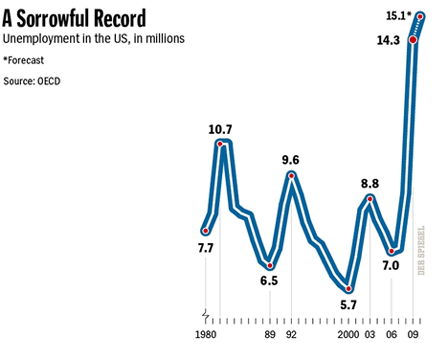 Here the British Guardian newspaper says that the so-called American middle class lifestyle for most people was fake and that was financed by three decades of a debt bubble which has now gone bust. The credit ride of working class folks living a middle class lifestyle is dead and gone. Is this article stating bluntly that it's over? The only remaining question is, will it ever come back? I mean, how long can people ride a wave of endless debt before the ride is over, all while pretending to be middle class? Is that what this British Guardian newspaper article is saying? Well, to that end I offer the quote below and a link to the full article. Please read it and decide for yourself what it says.
(Guardian.co.uk) America's new poor: the end of the middle-class dream
America's middle class is disappearing. A lifestyle sustained for 30 years by rising debt is dissolving as the credit dries up. And the question beyond the crisis is: can it ever come back?
---------------------------------------------------------
In the midterm elections politicians have promised to "do something" for the middle class. The kindest thing they could do is tell the truth: Americans have been living a middle-class lifestyle on working-class wages – and bridging the gap with credit.
And it's over.

In a free-market society the real middle class is always a minority: if your street has a gate and a security camera at the end of it then you are middle class. A real middle-class kid can afford a college education, not a web-based degree. The real middle-class family does not skip meals or find its automobiles trapped in the repair shop because of unpaid bills.
http://www.guardian.co.uk/...
This article below declares the American dream is withering away and talks about the use of food stamps in America which is growing. To which we should note that no country in the European Union uses food stamps to humiliate its poor in the grocery checkout line.
(International Business Times) - 'American Dream' withers as tent cities mushroom in promised land
By Jijo Jacob | November 21, 2010
The nation that once gloated over its ability to feed the entire world is seeing an explosion of poverty: The number of people surviving on food stamps is rising as biting unemployment refuses to abate, personal incomes have been falling while the debt bubble is inflating with each passing day and, in a more startling representation of the grim reality, tent cities are mushrooming as more and more people are pushed out of their 'underwater' homes.
http://uk.ibtimes.com/...
Liked this article?

Join our email list
Stay up to date with the latest headlines via email