Why Europeans Think We're Insane
Continued from previous page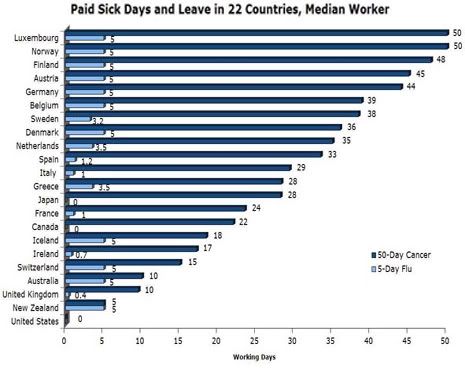 Source: http://www.cepr.net/...
After reading this quote below, ask yourself: Can America do better than this when we have 60 million people without paid sick leave?
Roughly 60 million American workers have no paid sick leave, and only a minority can draw pay if they stay home with sick children. The lack of paid leave is especially acute in this country among low-wage workers, food-service workers and part-timers, among others. Many other countries do better. According to Dr. Jody Heymann, director of the Institute for Health and Social Policy at McGill University, more than 160 countries ensure that all their citizens receive paid sick leave and more than 110 of them guarantee paid leave from the first day of illness.
Why don't we do what they do in Britain? Bail out the unemployed by making their unemployment benefits permanent. Instead in the British UK Progressive we see a quote from Robert Reich telling us that the new Congress is unlikely to even extend unemployment benefits. It seems that in America, the Congress only bails out Wall Street and not the working class.
Why the Lame Duck Congress Must Extend Jobless Benefits For Hard-hit Families But Not Tax Cuts For the Rich
by Robert Reich
America's long-term unemployed — an estimated 4 million or more — constitute the single newest and biggest social problem facing America.
Now their unemployment benefits are about to run out, and the lame-duck Congress may not have the votes to extend them. (You can forget about the next Congress.) The long-term unemployed can't get work...
http://www.ukprogressive.co.uk/...
We all know that America presently has 59 million medically uninsured Americans. Here is a British newspaper called the Daily Mail that printed an alarming headline.
(Daily Mail) One in FIVE Americans is mentally ill as rising unemployment takes its toll
The 2009 mental health survey hints at the impact of record unemployment rates, which last year hit a 25-year high as struggling employers slashed jobs to cope with a weak economy. For many, lost employment meant loss of health insurance, leaving many of the nation's mentally ill unable to get treatment.
http://www.dailymail.co.uk/...
Michael Moore interviews Tony Benn about America's indebtedness.
(Full Video Transcript)
"I think democracy is the most revolutionary thing in the world. Far more revolutionary than socialist ideas or anybody else's idea because if you have power you use it to meet the needs of you and your community. And this idea of choice which capital talks about all the time you've got to have a choice, choice depends on the freedom to choose and if you're shackled with debt you don't have the freedom to choose. People in debt become hopeless and hopeless people don't vote. They always say that that everyone should vote but I think that if the poor in Britain or the United States turned out and voted for people who represented their interests it would be a real democratic revolution; and so they don't want it to happen so keeping people hopeless and pessimistic.

See I think there are two ways in which people are controlled. First of all frighten people and secondly, demoralize them. An educated, healthy and confident nation is harder to govern, and I think there's an element in the thinking of some people; we don't want people to be educated, healthy and confident because they would get out of control. The top 1% of the world's population owns 80% of the worlds wealth its incredible that people put up with it. But their poor, their demoralized, their frightened and therefore they think perhaps the safest thing to do is to take orders and hope for the best."
- Tony Benn, former British politician
Liked this article?

Join our email list
Stay up to date with the latest headlines via email