More Dobbs Hypocrisy: Immigrant Bashing TV Personality Sponsored Event That Hired Undocumented Immigrants
In my recent debate on MSNBC with Lou Dobbs, the former CNN host who built his career bashing undocumented immigrants accused me of having omitted some details about him in my recent exposé documenting his own reliance on undocumented labor.
Indeed, I'll be the first to admit that there was sadly just not enough space in my article, " Lou Dobbs, American Hypocrite," published in The Nation on October 7, to include all of the details I unearthed in my year-long investigation. For starters, I never once got to mention the horse and pony show Dobbs has, for years, sponsored in his home county of Sussex, New Jersey.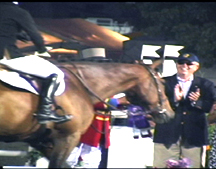 When I first learned that the notorious immigrant-bashing TV host was a sponsor of the Sussex County Horse Show, I rather expected his ties with the annual equestrian event would be kept on the down-low. After all, the spokesperson of the horse industry's main lobby group, the American Horse Council, has suggested that up to three quarters of the industry's workers may be undocumented.
But to my surprise, when I bought my ticket to watch this year's show at the August 2010 Sussex County Fair, a giant signboard boldly publicized Dobbs's sponsorship.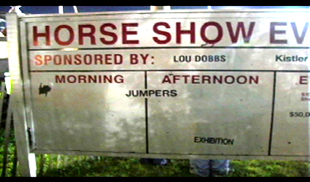 What's more, one of the horse and pony show's biggest competitions was named after Lou Dobbs Tonight, the CNN show on which Dobbs for years for years sounded alarm bells about "illegal aliens", while raking in a reported salary of six million bucks a year. Viewers of this now-cancelled show of "fearless reporting and commentary"--as CNN dubbed Dobbs's nightly tirades--may recall the warning its host offered the public about a nonexistent leprosy epidemic. "The invasion of illegal aliens is threatening the health of many Americans," Dobbs famously remarked on one April 2005 episode of Lou Dobbs Tonight.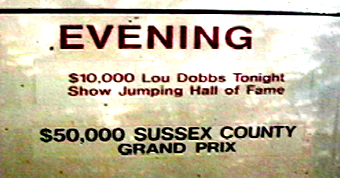 During this year's $10,000 Lou Dobbs Tonight Show Jumping Hall of Fame horse competition, the perimeter of the horse show ring was decked out with larger-than-life pictures of Dobbs's face, advertising his radio show.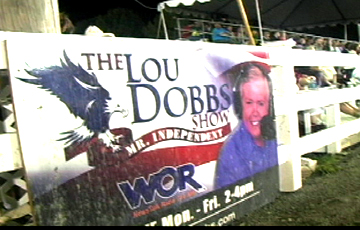 And right there in the middle of the ring, presiding over the awarding of the prize money to the winners of Lou Dobbs Tonight's namesake horse show competition, was Lou himself.
Since the details of Dobbs's reliance on undocumented labor went public, there's been no shortage of comparisons drawn between Dobbs and Meg Whitman, the California gubernatorial candidate who is pledging tougher immigration enforcement if she's elected, even though her own housekeeper of nine years was undocumented.
But there are differences between the two cases. Whitman addressed the embarrassing disconnect between her own anti-immigrant campaign rhetoric and the inconvenient fact of her own reliance on undocumented labor with a callous (and ultimately unsuccessful) effort to sweep reality under the rug, by firing her housekeeper. Dobbs, in contrast, lived for some time with the contradiction of the rhetoric-betraying reality of his own undocumented contract workers, for years waging nightly diatribes on CNN against the "illegals" who cared for his show horses and toiled on the grounds of his estate in West Palm Beach, Florida.
But perhaps more surprisingly, unlike Whitman, Dobbs seemed to have absolutely no shame about his ties with a sector that would likely not function at all without undocumented workers. For it is truly hard to imagine a more shameless declaration of a right to have it both ways than the $10,000 Lou Dobbs Tonight Show Jumping Hall of Fame.
Since my exposé, the longtime TV host who cashed in on "the illegal alien invasion" both for a multi-million dollar TV career, and for countless hours of low-wage labor, has been singled out as the " Worst Person in the World" by MSNBC's Keith Olbermann. Guardian blogger Michael Tomasky dubbed him " Evil Idiot."
Liked this article?

Join our email list
Stay up to date with the latest headlines via email