Major Drug Conference in Mexican Drug War Says Prohibition Has Failed, Calls for New Policy
Editor's Note: With 137 people killled last week in the Mexican drug war, a conference on this topic couldn't come at a more opportune time.
On Monday and Tuesday in Mexico City, political figures, academics, social scientists, security experts, and activists from at least six countries came together for the Winds of Change: Drug Policy in the World conference sponsored by the Mexico City-based Collective for an Integrated Drug Policy (CUPHID). Coming as Mexico's war on drugs turns bloodier by the day, the conference unsurprisingly concluded that current prohibitionist policies are a disaster.
"The principal conclusion is that we need a more integrated drug policy based on prevention, scientific evidence, and full respect for human rights," summarized CUPHID president Jorge Hernandez Tinajero. "It remains clear that, yes, there exist alternatives to the current strategy."
In a press release after the conference, CUPHID emphasized the following points:
The so-called war on drugs has failed and, without doubt, we need "winds of change" to advance toward alternative policies to address the problematic of drugs across the globe.
The prohibitionist paradigm has been ineffective, and furthermore, for the majority of countries it has implied grave violations of human rights and individual guarantees, discrimination, and social exclusion, as well as an escalation of violence that grows day by day, ever broadening the scope of impunity for organized crime.
Drugs are never going to disappear. Thus, a more realistic drug policy should focus on minimizing the harms associated with drug use -- overdoses, blood-borne diseases like HIV/AIDS, and violence. This concept is known as "harm reduction," and must be the backbone of any drug policy.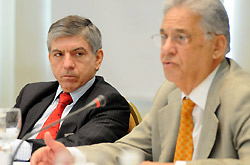 Colombia Cesar Gaviria, former President of Colombia, on left (courtesy comunidadsegura.org)
The conference opened Monday morning by putting its star power on display. In its opening session, former Colombian President Cesar Gaviria, who, as a member of the Latin American Commission on Drugs and Democracy coauthored a report a year ago with former Brazilian President Henrique Cardoso and former Mexican President Ernesto Zedillo denouncing drug prohibition as a failed policy, returned to the theme. Noting that as president of Colombia in the 1990s, he had been a firm supporter of prohibition, Gaviria said he had changed his tune.
"With the passing of time, prohibitionism, in which I believed, has demonstrated itself a failure," he told an attentive crowd jammed into a conference room of the Crowne Plaza Hotel in upscale Colonia Napoles. The attendant human rights abuses were a big reason why, he said.
"You have to be very careful in the matter of human rights," Gaviria said. "The issue of militarization is so risky because militarization of the struggle against the drug trade, even though it may seem necessary and imperative at a given time, almost always veers into violations of human rights."
Militarization is an especially prickly issue in Mexico, where President Calderon has deployed tens of thousands of soldiers in the war against drug trafficking organizations. While the military has failed to stop the so-called cartels or reduce the violence -- it has, in fact, increased dramatically since the military was deployed three years ago -- it has generated an increasing number of human rights complaints. According to the official National Commission on Human Rights, more than 1,900 complaints alleging abuses by the military -- ranging from harassment, theft, and illegal entry to torture, murder, and disappearances -- were filed in Mexico last year.
Referring specifically to the Mexican situation, Gaviria added: "In the long run, one of the things that most delegitimizes public policies against drugs is when human rights are violated."
Liked this article?

Join our email list
Stay up to date with the latest headlines via email