Obama Wants More Money for the Failed Drug War?
The Obama administration released its Fiscal Year 2011 budget proposal this week, including the federal drug control budget. On the drug budget, the Obama administration is generally following the same course as the Bush administration and appears to be flying on autopilot.
According to the Office of National Drug Control Policy (ONDCP -- the drug czar's office), the administration is requesting $15.5 billion for drug control, an increase of 3.5% over the current budget. Drug law enforcement funding would grow from $9.7 billion this year to $9.9 billion in 2011, an increase of 5.2%. Demand side measures, such as prevention and treatment, also increased from $5.2 billion this year to $5.6 billion next year.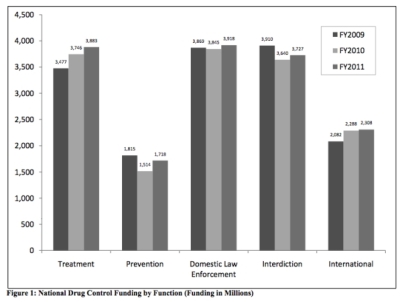 The $15.5 billion dollar drug budget actually undercounts the real cost of the federal drug war by failing to include some significant drug policy-driven costs. For instance, operations for the federal Bureau of Prisons are budgeted at $8.3 billion for 2011. With more than half of all federal prisoners serving time for drug offenses, the real cost of current drug policies should increase by at least $4 billion, but only $79 million of the prisons budget is counted as part of the national drug strategy budget.
The Obama drug budget largely maintains the roughly two-to-one imbalance between spending on treatment and prevention and spending on law enforcement. Drug Czar Gil Kerlikowske called the imbalanced budget "balanced."
Highlights and lowlights:
Funding for the Substance Abuse and Mental Health Services Administration prevention programs (SAMHSA) is set at $254.2 million, up $29.6 million from this year, while funding for SAMHSA treatment programs is set at $635.4 million, up $101.2 million from this year.
Funding for ONDCP's Drug Free Communities program is set at $85.5 million, down $9.5 million from this year.
Funding for the widely challenged National Youth Anti-Drug Media Campaign is set at $66.5 million, an increase of more than 50% over this year.
The Arrestee Drug Abuse Monitoring II program (ADAM) is funded at $10 million. It got no money this year.
Funding for the Department of Health and Human Services Substance Abuse Prevention and Treatment program is set at $1.799 billion, the same as this year.
Funding for the Second Chance Act for reintegrating people completing prison sentences is set at $50 million, a whopping 66% increase over this year.
Funding for the Justice Department's Organized Crime Drug Enforcement Task Force is set at $579.3 million, up $50.8 million over this year.
Funding for the High Intensity Drug Trafficking Areas (HIDTA) program is set at $210 million, down $29 million from this year.
Funding for the Defense Department's counternarcotics efforts in Afghanistan is set at $501.5 billion, up about one-third over this year.
Funding for State Department counternarcotics activities in West Africa is set at $13.2 million, up $10 million from this year.
Funding for State Department counternarcotics activities in Colombia is set at $178.6 million, down $26.6 million from this year.
Funding for the DEA is set at $2.131 billion, up 5.5% over this year. That pays for 8,399 employees, 4,146 of whom are DEA agents.
Funding for the Office of Justice Programs' Byrne grant program, Southwest Border Prosecutor Initiative, Northern Border Prosecutor Initiative, and Prescription Drug Monitoring program has been eliminated.
"The new budget proposal demonstrates the Obama administrations' commitment to a balanced and comprehensive drug strategy," said Kerlikowske. "In a time of tight budgets and fiscal restraint, these new investments are targeted at reducing Americans' drug use and the substantial costs associated with the health and social consequences of drug abuse."
Drug reformers tended to disagree with Kerlikowske's take on the budget. "This is certainly not change we can believe in," said Bill Piper, national affairs director for the Drug Policy Alliance. "It's extremely similar to the Bush administration drug budgets, especially in terms of supply side versus demand side. In that respect, it's extremely disappointing. There's nothing innovative there."
Liked this article?

Join our email list
Stay up to date with the latest headlines via email