Why the Anti-Choice Movement Is on the Verge of Civil War
Continued from previous page
Pro-life Americans favor expanding access to contraception because of the undeniable pro-life results. Unintended pregnancy is the root cause of abortion. We know, when used properly, contraception works. Two thirds of American women on contraception are using it correctly. And from this group comes 5% of the nation's unintended pregnancies. Compare this to the 16% of women who are sexually active, at risk of getting pregnant and not using any form of contraception. That group, though much smaller, represents 52% of nation's unintended pregnancies. Then there's the 19% of women who are using contraception but incorrectly or inconsistently; from that group comes 43% of unintended pregnancies. The greatest opportunity to reduce the need for abortion is to focus the 95% of unintended pregnancies that are highly preventable. The plan is simple: address the lack of and incorrect use of contraception. (Article continues below graphic.)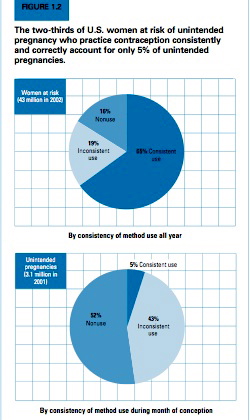 1. Gold RB et al., Next Steps for America's Family Planning Program: Leveraging the Potential of Medicaid and Title X in an Evolving Health Care System, New York: Guttmacher Institute 2009, Figure 1.2.
To his credit, Congressman Ryan did his best to try to convince pro-life groups of this. I spoke with Congressman Ryan last week after his press conference to announce his bill. He explained, "It was really frustrating to try to convince people that just didn't want to hear it. I went to the Democrats for Life of America's national board meeting that they had in DC a few years back and there were 50 board members or so and I gave them my pitch: If you're really for reducing abortions you've gotta be for contraception. I gave them all the statistics on unintended pregnancy and that most abortions take place for women within 200% of poverty and all this stuff and it just didn't resonate with them at all and so we had this stark disagreement and I got the boot."
The anti-contraception minority, which represents just 20% of pro-lifers, has disproportionate influence and, with it, hopes to derail common ground efforts the public has longed for. It's time for the disagreement over contraception to be addressed by the pro-life community at large. We will have no chance of making a real impact on unintended pregnancy and abortion rates without dramatic, informed strategies on prevention. The pro-life public must demand accountability and representation for their pro-contraception values. Considering that 80% of pro-life Americans support contraception, isn't it time to establish at least one pro-life organization in support of it too?
Congressman Ryan thought that would be a great idea. He predicted such a group would expose those who really aren't interested in reducing the need for abortion. "We have an opportunity here to solve this problem and give pro-life members of Congress and pro-life legislators a common sense approach to this and boy does it marginalize those people who have really beat the drum on the pro-life issue and have not provided any solution to it."
Cristina Page is the author of 'How the Pro-Choice Movement Saved America' (Perseus Books, 2006).
Liked this article?

Join our email list
Stay up to date with the latest headlines via email