Kentucky Pastor Tells Followers to Bring Guns to Church
If there's one question to which I've always longed for an answer, it's: Who Would Jesus Shoot?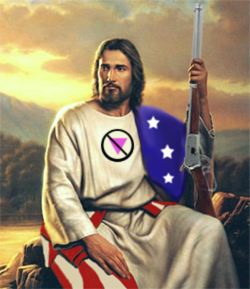 Ken Pagano, the pastor of the New Bethel Church [in Louisville, KY], is passionate about gun rights. He shoots regularly at the local firing range, and his sermon two weeks ago was on "God, Guns, Gospel and Geometry." And on Saturday night, he is inviting his congregation of 150 and others to wear or carry their firearms into the sanctuary to "celebrate our rights as Americans!" as a promotional flier for the "open carry celebration" puts it.
Liked this article?

Join our email list
Stay up to date with the latest headlines via email