One State, Two State, Red State, Blue State: NYT Pictures Show How Things Are Changing
The New York Times has a set of maps and charts that add some dramatic detail to the nature of Obama's victory--particularly its set of county-level maps.  First up, a county-level map showing the whopping 22% of counties that became more Republican this election than they were in 2004: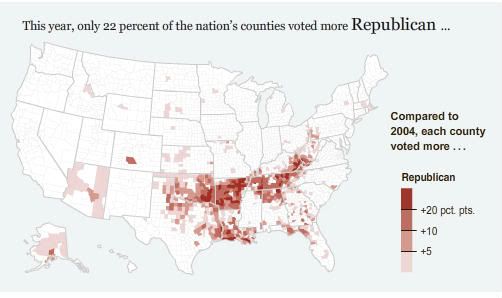 One can't help but notice how intensely concentrated these counties are in the Scotch-Irish Appalachian uplands and the Ozarks, along with the nearby regions of Oklahoma, East Texas and Louisiana.   This is, by McPalin's account, the "real America".  It is also, not coincidentally, the most culturally isolated and technologically backward part of the country.  If any part of America is similar to Afghanistan, in its remoteness from the modern world, and resistance to integration with the dynamic swirl of history around it, it is these counties, which portend the future of the GOP as not just a regional party of the South, but a shrinking one even within that region.
Liked this article?

Join our email list
Stay up to date with the latest headlines via email