Comments
State Legislative Trends in Reproductive Health Law and Policy: Mid-Year 2012 Analysis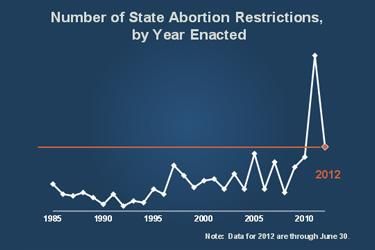 Written by Rachel Benson Gold & Elizabeth Nash for RH Reality Check. This diary is cross-posted; commenters wishing to engage directly with the author should do so at the original post.
In the first half of 2012, states enacted 95 new provisions related to reproductive health and rights. Of the 44 state legislatures that have convened this year, only seven currently remain in session. As was the case in 2011, issues related to abortion, family planning funding and sex education once again were significant flash-points in many legislatures ( click here for a more detailed version).
AbortionSo far this year, states have enacted 39 new restrictions on access to abortion. Although this is significantly lower than the record-breaking 80 restrictions that had been enacted by this point in 2011, it is nonetheless a higher number of restrictions than in any year prior to 2011. Most of the 39 new restrictions have been enacted in states that are generally hostile to abortion. For example, 14 of the new restrictions have been enacted in just three states—Arizona, Louisiana and South Dakota—that already had at least five such restrictions on the books. Fully 55% of U.S. women of reproductive age now live in one of the 26 states considered hostile to abortion rights.
This year is shaping up to be similar to last year in terms of the number of abortion restrictions that have either been introduced or approved by a state legislative chamber. What distinguishes 2012 from 2011, however, is that a lower proportion of the restrictions that were passed by one legislative body have become law—30% of the abortion restrictions passed by one chamber so far this year have been enacted, a significantly lower proportion than the 51% that had been signed into law by this point in 2011.
Liked this article?

Join our email list
Stay up to date with the latest headlines via email