Now that student loans
are undeniably in bubble territory, the officialdom is starting to wake up and take notice. Evidence that students were taking on so much debt as a group that it was undermining their ability to be Good American Consumers wasn't enough. A recent New York Fed study found that 94% of recent graduates had borrowed to help pay for their education, and average debt levels among student borrowers is $23,000. Remember, that average includes seasoned borrowers, who presumably borrowed less and also in many cases reduced the principal amount of their loans, so the average amount borrowed by recent grads is certain to be higher. Student debt is senior to all other consumer debt; unlike, say, credit card balances, Social Security payments can be garnished to pay delinquencies. As a result, it has contributed to the fall in the homeownership rate, since many young people who want to buy a house can't because their level of student debt prevents them from getting a mortgage.
But despite some pious noises about the burden that student loans place on young Americans, there's been no willingness in the officialdom to do much about it. But that may finally be changing. The latest Federal Reserve data is grim.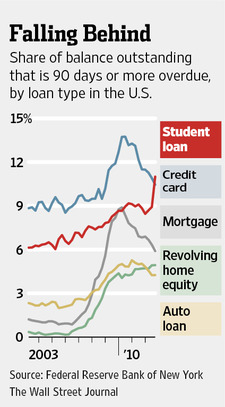 Student loan
delinquencies are getting into nosebleed territory. The Wall Street Journal, citing New York Fed data, tells us that student debt outstanding increased 4.6% in the last quarter. Repeat: in the last quarter. Annualized, that's a 19.7% rate of increase* during a period when other consumer borrowings were on the decline. And this growth is taking place while borrower distress is becoming acute. 11% of the loans were 90+ days delinquent, up from 8.9% at the close of last quarter. The underlying credit picture is certain to be worse, since many borrowers aren't even required to service loans (as in they are still in school or have gotten a postponement, which is available to the unemployed for a short period). And it was the only type of consumer debt to show rising delinquency rates.
This is the new subprime: escalating borrowing taking place as loan quality is lousy and getting worse. And in keeping with parallel to subprime, one of the big reasons is, to use a cliche from that product, anyone who can fog a mirror can get a loan.
The most popular type of loan, Stafford loans, allow undergraduates to borrow up to $57,500, no questions asked. Perversely, this practice, in isolation, looks rational. Look, if you could put borrowers in virtual debt slavery, would you care much about lending standards? All you need to worry about is death and those few cases where borrowers are so clearly unable to ever work for a decent amount of money that they can get their student debt that they can get their loans reduced or discharged.
Things are so bad that each media report seems able to present anecdotes more extreme than previous accounts. The WSJ found a recent graduate of Embry-Riddle Aeronautical University in Daytona Beach whose education loans total nearly $230,000 for a college education that has enabled him to get a job that pays $60,000. And $184,500 of that total was borrowed by his unemployed, disabled mother through a program called Parent Plus.
The Administration's responses look inadequate given the scale of the problem. From the WSJ:
In an effort to reduce defaults, the Education Department has tightened standards for loans to parents and grad students, prohibited federal lending to schools if more than a certain percentage of its graduates default over several years, and allowed borrowers to postpone payments during periods of "hardship." The administration also has finalized rules that enable certain borrowers to have their remaining debt forgiven after 20 years, provided that they make monthly payments at 10% of discretionary income—down from the previous standard of 15%.