Denver Made Marijuana History New Years Morning
Photo Credit: Shutterstock.com/JeremyNathan
For many people New Year's Eve means going to bars and celebrating with a night of drinking and carousing with their friends. For Adam Hartle and Anthony Hasham, the night was a little different. The duo flew into Denver from Jacksonville, Florida, in order to be first in line for Colorado's historic legal retail marijuana sales. Hartle and Hasham came prepared with a tent, and set up camp in front of  3D, Denver's Discrete Dispensary at 6:00pm on New Year's Eve. They were the first to arrive, making it even before the news cameras.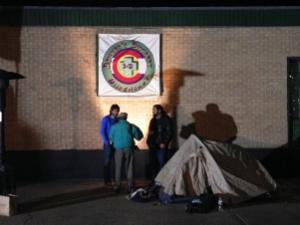 Adam Hartle and Anthony Hasham made the pilgrimage from Jacksonville, FL, to be first in line. (Rebecca Chavez)
While there are quite a few retail marijuana stores opening to the public on January 1, 3D was the place to be for those interested in being a part of history. The  Marijuana Policy Project sent out a December 27 press release stating that they were recognizing the first sale at 3D as the first sale. With a press conference planned, and an Iraq war veteran slated to be the first retail customer, 3D was buzzing with excitement in the early hours of the new year.
There were over a dozen people standing around outside, eager to get their hands on some of the first retail marijuana sold in the country, but the majority of the crowd had a more professional purpose. News crews and industry insiders sat in the lobby of 3D, while owner Toni Fox rushed around talking to press and making last minute adjustments.
For Fox, the opening of 3D for retail sales has been a long process that is "the culmination of everything we've been working towards." Many dispensary owners planned to make the switch when they found out about  Amendment 64, but Fox started planning in 2009. When she started looking for space for her dispensary, she did it with a retail location in mind. This early decision paid off in a big way when it came time to hand out marijuana licenses for the city of Denver. The retail space is large and well lit.
Denver's Discreet Dispensary (3D) is now open for sales to adults 21 and over. (Rebecca Chavez)
Unlike many other dispensaries, this retail location is completely separate from the medical area. Before sales start, the area is set up to help people find exactly what they need. Fox expects that a lot of people won't know what to do when they get to a retail marijuana facility, so she's tried to make purchasing easy for someone experiencing a dispensary for the first time.
She even made the decision to limit the retail edibles that she offers early on to only those from Dixie Elixer, one of the few edible companies set up for retail sales. This choice keeps people who want to try an edible for the first time from having to sift through a multitude of options.
The publicity of being the first marijuana store is a great boost for 3D, but Fox knows that there are some risks involved, especially regarding the much buzzed-about marijuana shortage. Though the limit for Colorado residents is higher, Fox decided that she wouldn't make any sales of more than the non-resident limit of seven grams. Still she is concerned.
The sign says it all. Welcome to a new era. (Rebecca Chavez)
When asked whether there is going to be enough product, she states that 3D should have enough to last until February. "Or Monday," she said, sharing a laugh with one of her employees while acknowledging that the truth about retail marijuana is that no one knows the extent of the demand just yet.
Liked this article?

Join our email list
Stay up to date with the latest headlines via email