10 of the Most Offensive Clothing Items Ever Created
Continued from previous page
Stores selling overly sexualized clothing to children is nothing new; in fact, it's become practically normal in our society. But Abercrombie's envelope-pushing items earn it a Creepy Award, for sure.
7. American Apparel's "Teenagers Do It Better" shirt
American Apparel is another one of those companies that's always skirting controversy, largely because of its porn-like billboards and its skeezy founder and CEO, Dov Charney, who's been sued for sexual harassment by more than a dozen employees and models.
One example of Charney's sleazy influence on the company is this t-shirt: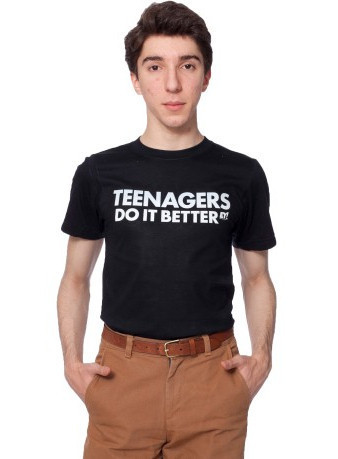 On its own, the short could go either way on the gross scale. But this is pretty incontrovertible evidence that the shirt is at least toeing the line of perverted (via the Huffington Post):
The shirt was made in collaboration with a publication called Ey! Magateen (potentially NSFW or LIFE at the link), a mag that celebrates "the magnificent vitality, energy and power of young male adulthood" and features sexy pics of boys ages 16-21.
The magazine features the tee on its Tumblr, modeled by a young teen boy in his underwear.
Yeah, no.
8. Forever 21's sexist "Allergic to Algebra" tee
If there's anything we don't need in this world, it's yet another message to girls that they aren't good at or aren't supposed to like math.
Reddit user mikgyver rather perfectly summed up why the shirt is so offensive (via ABC News): "It's a big deal because there is still this childish perception -- among females AND males -- that girls can't do math. I can't tell you how many times, as a girl who's good at math, that I've been accused of 'trying to be a guy' when I get good grades in math."
So thanks for nothing, Forever 21.
9. Abercrombie's Asian stereotype shirts
Abercrombie & Fitch makes the list again, this time for producing a line of t-shirts featuring Asian stereotypes.
According to Snopes, critics panned the shirts for portraying "Asian Americans doing work they have been historically forced to do," depicting Asian people as "kung-fu fighting, fortune-cookie-speaking, slanty-eyed, bucktooth servants," and "trivializ[ing] an entire religion and philosophy."
Amid a deluge of complaints, Abercrombie did eventually pull the shirts from its shelves.
10. Wal-Mart's accidental Nazi skull shirt
A firestorm erupted several years back when this blogger went into his local Wal-Mart and realized the store was selling t-shirts emblazoned with a Nazi SS symbol.
He writes:
The Death's Head symbol was worn by the members of the German Nazi SS. The Totenkopf on the Wal-Mart t-shirt looks very similar to the divisional insignia of the 3rd SS Division Totenkopf. As you can see, It's almost an exact copy.
Neo-Nazi's sometimes use the Totenkopf image because it is not as easily identifiable as other Nazi symbols such as the swastika. You might see one of these tattooed on someone's arm while standing in line at Burger King and think it's just a poorly done pirate skull. It's not.
He goes on to note that he doubts Wal-Mart was selling Nazi propaganda on purpose, but "Whoever designed this shirt had to know where the skull image came from."